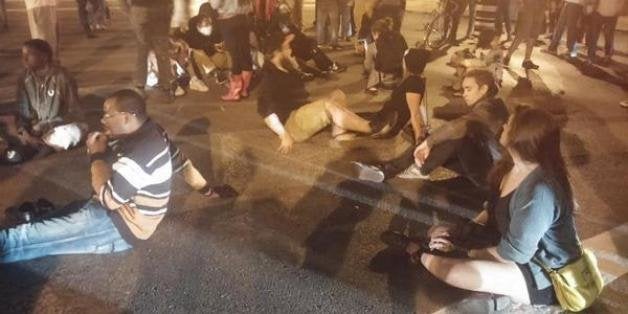 After word of the shooting of teenager Vonderrit Myers spread online, residents from around the St. Louis region gathered to demonstrate against the police, claiming that Myers was a victim of racial profiling. During the course of the demonstration, some of the protesters damaged at least two police vehicles, kicking out the taillights of one SUV and throwing a rock through the rear window of another.
Protesters marched for nearly 3 miles down Grand Boulevard, shutting down several intersections. They finished their march at the intersection of Shaw and Grand, where they sat down in the middle of the street, stopped vehicles trying to pass, and even confronted drivers who attempted to navigate through the crowd.
Myers' family claims the teen was unarmed and carrying a sandwich when he was killed. St. Louis Metropolitan Police Chief Sam Dotson said in a press briefing that investigators found a 9mm Ruger on the scene and evidence that at least three shots had been fired in the direction of the officer. The unidentified officer, 32, has been on the force for six years and was working for a private security company at the time of the shooting. Dotson said he was hired "by the neighborhood" to patrol a specific area, and said the situation was not unusual.
The St. Louis Post-Dispatch reports that Myers was wearing an ankle monitor when he was shot, as he was free on bail for gun charges. The case had been scheduled to go to trial in November.
Dotson -- who publicly condemned the tactics used against protesters in Ferguson in the aftermath of the death of Michael Brown -- said that his officers "showed a tremendous amount of restraint" in dealing with Wednesday night's protests, and "did an excellent job" in the face of intense criticism.
Ryan J. Reilly contributed to this report.
Popular in the Community