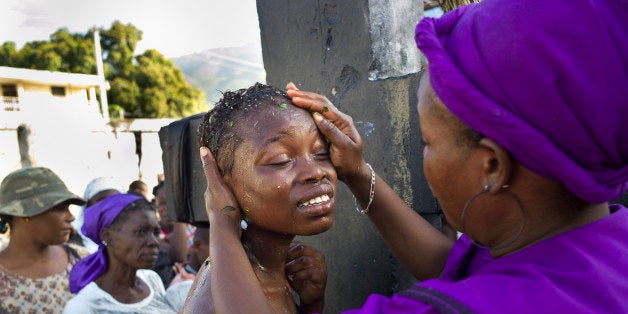 PORT-AU-PRINCE (Thomson Reuters Foundation) - Five years after a massive earthquake rocked Haiti, killing more than 200,000 people and reducing homes to rubble, few survivors would say they were traumatised or suffering depression as a result of the disaster.
Haitians do not tend to use the word 'depression' to describe symptoms of mental illness. Instead they may complain of a lack of energy or appetite, insomnia, nightmares, a constricted heart or thinking too much, health workers say.
Mental illness is still a taboo in the Caribbean nation, which had no functioning mental health system in place before earthquake. In Haiti, it is common for people with mental illnesses to be locked up in hospital psychiatric wards or, believing they are possessed, to seek help from voodoo priests.
Yet plagued by guilt, fear, trauma and grief, mental illness remains a reality for many Haitians still struggling to cope with the loss of their relatives, homes and even, limbs, in the aftermath of the Jan. 12, 2010 quake.
"The impact of the earthquake on mental health was huge and unimaginably deep in people's lives. Some lost all benchmarks and references because of their great loss," said Reginald Fils-Aime, a doctor with Zanmi Lasante, a Haitian medical NGO and sister organization of Boston-based Partners in Health.
"We still have people coming to clinics with mental health problems related to the earthquake. They talk about the earthquake, about being under the rubble," Fils-Aime told the Thomson Reuters Foundation in a telephone interview from Boston.
Symptoms of mental illness have been built into a screening tool used by Zanmi Lasante to train health workers, including nurses, doctors, social workers and psychologists, to identify depression among rural communities in central Haiti.
TEN PSYCHIATRISTS FOR TEN MILLION PEOPLE

The earthquake highlighted the urgent need to address mental health but this has been a demanding task in a country with only around 10 psychiatrists for a population of 10 million.
"It was only after the earthquake that the health minister said mental health should be a priority and that the issue was talked about," said Fils-Aime.
In Haiti, a key way to improve mental healthcare is to work with religious leaders from Catholic, Protestant and Voodou faiths, says the Centre for Addiction and Mental Health (CAMH) in Toronto.
Haiti's voodoo religion heavily influences how mental illness is perceived and treated. For centuries Haitians have turned to voodoo priests for help.
Both male "houngan" priests and female "manbo" priestesses perform ceremonies and sacrificial rituals to treat people.
"Voodoo heals the mind, soul and body. The soul is what we are, which controls everything, all our actions and mind," Max Beauvoir, the "Ati" or supreme leader of Haitian voodoo, told the Thomson Reuters Foundation.
Around 70 percent of Haitians are believed to practice voodoo, a religion with roots in Africa. There are more than 60,000 voodoo priests across Haiti, often living in rural communities, Beauvoir said.
At his voodoo temple inside his coral stone-walled home, a 40-minute drive from the capital Port-au-Prince, Beauvoir has treated people with mental health disorders, as well as cancer and other physical illnesses for the past four decades.
Inside the small temple - surrounded by lush bamboo and palm tree courtyards - is an altar with the benevolent spirits' favorite drinks in bottles and where cows, goats and chickens are sacrificed to God and the different spirits.
"Voodoo is the soul of the Haitian people and nothing can be done without that cultural basis. It is a way of life. Voodoo has always been on the frontline. It can provide treatment to people who are both physically and mentally ill," Beauvoir said.
INCREASING BURDEN

Many Haitians attribute mental illness to supernatural forces such as curses or possession by spirits from a past life, and some believe mental disorders can be transmitted to other people.
"Our aim is to have a collaboration, share experiences and see how do you assess, incorporate and improve the chances of people with mental illness like depression and psychosis, getting better, by working with spiritual leaders," said Akwatu Khenti, head of CAMH's Office of Transformative Global Health.
The organization is working with 40 religious leaders in Haiti to deliver cognitive behavioural therapy, a type of psychotherapy to treat mental illness.
Yet hundreds of thousands of Haitians are still getting no treatment for mental illnesses ranging from depression and bipolar disorder to schizophrenia.
"The social and economic impact of the earthquake is still very present and is contributing to mental health problems," Fils-Aime said.
"The mother who lost her husband, or children who lost their parents, and who now are responsible for the whole family, taking children to school and providing food. This transition is still causing stress and depression," he added.
The World Health Organisation says that treating mental illness is crucial, both in Haiti and worldwide.
It predicts that by 2030, depression will become the number one cause of disability, and that the burden will be greatest in poor countries where at least 75 percent of people with mental disorders receive no treatment.
While people with mental health problems still face social stigma in Haiti, there are tentative signs of progress.
"Attitudes to mental health are slowly changing," said Fils-Aime. "There's less stigma among healthcare workers and a greater commitment to provide mental health treatment when doctors and nurses can see people do get better."
Related
Before You Go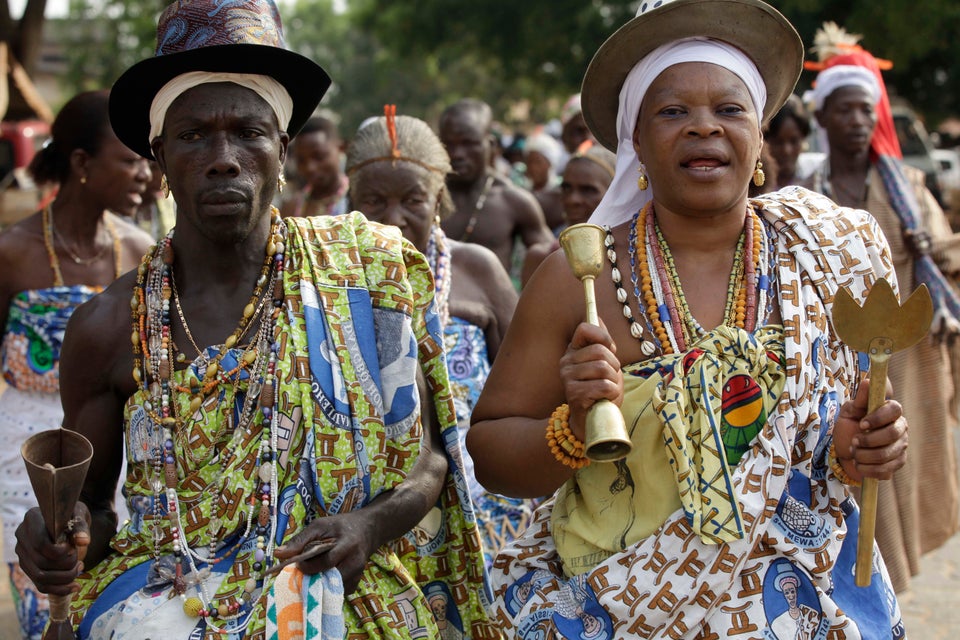 A Voodoo Celebration
Popular in the Community