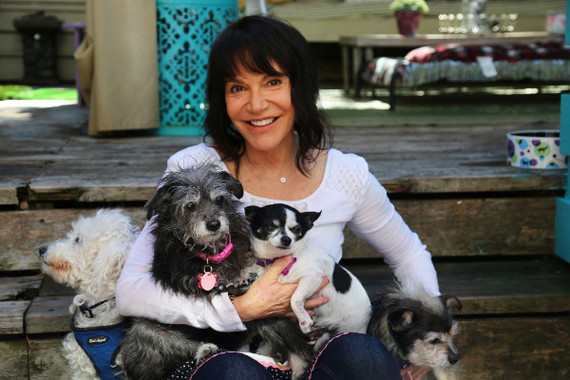 Sherri Franklin, the founder of Muttville Senior Dog Rescue in San Francisco, is one of The Top10 finalists for CNN Hero of the Year Award. This innovative nonprofit is dedicated to changing the way the world thinks and treats older dogs, aged seven and above. Muttville has saved over 4100 senior dogs that would have been euthanized and found them loving forever homes.

As someone who has rescued four senior dogs, I know firsthand the challenges shelters face with finding homes for older dogs!
Sherri Franklin began her work in animal rescue in 1994 as a dog behavior volunteer at the San Francisco SPCA. She worked with dogs that were considered "unadoptable" because of medical problems, behavior issues, and other challenges. She was appointed to the San Francisco Commission of Animal Control and Welfare in 2000. As Vice-chairman of the Commission she advised elected officials on animal-related issues. During her tenure she helped get the aging elephants out of the San Francisco Zoo and into PAWS Sanctuary and authored groundbreaking legislation outlining minimum standards for outdoor dogs.
Sherri started Muttville in 2007 when she saw many senior dogs with wonderful personalities euthanized because they weren't considered adoptable simply due to their age! Many of these dogs were placed in shelters by elderly guardians that were going into nursing facilities or people that had passed away.

Recently, Sherri received a call about a man who had gone into the hospital with late-stage AIDS. His last wish was to find a home for his two old dogs, Artie and Sparky. Sherri took them both. Sparky was very old and frail and passed away within weeks but Artie was full of life and she found him a new home right away. She has taken in countless senior dogs and works with them so they can be adopted. She believes that no senior dog should face a death sentence at a shelter - they deserve to live out their lives with love and companionship.
We need to educate people on the benefits of adopting an older dog from a shelter, rather than going to a pet store and bringing home a puppy that was, most likely, raised at a puppy mill and may suffer from ailments that aren't immediately evident. An older dog already has socialization skills and often has lived with children and even cats. They can fit into a family routine easily, as opposed to a puppy that needs hours, days or weeks of training.
Muttville is a great champion of senior dogs, and Sherri works tirelessly to find new homes for these wonderful older pups. She deserves to be voted in as CNN Hero of the Year for 2016. Here is a great video about her.
Voting is open through December 6th via the CNN's Website, Facebook and Twitter. You can vote 10 times a day via each method offered. The website is www.cnn.com/SPECIALS/cnn.heroes/vote/ Or go to the CNN Heroes Facebook page at www.facebook.com/CNN Heroes and click "message" and follow instructions. (You'll type #Vote, then scroll to Sherri and click "Vote for Sherri.") Or tweet #HeroesVote Sherri Franklin. If you vote 10 times a day via each method, that's 30 votes a day for Muttville!
Think of all the senior dogs that would be helped if Sherri and Muttville win the $100,000 prize!
Calling all HuffPost superfans!
Sign up for membership to become a founding member and help shape HuffPost's next chapter