Ten months ago I sent an email that forever changed how I view Detroit. I used to see Detroit as a work in progress -- years away from robust change. Then I sent an email to Bryan Barnhill, the campaign manager for Mike Duggan, and I found I couldn't have been more wrong. I volunteered to be a social media team member for Duggan's mayoral campaign, and this journey proved much more powerful than a few tweets.
A little on my background -- I grew up in the suburbs of Metro Detroit. In the ninth grade, my horizons broadened when I went to the University of Detroit Jesuit High School. U of D gave me that first taste of Detroit, while simultaneously instilling in me a passion for community outreach. As I progressed through school, I felt empowered by the mission to make Detroit a world class city again. So when it came time to apply for college, I decided to stay in the city and attend Wayne State University. I'm majoring in Urban Studies and Planning to ascertain the tools to make our community a better place.
With those interests in mind, I knew I wanted to jump right into Detroit's political landscape. Not many people say this -- but Detroit is where I want to settle down, buy a house, and send my kids to school. Politics is therefore critical to how I shape my future in this community. I can't blame the system for failing to work for me, if I never got involved to help change that system in the first place.
That being said -- we often assume real life would crush such idealism. The second I started working on the Mike Duggan campaign, all of that hope and optimism would be replaced with stark reality, right? Well from the time I got a response to my email signing up to be a social media volunteer to the days before the general election -- I've become so much more hopeful about the future of the city I love.
Sure those stark realities are still looming over Detroit -- bankruptcy, crime, blight, etc. These are serious issues, and the national media takes every opportunity to highlight a negative take about Detroit's ruin.
That's part of the reason I thought of Detroit as a work in progress. I saw a city with all of these problems -- and no unified front willing to put aside differences to fix it. Even in our own local news -- we constantly hear about the deep segregation, division, and differences between city and suburb. No one is willing to cross eight mile and work to restore our urban core.
The campaign kickoff on February 26th was my first exposure to the candidate himself, and he delivered a rousing address to hundreds of people on Detroit's east side. I was struck by what I saw -- these people were unified and ready to change their city today.
Mike Duggan proved in this campaign that he wasn't just the white candidate for mayor in a majority black city. He transcended that and became a symbol of hope to a city that tends to get more bad news than good.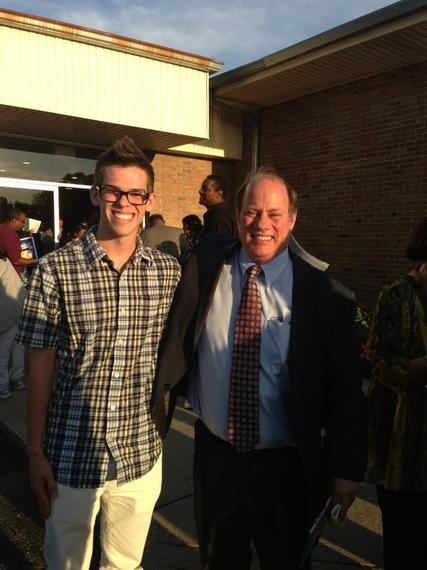 Nick Norton and Mike Duggan after a mayoral forum at Galilee Missionary Baptist Church (5251 East Outer Drive)
Even after the seemingly hopeless situation of Duggan getting kicked off the ballot -- he still inspired 48,000 Detroiters to write in his name for the August 6th primary. Overcoming every obstacle with grace has been Duggan's life work. From SMART to DMC -- Duggan shows an affinity for sowing hope in the depths of hopelessness.
I never thought that by sending an email to volunteer to craft a few tweets and Facebook posts -- I would be changing my worldview of how to engage our community. It's time to come out and vote Detroit. Make sure every neighborhood has a future, and vote Mike Duggan for mayor on Tuesday, November 5th.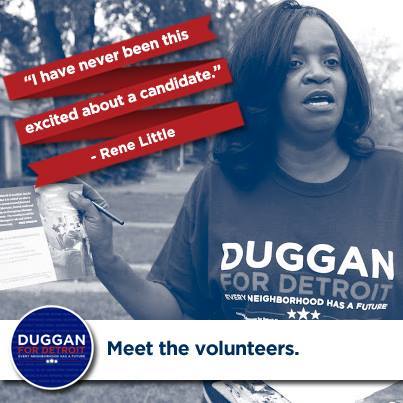 PHOTO GALLERY
VIDEOS: Mike Duggan Tackles the Issues
Calling all HuffPost superfans!
Sign up for membership to become a founding member and help shape HuffPost's next chapter