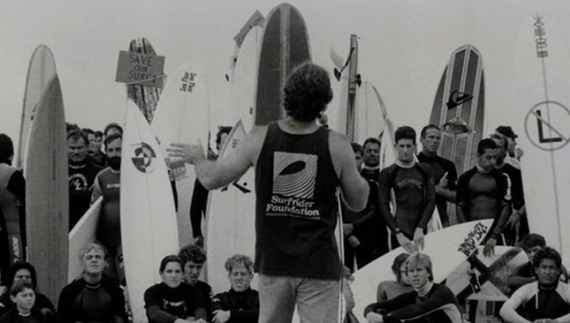 I firmly believe in the idea that each and every one of us can make a concrete difference in the health of our ocean and coasts. When we work together, we can scale that change into something meaningful on the national and global level. We see examples of this every day through grassroots actions around the country and campaigns won at the local, state and national scale. Each of those campaigns, whether passing a local ordinance banning single-use plastic bags or establishing a National Ocean Policy, requires decision makers that are willing to vote for the ocean. On November 8th, you once again can make a difference by going to the polls and supporting candidates and initiatives that protect our ocean and coasts. Each and every vote does make a difference and you have an opportunity to make your opinion count.
Here are a few examples of what is at stake for the future of our coasts:
Ensuring Clean Water
The EPA BEACH ACT works to protect our nation's public health by monitoring ocean pollution at our most popular beaches. A relatively small investment of less than $10 million is leveraged across 35 coastal states to protect the health of 100 million U.S. beachgoers. The BEACH ACT program supports state and local beach water quality monitoring and public notification programs at beaches all across the country. These federally funded water monitoring programs protect public health and clean up beaches that drive tourism and recreation economies worth nearly $90 billion nationwide and support more than 69 million jobs.
Sadly, despite the public health and economic benefits, the EPA BEACH ACT grant program is on the federal budget chopping block. Congress currently holds the power in determining whether or not this program remains funded, so we need to elect champions for clean water that will ensure that clean water and public health is a priority for the federal budget.
Funding National Ocean Policy
The National Ocean Policy was established by President Obama in 2010 to address the lack of cohesion and collaboration with our nation's piecemeal approach to ocean management. Based on the bipartisan recommendations of the U.S. Commission on Ocean Policy, the policy addresses issues such as water quality, marine litter, coastal resilience, and renewable energy through improved collaboration across all levels of government.
A cornerstone of the policy is Regional Ocean Partnerships that bring together states, federal agencies, stakeholders, tribes, and the public to advance stewardship of our ocean and coasts. In regions such as the Northeast, Mid-Atlantic, West Coast, and Pacific Islands, real progress is being made to protect the coastal ecosystems we all use and enjoy.
Last year, the House of Representatives passed several amendments that attacked our National Ocean Policy. It is critical that we ensure that our elected officials continue to provide leadership and funding to protect our nation's ocean, coasts, and Great Lakes.
Protecting Our Waterways from Oil Trains and Oil Drilling
Regardless of the mode of transport, the truth about oil is that it spills. We have learned this lesson over and over again, from the recent oil train derailment and explosion in the Columbia River Gorge, to the 2015 Santa Barbara spill, to the massive Gulf oil spill of 2010. We have also learned that once oil is spilled, it is too late to do much about it. All you can do is contain and minimize the damage and plan for decades of impact and restoration. From oil trains to offshore oil drilling, our waterways are under constant threat from chronic spills at all scales.
Early in 2016, a victory for our ocean was won when new offshore oil drilling off the Atlantic Coast was removed from the government's five year drilling plan. However, seismic exploration for oil and gas is still planned for the Atlantic. Seismic exploration involves the use of high-decibel sound blasts - underwater explosions - to identify oil and gas deposits beneath the seafloor, potentially injuring hundreds of thousands of marine mammals and representing the first step to possible future oil drilling.
Oil trains, also known as "oil bomb trains," are significant dangers of fossil fuel transport activities to our nation's watersheds and coastlines. Damaging derailments continue to occur and spill oil into our rivers, streams and coastlines. These accidents have irreversible impacts to watersheds, public health, and tourism and recreation economies.
Better together
Together, we can influence the decisions of law-makers to protect our coasts for the future. As Sylvia Earle has said, "How do you save the ocean? You find others who have a similar goal and together, you find ways and means of working with people who have the power to make decisions that ultimately result in the protection of the place that you love, that's how it happens." So if each of us vote the ocean, our collective voice can have a powerful impact on the future of our ocean, waves and beaches. See you at the polls.
REAL LIFE. REAL NEWS. REAL VOICES.
Help us tell more of the stories that matter from voices that too often remain unheard.