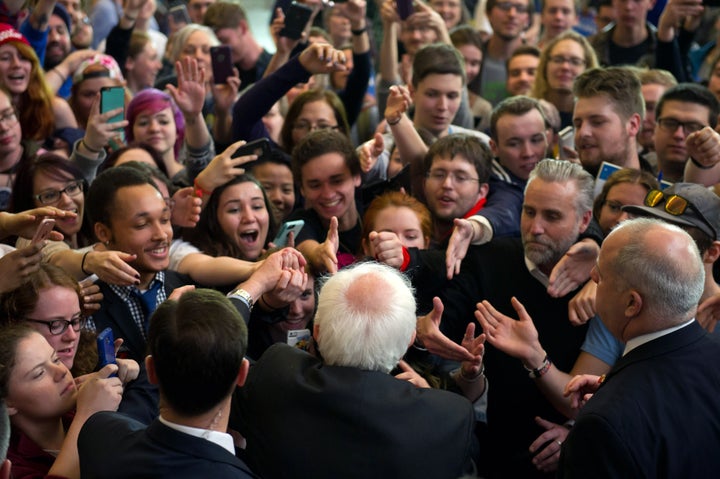 Voters' interest in the presidential race is at a record level. Donald Trump could divide the Republican Party. And the Wisconsin primary is looking good for Ted Cruz and Bernie Sanders while the New York primary favors Trump and Hillary Clinton. This is HuffPollster for Friday, April 1, 2016.
ATTENTION TO THE ELECTION REACHES AN ALL-TIME HIGH - Pew Research: "Fully 85% of registered voters say they have given a lot of thought to the 2016 election. That is not only greater interest than at comparable points in recent campaigns, it is the highest level of interest measured at any point in all elections since 1988. Fully 89% of Republican and Republican-leaning registered voters say they are giving a lot of thought to the election, compared with 82% of Democratic and Democratic-leaning voters. At this stage in the 2012 campaign, when only the GOP had a contested nomination, 71% of Republicans and 64% of Democrats said they were giving a lot of thought to the election." [Pew]
The only comparable election was 2008 - Eight years ago, when both parties had competitive primaries, 78 percent of voters were paying serious attention to the election.. In the spring of 2000, less than half of voters had given the election a lot of thought, despite nomination contests for both parties.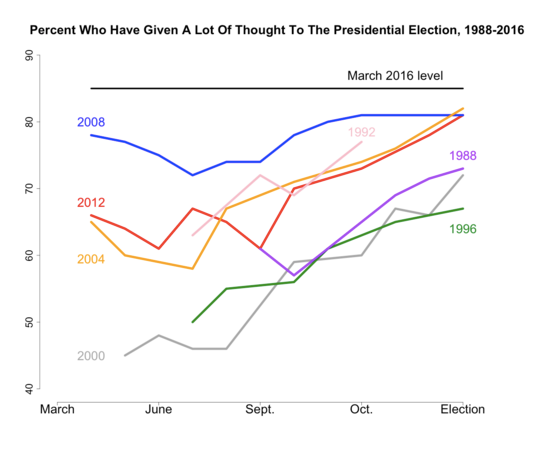 CLINTON AND TRUMP SUPPORTERS SEE THE WORLD DIFFERENTLY- HuffPollster: "Supporters of Donald Trump and Hillary Clinton...differ most notably on whether life is improving or getting worse for people like them.There's a significant gap just between the two parties, with Republicans 38 points more likely than Democrats to say things are getting worse. But the gulf is even wider between Trump supporters, who are the most pessimistic, and Clinton supporters, who are the most personally optimistic...Not coincidentally, disaffection with society's direction is most pronounced among the demographic groups where Trump holds the most appeal. A 54 percent majority of white voters believe life is getting worse for people like them, as do 60 percent of whites who haven't completed college. In contrast, black voters, who have formed the base of Clinton's support in many primaries, have the sunniest outlook of any demographic group, with 58 percent saying that things have improved." [HuffPost]
TRUMP WOULD BE A HISTORICALLY UNPOPULAR NOMINEE- HuffPollster: "If he wins the GOP nomination, Trump wouldn't be the first nominee to enter a general election with negative ratings. He would, however, be the least popular major party nominee in modern times.....The American public's view of Trump, which improved briefly after he entered the race, seems to be worsening...Conventional wisdom holds that there's little room for a well-known, disliked candidate to improve. But Trump has defied conventional wisdom before…. if Trump is chosen as the nominee, he may well see another boost as recalcitrant GOP voters ultimately decide to rally around him, giving him a version of the post-convention bounce candidates traditionally receive….But for Trump to turn around his historically low ratings at this point would require a historically sized shift. " [HuffPost]
A Trump nomination could divide the party - Pew Research: "GOP voters also are skeptical that the party will unite behind Trump if he is the party's nominee. Just 38% say the party would 'unite solidly' behind Trump, while 56% say disagreements within the party would keep many Republicans from supporting him. That is much lower than the share of Republican voters who expected the party to unite behind Mitt Romney (65%) and John McCain (64%) at comparable points in the 2012 and 2008 nomination campaigns. By contrast, most Democratic voters (64%) think their party will solidly unite behind Clinton if she is the nominee. In March 2008, about as many Democrats (66%) said the party would unite behind Barack Obama if he won the Democratic nomination. [Pew]
CRUZ AND SANDERS LEAD IN WISCONSIN - Dana Blanton: "[Ted] Cruz garners 42 percent among Wisconsin likely GOP primary voters, while Trump receives 32 percent. John Kasich comes in third with 19 percent…. There is a big gender gap.  Women back Cruz over Trump by a 19-point margin (46-27 percent).  The two candidates are much closer among men:  Cruz gets 40 percent to Trump's 35 percent. Cruz's advantage over the real estate mogul also comes from self-described 'very' conservative voters, who give him a 36-point lead...Bernie Sanders is ahead of Hillary Clinton by a 48-43 percent margin in the race for the Democratic nomination in Wisconsin….Sanders owes his advantage -- which is within the poll's margin of error -- to young voters and men" [Fox results for Republicans, Fox results for Democrats]  
TRUMP AND CLINTON HAVE BIG LEADS IN NEW YORK - Quinnipiac University:  "[Hillary] Clinton tops Sen. Bernie Sanders of Vermont 54 – 42 percent while [Donald] Trump leads among Republicans with 56 percent, followed by Sen. Ted Cruz of Texas at 20 percent and Ohio Gov. John Kasich with 19 percent….New York remains solidly blue as either Clinton or Sanders top any Republican in the head-to-head general election matchups….In New York State's GOP primary, men go 63 percent for Trump, 18 percent for Kasich and 16 percent for Cruz. Women go 48 percent for Trump, 25 percent for Cruz and 21 percent for Kasich….There are gender and racial gaps in the Democratic primary as women pick Clinton over Sanders 59 – 37 percent, while men go 49 percent for Sanders and 46 percent for Clinton...The gender gap carries into the Clinton-Trump matchup as women back Clinton 60 – 27 percent while men go 45 percent for Clinton and 41 percent for Trump." [Quinnipiac]
HUFFPOLLSTER VIA EMAIL! - You can receive this daily update every weekday morning via email! Just click here, enter your email address, and click "sign up." That's all there is to it (and you can unsubscribe anytime).
FRIDAY'S 'OUTLIERS' - Links to the best of news at the intersection of polling, politics and political data:
-Harry Enten highlights why Wisconsin could be troublesome for Donald Trump. [538]
-A new study looks at what female politicians can do to become "likeable enough" to win. [WashPost]
-Philip Bump explains why Bernie Sanders will have a difficult, if not impossible time, catching up to Clinton's delegate count. [WashPost]
-Amy Walter wonders if Republican voters are all that concerned with electability. [Cook]
-Andrew Gelman disputes the idea that blue collar workers are the most loyal Republican voters. [WashPost]
Calling all HuffPost superfans!
Sign up for membership to become a founding member and help shape HuffPost's next chapter