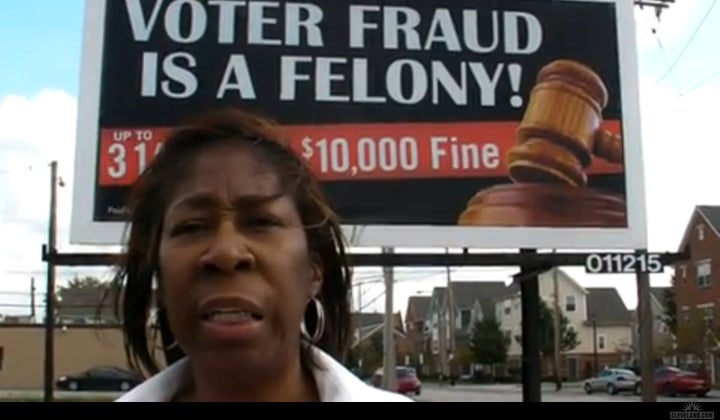 One by one the billboards started popping up all over Cleveland. One showed up at Carnegie Avenue and East 36th Street. Another was plastered at East 185th and Harland Avenue. More cropped up across town.
Nearly all are in predominately black or poor neighborhoods. And all carry the same message: "Voter fraud is a felony!" punishable by up to 3 ½ years imprisonment and a $10,000 fine. The message is accompanied by the image of a gavel and sound block.

"It is voter intimidation," said Phyllis Cleveland, a Cleveland City councilwoman. "That was my gut feeling the first time I saw them."
The billboards, owned by Clear Channel Outdoor and paid for by an undisclosed private family foundation, has rattled nerves in Cleveland as voting rights groups and politicians say they believe the billboards are part of a national effort by Republicans to suppress likely Democratic voters.
The battleground state of Ohio has been a theater of legal and partisan battles over the elimination of early voting days and restricted voting hours. In 18 other states with Republican-led legislatures, lawmakers have made it tougher for third party groups to register voters, purged suspected non-citizens from voting rolls or passed strict voter ID laws that require voters to present state-issued photo ID to cast a ballot.
"All of these things taken together have such a detrimental impact on communities of color and low income communities," said state Sen. Nina Turner. "African Americans really feel insulted at the insinuation that black folks are involved in voter fraud. It makes no sense to me. What they are doing is reminiscent of what segregationist leaders did in the Jim Crow South with poll taxes and grandfather clauses."
Issues of voter suppression and voter intimidation have become hot-button issues as the November election approaches, with Democrats calling Republican efforts an all-out "assault" on likely Democratic voters. Republicans, particularly in battleground states such as Ohio, Pennsylvania and Florida, have taken unprecedented measures at making it more difficult to vote.
Organizations such as True The Vote, a Tea Party group, have attempted to purge thousands of voters from voting rolls across the country. The group has also vowed to send thousands of poll-watchers to the polls on Election Day to "monitor" voters. Republicans have said the efforts are meant to protect against in-person voter fraud, which there is little evidence of, and to keep undocumented immigrants from voting.
"They are creating an environment whereby African American, Hispanic and poor people are being painted as offenders," Turner said. "They know exactly what they are doing. This is all about our president. Don't make any mistake about it. Those signs were not up four years ago or eight years ago or even 10."
Turner said the placement of the billboards is strategic.
The effect on the community is "exactly the effect that they want to have," Turner said. "If you are a low-information voter, under all of this pressure ... many voters will say 'to hell with it.'"
If voter turnout slumps in November, particularly in the northeastern part of the state and in urban areas, it would be hard for President Barack Obama to win the state.
After his election "some of these people have lost their ever-loving minds," Turner said. She called the mysterious financers of the billboards "bullies and cowards."
"It's 2012 and it makes me sick to my stomach that not one Republican in the state of Ohio that I know of has had the courage to stand up and call this what it is -- pure unadulterated racism and classism."
Around town, the rumor mill has been actively churning. It's the work of the American Legislative Exchange Council, some believe. Others say it's the work of the Koch brothers, the conservative billionaires who've used their wealth for conservative causes.
Clear Channel said it was a mistake to sell space on the billboards to an anonymous foundation, according to the Washington Post's election blog. But the company said it wouldn't take down the billboards. "Honestly, it was a mistake of the specific sales person who agreed to that," Jim Cullinan, vice president of marketing and communications for Clear Channel Outdoor, told the Post.
Cullinan said the company usually requires ads to run with the purchaser's name at the bottom. "But once we put them up and signed a contract, we had to live with the anonymity. We understand there's people upset. We're working with the community," he said.
The Ohio AFL-CIO on Friday joined the chorus calling for the ads to be taken down.
"Every election year we see offensive, underhanded tactics by groups who don't want everyone to have access to the voting booth," wrote Arlene Holt Baker, the union's executive vice president, and Pierrette Talley, the Ohio chapter's secretary-treasurer, wrote in a joint statement. "This year, intimidating billboards that point out voter fraud are appearing in predominantly African American communities in Ohio, despite little to no evidence that voter fraud exists."
"If somebody wants to win an election no matter what, they can say okay I'm going to chop off maybe a half-percent of the vote here, a quarter-percent here until bingo, you've chopped of 2 to 4 percent of the vote," Robbins said. "If you do it a little here and a little there, you get away with it and it doesn't seem like a big deal."
Robbins said the billboards could have a strong impact on people who've spent time in prison. "It scares the living daylight out of them," he said. "They say if I make the slightest mistake I could go to jail again."
Robbins said the list of hurdles that Ohio elections chief Secretary of State Jon Husted has placed on voters, particularly those with low income and low information, continues to grow.
"Each one of these things is one more effort to suppress the vote," Robbins said.
Phyllis Cleveland, the city councilwoman, said she first started getting calls about the billboards last week. Several have been erected in her ward. Nearly all are near public housing or in poor neighborhoods.
"Some people are shaking their heads of course, but many people are angry," Cleveland said. "When they really think about it they get really angry, for people to come into your own neighborhood and try to threaten you or try to keep you from doing what you have the right to do."
UPDATE: 7:30 p.m. -- This article has been updated to include the comments of Clear Channel and the Ohio AFL-CIO.
Popular in the Community