 Right-wing activists bent on exposing the alleged epidemic of in-person voter fraud suffered a major misfire over the weekend when anonymous pollwatchers set off alarms over groups of Somalis getting rides to a central Ohio early voting center.
Many members of the large Somali community in and around Columbus are U.S. citizens and therefore have the constitutional right to vote. But that didn't stop the conservative Human Events website from warning of "troubling and questionable activities" -- or the Drudge Report getting its readers exercised about "Vanloads of Somalians driven to the polls in Ohio."
The Human Events story quoted two anonymous pollwatchers complaining of "Somalis who cannot speak English" arriving in groups, being given a slate card by Democratic party workers outside the polling place, then coming in and being instructed by Somali interpreters on how to vote. The article also raised the question of "whether a non-English speaking person is an American citizen."
One regular contributor to the right-wing American Thinker website likened the voters to "Somali pirates" being used by Ohio Democrats to "hijack the election."
Somali leaders in central Ohio said the charges in the article were upsetting as well as unfounded.
"They shouldn't single out the Somalis," said Hassan Omar, head of the Somali Community Association in Ohio. "That's the American dream; exercising the freedom of voting."
Omar said that only those Somalis who are citizens register to vote. "There's no cheating. This is scare tactics, to be honest with you," he said.
Ben Piscitelli, a spokesman for the Franklin County Board of Elections, mocked the concerns expressed in the Human Events story. "'Gee, all these Somalis, who knows if they're U.S. citizens? Who knows what Somali pollworkers are saying to them? Gee, we saw Democrats outside that were giving them slate cards.'
"The answer to all of that is: So what?" Piscitelli said.
Somali voters have been a "very visible presence" at the early voting center, which happens to be smack dab in a heavily Somali part of town where many of the older women still wear traditional dress. "They stand out," Piscitelli said. "But that doesn't mean there's anything wrong with it. As far as we're concerned, we think everything's okay."
People who register to vote have to affirm their citizenship under penalty of perjury, and "we haven't had any instances in my memory or in recent years of somebody trying to vote who wasn't a citizen," Piscitelli said. "There's no more reason to suspect someone with a Somali name than there is to suspect someone with a name like Piscitelli."
Members of either party are allowed to campaign and give voters slate cards as long as it's more than 100 feet from the polling place, he noted, and voters are allowed to bring those slate cards into the voting booth.
The article claimed there were no Republican Somali speakers at the polling place. Piscitelli said the very first Somali speaker they hired was, in fact, a Republican.
And those pollworkers often help voters understand how the touchscreen machines work, he said. "Yes, they're speaking Somali, and we don't know what they're saying to voters, but then again we don't eavesdrop on our English-speaking pollworkers either."
Omar said his association estimates there are about 45,000 Somalis in the area. Most entered the country in the early 1990s as refugees from the civil war in their country, and were ultimately drawn to places like central Ohio and Minnesota for economic reasons. Many -- Omar thinks more than 40 percent -- have become naturalized American citizens.
Most applicants for naturalization -- though not all -- need to pass a test of very basic English, but that's a far cry from being fluent. That's why polling places with large immigrant populations are generally required by federal law to provide language assistance. In this case, Franklin County recruited Spanish and Somali speakers to work the polls.
Omar said that even for some Somalis who have been in this country a long time, when they have a question about something like how voting machines work, they are more comfortable doing so in their native language.
Mussa Farah, president of the Columbus-based Horn of Africa Rescue Committee, said he was shocked when he read the Human Events article. "That was crazy," he said. "I wish they would have to show why they believe that. Just because you see two vehicles of Somalis, doesn't mean there is voter fraud."
Omar said his household has six registered voters, and his brother's has nine. "So if we take the same bus or the same van and we vote and we want to have lunch together, is that cheating?"
The Franklin County Democratic Party, meanwhile, will take anyone to the polls if they want a ride, said spokesman Chuck Ardo.
"We have taken many vanloads of Somalis," he said. "We have also taken older folks, we have taken disabled folks, we have taken -- in fact, we just now took five women from the local Y to vote. Clearly the Somalis are more obvious because of their dress, but they are simply part of our greater ride to the polls campaign," he said.
"I think that given the Republicans' efforts to suppress Democratic turnout overall, this comes as no surprise. It's just part of their scare tactics," Ardo continued. "I think part of the concern is that early voter turnout here in Franklin County is setting new records. And I think that concerns the Republicans, because the folks turning out in large numbers are supporters of the president."
One obvious concern raised by this incident is that it could foreshadow what will happen when uninformed, overvigilant, possibly even racist pollwatchers descend on unfamiliar minority precincts all over the country on election day, on behalf of right-wing groups.
Some Democrats fear that voter intimidation by pollwatchers will be the crowning element of a GOP-led campaign that has already restricted registration drives, purged voter rolls, rolled back early voting, and pushed new voter ID laws. Republicans say such measures are necessary to stop voter fraud, though they have no evidence that voter fraud is anything but a theoretical problem. By contrast, the measures they've advocated have the distinct effect of depressing the vote among minorities, the poor and other generally Democratic constituencies.
"People who do not speak English are allowed to vote," he wrote. "This is a diversion that carries the danger of people overreacting."
Before You Go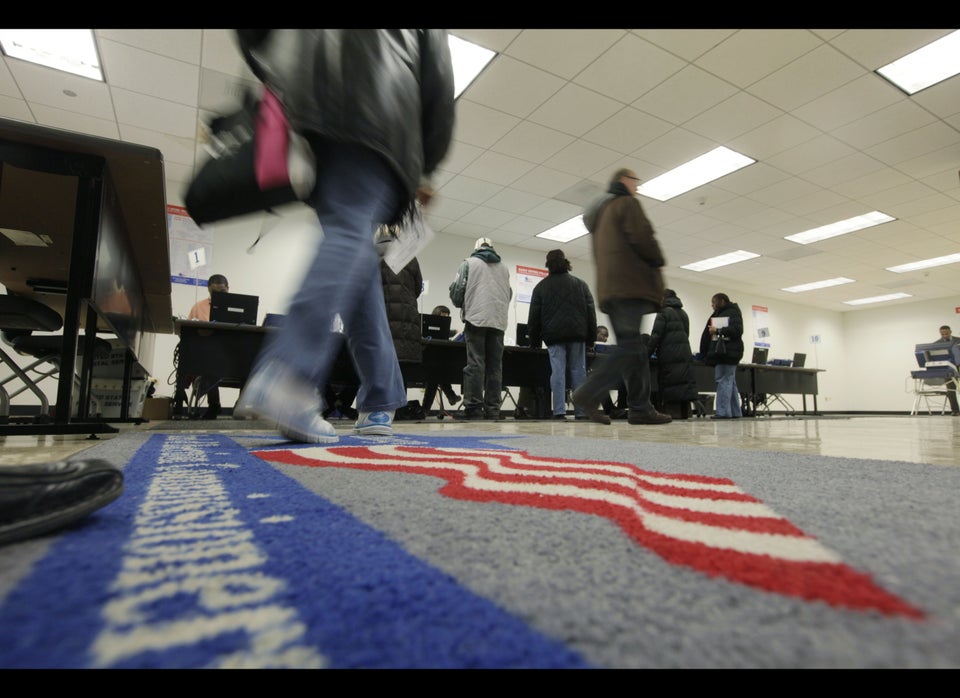 7 Ways You Could Be Disenfranchised
Popular in the Community