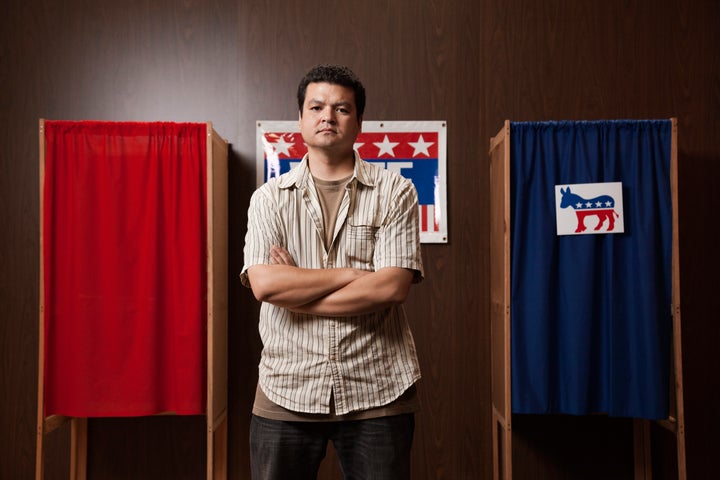 With less than two months to go until Election Day, Hispanic advocacy groups are pressing their fight against voter ID and registration laws that they say aim at restricting minority voting.
"We estimate that almost ten percent of Latino voters will be affected by this issue," Hector Sanchez, chairman of the National Hispanic Leadership Agenda, told The Huffington Post. "At a time when you have elections that are so close in the swing states, that ten percent could decide the presidential election."
"There's a three-pronged strategy," Brent Wilkes, LULAC's executive director, told The Huffington Post. "First, we try to defeat the bills and stop them from becoming law in the first place. ... We've had some success on that, but honestly a lot of the Republican-dominated legislatures have unfortunately gone ahead and passed ID fraud-type bills. So, the next step is the court cases. We've had a lot more success, I think, in the courts in terms of striking down a lot of these voter suppression bills."
Therefore, Wilkes said, the third part of the civil rights group's strategy is to aggressively combat the impact of the laws. "Regardless of the fact that there are these bills on the books, we're going to register voters," he said. "We're not going to let them scare us away from registering our community and we're going to encourage them to turn out to vote and to bring whatever they have to bring to show they're voters."
"We don't like it," he added, "but we're going to make sure that we get our community to turn out and vote. We're not going to let those obstacles be the reason you didn't exercise your voice."
The laws the groups oppose include new voter photo ID laws and proof of citizenship requirements, as well as limits on early voting which negatively impact minorities.
"When I have two or three jobs and these people are making it more difficult for me to vote on Sundays, or to do early voting," Sanchez, chairman of the National Hispanic Leadership Agenda, said, "or when I can't take time off to really participate in this because I need to feed my children -- those are a number of the issues that make it really hard for communities of color to be much more aggressive in participation."
Democrats contend Republicans are behind the rash of new voter registration and ID laws in a deliberate attempt to reduce the number of Latino and African-American voters, who tend to vote Democrat.
In his speech Thursday at the Democratic National Convention, Georgia Rep. John Lewis, one of the original Freedom Riders, equated the current efforts to the days of Jim Crow.
"I've seen this before," he said. "I've lived this before. Too many people struggled, suffered and died to make it possible for every American to exercise their right to vote. And we have come too far together to ever turn back. So we must not be silent."
However, Pennsylvania House Majority Leader Mike Turzai gave strength to the Democrats' allegations in June, when he was caught on video adding the state's ID law to a list of Republican accomplishments.
"There's no doubt that what the Republican led legislature in Florida and Governor Scott are trying to do is make sure the Republican party has an advantage in this upcoming election by reducing early voting and putting roadblocks up for potential voters, Latinos, African Americans to register and then to exercise their right to vote," former state GOP chairman Jim Greer told the Rev. Al Sharpton on MSNBC. "There's no doubt. I was in the room. It's part of the strategy."
It's a critical issue, especially in close elections.
Speaking at a student town hall in Charlotte, N.C., during the Democratic National Convention, Kal Penn, actor and former associate director of the White House Office of Public Engagement, used the closeness of the 2008 presidential race in North Carolina as an example. Out of a total of more than 4.2 million votes cast, President Barack Obama won the state by fewer than 14,000 votes. The margin of victory in several counties was 300 votes or less. In two counties, Tyrrell and Hyde, the candidates finished 28 votes or less apart.
Said Penn, "A single vote does matter."
Calling all HuffPost superfans!
Sign up for membership to become a founding member and help shape HuffPost's next chapter
BEFORE YOU GO
PHOTO GALLERY
7 Ways You Could Be Disenfranchised