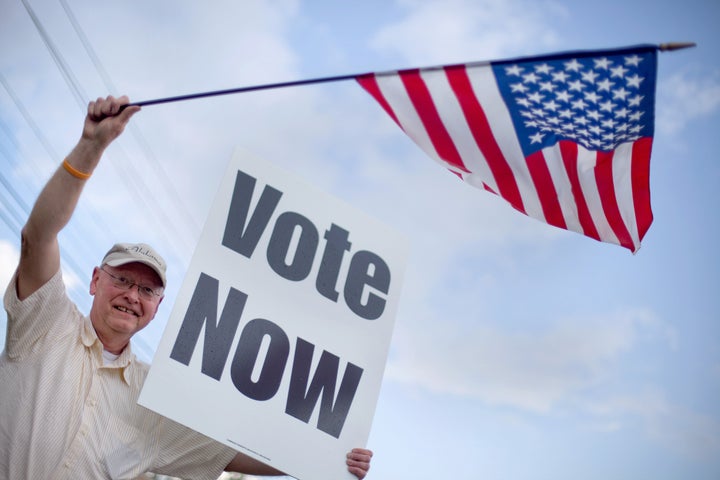 This past week, the decision by the American Legislative Exchange Council's (ALEC) to shut down its Public Safety and Elections Task Force, the task force that refined and promoted strict photo ID legislation that has been popping up in state legislatures over the past two years, was a significant victory for voting rights advocates. However, the damage is already done. Strict voter photo ID laws will be in place in several states this election, potentially disenfranchising millions if they don't get the ID they need to vote.
While several voting rights groups are fighting to get these laws overturned in the courts, organizers and community groups on the ground are stepping up to make sure that voters will have the IDs they need to be able to vote. Already, in Tennessee and Wisconsin, community groups and statewide organizations have developed programs to identify voters that lack a photo ID and to help them get the ID they need to vote.
Some of the key elements to developing a program to help people get the necessary photo ID include:
Creating a diverse, engaged coalition of local organizations to support a voter outreach program;
Identifying and reaching eligible voters who do not have the necessary ID;
Addressing voters' hurdles to obtaining required ID, such as transportation to DMV offices or the costs of obtaining the necessary underlying documentation like a birth certificate; and
Advocating for legislation to make obtaining the required IDs simpler and easier, including no-cost birth certificates and extended DMV hours.
One challenging hurdle for groups is identifying voters that do not have the necessary ID. In Wisconsin, a statewide organization, Wisconsin Voices, used its relationship with DMV officials in Milwaukee to obtain records of people with a Wisconsin drivers license. They matched the list with their voter contact and management system and identified voters that already had the necessary ID to narrow down the universe of past voters they need to contact.
In Tennessee, the Tennessee Voters Assistance Coalition, works with labor unions, churches, community groups, students and faculty at colleges and universities, as well as individual volunteers, to publicize their efforts through word of mouth, Facebook, items in free weekly newspapers, weekly church bulletins, and on radio programs. Voters that need assistance contact them for help getting the necessary ID they need.
Another obstacle to getting the necessary ID is providing the necessary documentation, usually a birth certificate. Many do not have a copy of their birth certificate and obtaining one can be time consuming, complicated and costly -- especially if the voter was born out of state. To address this problem, the League of Women Voters of Dane County (Wisconsin) helps voters through the process by walking them through the online registration forms and figuring out the documentation they need to obtain the birth certificate. They make three copies of all forms -- one for the voter, one for the League's records, and one to be mailed to the state -- and will pay for the cost of the birth certificate for those that are unable to afford it. They follow up once the voter receives a birth certificate and offer a ride to the DMV to obtain their free voter ID.
Once voters have the documentation they need, a final step is getting them to the DMV to obtain their free voter ID. In many cases, the DMV is not easily accessible. In Tennessee, less than half the counties have a DMV that can provide free voter IDs. The Tennessee Voters Assistance Coalition has worked with local churches to use their buses to take voters to the DMV to obtain their ID.
Voters may have to wait for hours at the DMV to be helped only to find out they are missing needed documentation. In Colorado, the Colorado Collaborative Project developed relationships with local DMV staff that now allows them to communicate with the staff via email to determine if the client has sufficient identification documents to obtain their ID before the arrive at the DMV.
These are just a few examples of the work that is being done on the ground to make sure that all eligible voters have the ID they need to be able to vote.
This month the Pennsylvania legislature adopted a strict photo ID law and legislatures in Michigan and New Hampshire are debating photo ID legislation as well. With new states involved and with the November election in less than seven months away, civic engagement and other community groups need to begin now to educate voters on the ID they need to vote and implement strategies to get them the ID they need to ensure these laws don't disenfranchise anyone.
The Fair Elections Legal Network has also developed several guides in key states on voter ID and eligibility requirements, as well as guides on conducting voter registration and Get Out the Vote (GOTV) drives. Civic engagement groups should visit the resources section of our website to get information to help voters get to the polls this November.
Popular in the Community