In a trial set to start next week, lawyers from a coalition of liberal-leaning and civil rights groups will attempt to strike down a statute that requires all voters in Pennsylvania to present particular forms of photo identification before casting their ballots.
The law has been the subject of controversy since the state's Republican legislature and governor passed it in the spring of 2012. In September, a Pennsylvania judge stopped the law from going into effect, and lawyers for the plaintiffs are now hoping to wipe it from the books entirely.
If they fail, Pennsylvania could become the latest state to require voters to show some form of ID at the polls, a recent trend viewed by critics as an attack on the voting rights of poor people and members of minority groups, who are less likely to possess drivers' licenses or other forms of identification.
Richard Hasen, a professor of law and political science at the University of California, Irvine, and an expert on election law, said he expects the trial to be closely watched. "Pennsylvania is important nationally," he said. "It's a battleground state."
For proponents of voting rights around the country, the case will unfold against a backdrop of uncertainty over the future of access to the polls for minority groups and the poor.
A 5-4 majority argued that it was unfair to hold these states accountable for acts of discrimination dating back decades, and invited Congress to update the formula used to determine which places currently warrant special scrutiny of their election policies.
The decision had no direct effect on Pennsylvania, but it has prompted calls among Democrats and voting-rights advocates for an updated law that would address voting discrimination not just in the South, but also in the growing number of northern states that have passed voter ID requirements in recent years, including Ohio, Indiana and Wisconsin. Pennsylvania's law is among the strictest.
Like many voter-ID advocates nationwide, Republicans in Pennsylvania's government say they're concerned about fraud. But voter fraud is rare, and even Pennsylvania's lawyers admitted last year that they could not identify "any incidents of in-person voter fraud in Pennsylvania and do not have direct personal knowledge of in-person voter fraud elsewhere."
In the Harrisburg courtroom, the plaintiffs' lawyers are expected to make the case that Pennsylvania's statute has disenfranchised hundreds of thousands of voters, in part because the state has done a poor job of implementing the law.
Jennifer Clarke, executive director of the Public Interest Law Center of Philadelphia, a group representing the plaintiffs, noted that only 71 offices throughout the state are set up to issue photo IDs. "There are nine counties with no office and another two dozen or so where you can only go two days a week," she said.
For poor people who lack cars, she said, getting to those offices could prove impossible. "Maybe the state can get it right someday," she said, "but it still has the problem that people have to get to the offices, and they're not just down the street or in the lobby of their building."
Groups opposed to the law first challenged its constitutionality last summer, on the grounds that many voters lacked state-approved ID cards and didn't have the paperwork needed to get them. In response, the state created a new form of ID, one that was supposed to be easier to obtain.
But in September, the state Supreme Court stopped the law from going forward and sent it back down to a lower court for another hearing. A judge blocked the law, ruling that the state still hadn't succeeded in making the identification documents available to everyone. The plaintiffs maintain that little has changed since then.
"By definition, the people who have the new IDs don't drive, so getting to one of these 71 places is not possible," said Clarke.
Nils Hagen-Frederiksen, a spokesman for the governor's Office of General Counsel, acknowledged that the state ran into problems rolling out the new IDs last year, but "We're much further along now than we were then."
Asked about the difficulty of getting to the offices where ID cards are distributed, he said, "Certainly we appreciate that there may be some effort that needs to be expended in order to obtain a photo ID. But simply the requirement that you need to go someplace to get the ID is not a constitutional issue."
A report released last year revealed that as many as 750,000 Pennsylvanians lacked identification from the state.
In a press call on Friday, Marian Schneider of the Advancement Project, one of the groups bringing the suit, told the story of a 92-year-old Philadelphia woman who lives just upstairs from her polling place but miles from the nearest ID-distribution center. "She doesn't drive and she has no one to drive her and she'll be disenfranchised," Schneider said.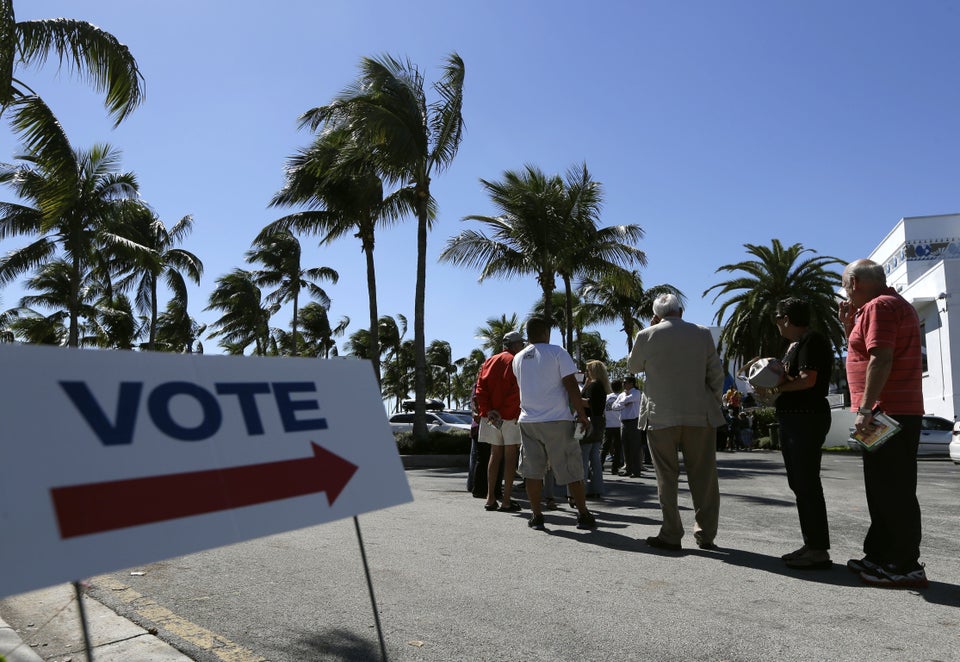 Long Lines For Miami Early Voting