 Defenders of the right to vote have a new high-tech weapon in their arsenal.
A consortium of civil rights groups unveiled a smartphone application Thursday as part of a comprehensive strategy to combat what it called a nationwide effort to disenfranchise minority and youth voters.
"The Election Protection smartphone app is a dynamic tool that will educate voters on their rights and empower them to take action so they can vote," said Barbara Arnwine, executive director of the Lawyers' Committee for Civil Rights Under Law, on a Thursday conference call with other organizations that developed the app.
The free app is a "critical tool in our fight against voter suppression," Arwine said, referring to recent state voter identification laws that have aroused concerns among civil rights advocates.
The tool gives voters the ability to digitally verify their registration status, find their polling place, encourage their friends and family to vote, fill out voter registration forms, and contact election protection officials, amongst other means to encourage voting.
Around the country, state governments have pursued voter identification laws and other legislative initiatives that civil rights activists -- and U.S. Attorney General Eric Holder -- have labeled a type of "poll tax" that suppresses the vote, similar to historical efforts to disenfranchise minority voters during the Jim Crow era.
"There are efforts across the country to suppress the vote and these efforts have disproportionately affected Latino voters, which is why the NALEO educational fund is proud to join in this effort," said Arturo Vargas, executive director of the National Association of Latino Appointed and Elected Officials Education Fund, on the call. Vargas said that a Spanish version of the app is expected to be released in coming weeks.
One of the target audiences for the software is, naturally, tech-savvy younger people, who have proven to be less likely to vote, as well less informed about voting requirements.
"We've seen incredible confusion about [election] laws, in particular amongst young voters," said Heather Smith, president of Rock the Vote, on the call. She cited a recent survey from Tufts University that showed 68 percent of young voters are either unsure or incorrect about photo ID requirements, while a whopping 80 percent are unsure or incorrect about their state's voter registration rules.
Smartphones are commonly thought of as a luxury limited to the middle and upper classes, so a smartphone app might seem less helpful to low-income, youth and minority populations whom activists have said are most affected by voter ID laws. Yet, advocates stressed on the call that smartphones are ubiquitous, even among underprivileged groups.
"Regardless of income level, smartphone adoption rates are consistent, so even among those with household income of $30,000 or less, smartphone ownership rates amongst those under 30 are equal to the national average," Smith said.
People from lower income brackets are bypassing the purchase of a computer and going straight to smartphone use, she said. "It's one of the reasons why we focus on smartphone applications because it can bypass that income divide."
Arnwine cited a 2012 Pew study that showed African Americans and Latinos have a higher rate of smartphone use than other Americans "even though they have lower incomes than the American white population."
The app is also, Arnwine stressed, only a complementary tool to their other programs that protect the vote. In addition to the smartphone app, the Lawyers' Committee and NALEO have hotline numbers that citizens can call for voting assistance: 1-866-OUR VOTE and 1-888-VEY VOTA.
Before You Go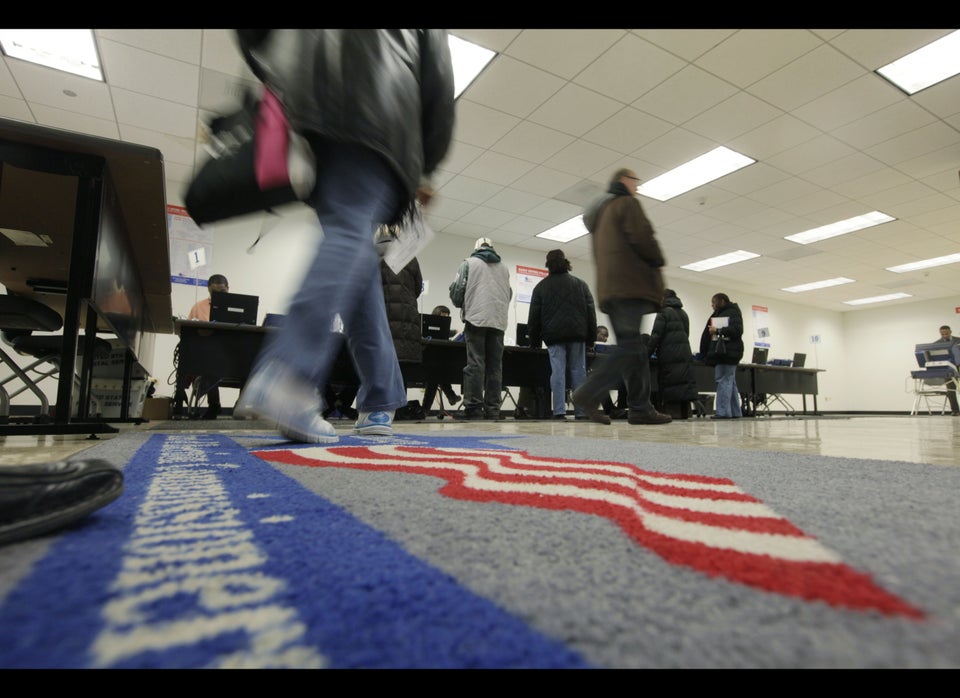 7 Ways You Could Be Disenfranchised
Popular in the Community