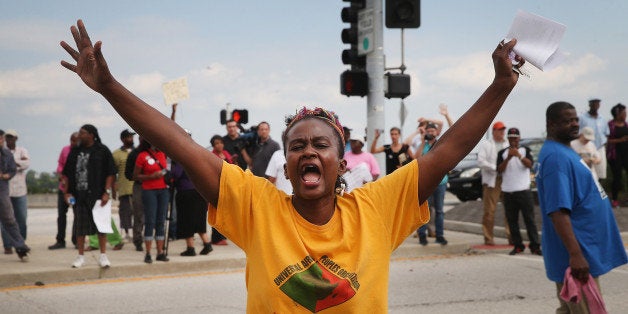 UPDATE: Oct. 7 -- The St. Louis County Board of Elections has drastically revised its count of new voter registrations in Ferguson, Missouri, since the Michael Brown shooting -- from the 3,287 previously reported down to 128.
Ferguson, Missouri, has seen a surge in voter registration since a white police officer fatally shot black teenager Michael Brown in early August, USA Today reported Thursday.
Of the 4,839 people in St. Louis County who have registered to vote since the shooting, 3,287 are residents of Ferguson -- a city with a population of 21,203, according to the last census.
The city's population is predominantly African-American, yet most of its elected representatives and a vast majority of its police force are white.
"It's a great move when people come out and register in mass like that," St. Louis 3rd Ward Committeeman Anthony Bell said, according to USA Today. "They are sending a signal that we want a change. It doesn't give justice to the Michael Brown family but it will in the future give justice to how the administration is run in a local municipality like Ferguson."
Anthony Gray, an attorney who represents Brown's family, said citizens of Ferguson could enact real change come the November elections.
"It could completely change the political landscape, the power structure, (and) the decision making," he told USA Today. "The service to the African American community would almost quadruple because they would be viewed as a credible and legitimate voting block."
Eight protesters demanding the arrest of Darren Wilson, the officer who shot Brown, were arrested Sunday night during another tense standoff between demonstrators and police outside the Ferguson Police Department.
Officials said Wednesday they were "looking into" allegations of misconduct on the grand jury hearing the case, after reports that a juror may have discussed evidence with a friend.
Calling all HuffPost superfans!
Sign up for membership to become a founding member and help shape HuffPost's next chapter
BEFORE YOU GO