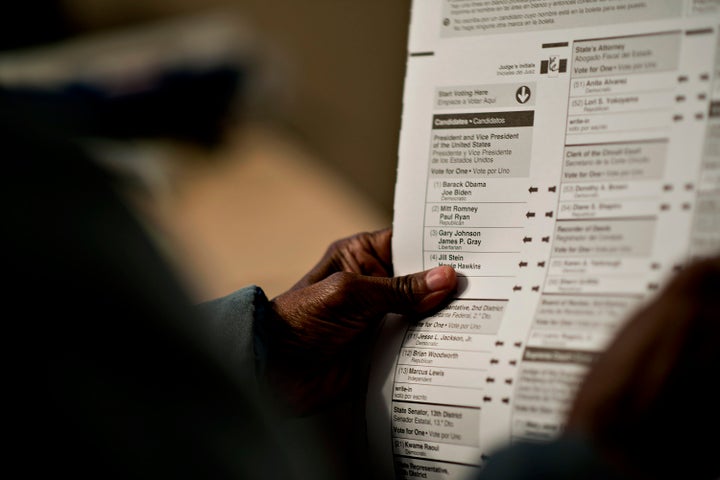 CHICAGO - A federal judge in Illinois on Tuesday blocked same-day registration at polling places in the state's most populous counties, saying a law enacted last year disproportionately favored urban voters over their rural counterparts.
The ruling resulted from a federal court lawsuit brought in August by a group aligned with a conservative think tank challenging a state law allowing Election Day voter registration at polling places in counties with populations of 100,000 or more.
"The application of this legislation favors the urban citizen and dilutes the vote of the rural citizen," Judge Samuel Der-Yeghiayan of the Northern District of Illinois wrote in his opinion on Tuesday, six weeks before the Nov. 8 election.
The Chicago-based Liberty Justice Center, which filed the lawsuit, argued the population threshold unconstitutionally discriminated against voters in less populated counties and boosted Democrats in heavily Democratic Cook County, where Chicago is located.
"The court ruled that if Illinois is going to have Election Day voter registration at polling places, it should be available statewide – and it should be fair," Jacob Huebert, a senior attorney for the Liberty Justice Center, or LJC, said in a statement on Tuesday.
Maura Possley, a spokeswoman for the state Attorney General's Office, was not immediately available to comment on whether there would be an appeal.
LJC was founded by the Illinois Policy Institute, which keeps its donors secret, but Republican Governor Bruce Rauner, who took office in January 2015, has publicly acknowledged giving the group at least $500,000 over a period of years.
The law, passed in late 2014 by the Democratic-led legislature and signed in early 2015 by former Democratic Governor Pat Quinn, allowed Election Day voter registration for the first time, including at polling places.
But the section of the law pertaining to polling place registration pertained only to counties with populations of 100,000 or more.
Democratic state Senator Don Harmon said in a statement on Tuesday he was disappointed by the decision, which came on National Voter Registration Day, calling it a "blatantly political effort to quell participation in Illinois elections."
Civil rights groups, including the American Civil Liberties Union, also expressed unhappiness with the ruling.
"We are concerned about the impact of this decision, changing the rules of voting so close to this hotly contested election," Edwin Yohnka, director of communications and public policy at the ACLU of Illinois said in a statement.
(Reporting by Timothy Mclaughlin; Editing by Peter Cooney)
REAL LIFE. REAL NEWS. REAL VOICES.
Help us tell more of the stories that matter from voices that too often remain unheard.
BEFORE YOU GO
PHOTO GALLERY
Election 2016