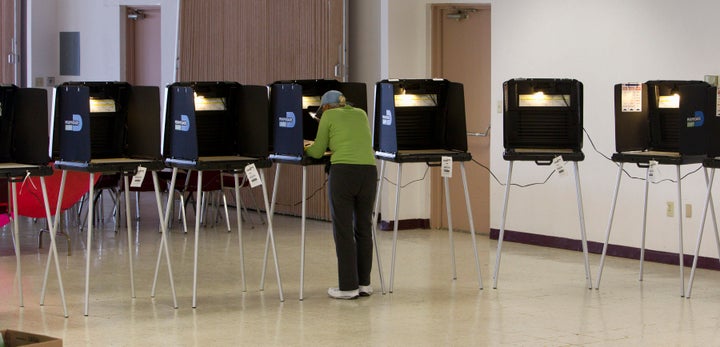 When John Rossler showed up at a mid-July gathering of the nation's top election officials in San Juan, Puerto Rico, he delivered the kind of big election news that can easily get lost.
Rossler is a U.S. Department of Homeland Security official who oversees a collection of immigrant information databases known as the Systematic Alien Verification for Entitlements program. Rossler told the group that he was prepared to grant access to SAVE, even though the system was not designed to help states verify voter eligibility.
And, when the meeting in San Juan was over, two very different views of what happened emerged. In one, the bedrock of American democracy had suddenly been rescued from the threat of non-citizens on the nation's voter rolls, several state election agencies said in interviews with The Huffington Post. In the other, voting rights advocates insist that as many as 27.4 million Americans in at least 14 states interested in accessing SAVE are suddenly facing the prospect of the kind of deeply flawed effort to identify voter fraud that drew national attention to Florida in June.
Fourteen states have expressed interest in SAVE, and while most are developing plans to use it, two say they will not engage in a Florida-style voter purge.
Early last year, Republican election officials in Colorado, Florida and New Mexico initiated projects to compare the names of registered voters with those who have applied for licenses in each of their respective states.
In Colorado, the process identified 4,000 suspect voters (the list has grown to 5,000 this year). In New Mexico, the process yielded no names. But in Florida, the voter rolls contained the names of 180,000 people that weren't citizens when they applied for a state driver's license, election officials have said.
The numbers left election officials all over the country concerned, said Andrew Cole, a spokesman for the Colorado Secretary of State's Office, which oversees elections in that state. And when state election officials gathered this month in Puerto Rico, a mix of Republican and Democratic Party-affiliated election overseers approved a resolution calling on Homeland Security to grant access to SAVE.
"It's unfortunate that DHS took a year of stonewalling before they decided to live up to their legal obligation," Cole said. "We're trying to safeguard the system here."
But voting rights advocates aren't convinced concerns about voter roll integrity are driving interest in SAVE.
"The claim that this is all born of some kind of organic and emerging set of concerns is laughable," said Judith Browne-Dianis, co-director of the Advancement Project, a Washington, D.C. nonprofit that advocates for voting rights.
"Make no mistake, the non-citizen voter purge is part of the continuum of the voter fraud story that has given us voter ID laws," Browne-Dianis said. "This is part of a broader effort to limit the influence of immigrants, who are also quite likely minority voters. What we are witnessing is the mainstreaming of the language of xenophobia and fear."
Trying to identify and purge non-citizens from the voter rolls with SAVE is likely to be an error-filled process, said Browne-Dianis.
SAVE does not include information on American citizens born inside the United States, a group that includes the vast majority of registered voters. SAVE also does not include information about undocumented immigrants, and is not updated the minute that someone becomes a citizen.
"States who are able to provide the proper identification and documentation for individuals who are registered to vote may access the SAVE Program to verify their citizenship," said DHS spokesman Peter Boogaard. "USCIS does not provide guidance for how a state could legally remove individuals from their voter rolls."
In 2011, Colorado and Florida asked for access to SAVE. DHS refused. After months of wrangling, Florida decided to move ahead without it.
Florida Secretary of State Ken Detzner directed county election officials to contact about 3,000 people on the list. When letters asking for proof of citizenship and warning that participating in an election when ineligible constitutes a felony began arriving in mailboxes in June, Florida's efforts drew national attention.
The process did identify two non-citizens who have voted out of that 3,000, election officials in Miami-Dade County said. But it also included at least 500 people who had become citizens since applying for a driver's license, and some people born inside the United States. Voting rights advocates pointed out that 80 percent of the state's short list were black or Latino. County election officials refused to continue. The federal government filed suit. After a firm warning questioning Florida's motives and timing, a federal judge refused to block the purge.
Still, several state election officials contacted by The Huffington Post described what happened in Florida in not so flattering terms.
"No disrespect to Florida, but I don't think anybody wants a situation like that in their state," said Cole, the Colorado Secretary of State's spokesman.
Since Colorado began its search for non-citizen voters on the rolls, 430 people have already contacted the state to request that their names be removed, Cole said.
Colorado declined The Huffington Post's request for a copy of the list of suspect voters.
On July 9, the Colorado sent a new request to DHS. This time, the letter was supported by Alaska, Arkansas, Arizona, Georgia, Iowa, Kansas, Michigan, New Mexico, Ohio, Utah and Washington, Cole said. Texas also sent a separate request, officials inside Secretary of State Esperanza Andrade's office told The Huffington Post.
In Washington state, election officials aren't part of a nefarious plot, said Secretary of State Sam Reed, a Republican. Reed has been recognized by some voting rights groups for his efforts to make it easier for people to register to vote. This month, Washington became the first state to allow Facebook voter registration.
When contacted by The Huffington Post, most of the 13 states that joined Colorado in pushing for access to SAVE said they do not have set plans for how they will use the information they find.
SAVE will join the list of investigative tools that Washington uses to identify possible problem voters. In Ohio, SAVE will join other investigative tools used if and when someone brings a suspected noncitizen on the voter rolls to the attention of state officials. And in Georgia, SAVE will be used to verify the eligibility of new voters as they register to vote.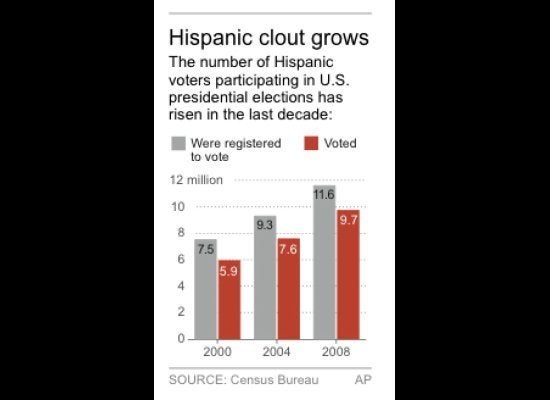 The Politics Of Registering Latino Voters