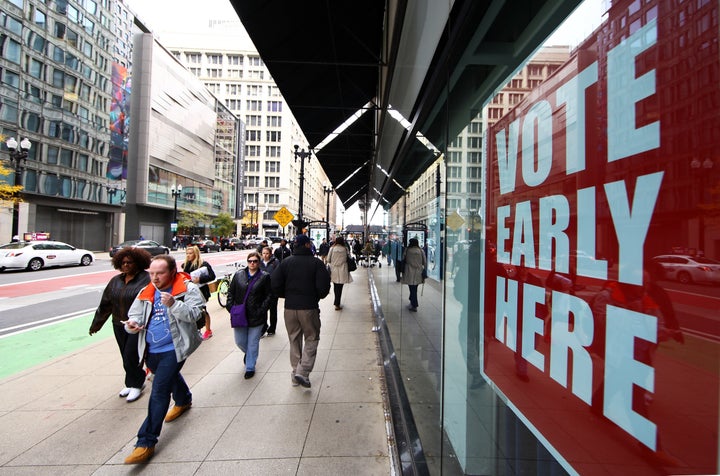 But with early voting now underway in several states, the real-world effects of actual (and very consequential) voter suppression have begun to bubble up.
Exhibit A is North Carolina, where in recent months reporters discovered that state Republican leaders had sent emails directing GOP appointees on local elections boards to "make party line changes" to limit early voting.
In one message, titled "CRITICAL and CONFIDENTIAL," a Republican district chairman urged election officials to offer only one early voting site for the minimum hours allowed by law, so as not to give Democrats an advantage.
Not all local boards listened, but some did, and the effect is obvious. The volume of early voting is generally down in the counties that reduced the number of polling locations and is up where the number increased.





Perhaps the most egregious county is Guilford, a county of 517,600 people, of which 57.9 percent is White, and gave Obama 58 percent of the vote in 2012. The county opened 16 in-person early voting locations in 2012, but has only their central election office open in 2016. The number of in-person voters on the first Thursday and Friday was 21,560 in 2012, but was only 3,305 in 2016, a decrease of 18,255 or 85 percent.

Mecklenburg, where the state's largest city Charlotte is located and a county Obama won with 61 percent of the vote, decreased their number of polling locations from 22 to 10. The effect was not as pronounced as Guilford. The number of in-person voters on the first Thursday and Friday was 29,068 in 2012, and was 26,660 in 2016, a decrease of 2,426 or 8 percent.

Many North Carolina counties will expand their in-person early voting polling locations the week before the election. Guilford will have 25 polling locations open at later points in the early voting period and Mecklenburg will have 22 (particularly the last week). In the past, the volume of early voting has increased as the election nears, so these actions to reduce turnout may not be entirely effective.
A similar story emerged on Tuesday, when The Nation's Ari Berman reported that Green Bay, Wisconsin, had denied a request for a second early voting site because, as the city's clerk wrote in a private email, additional voting locations would be "more of a benefit to the [D]emocrats."
Green Bay is the third-largest city in the state, and during the primary election in April, students at its University of Wisconsin campus reported waiting up to two hours to vote.
"UWGB is a polling location for students and residents on Election Day but I feel by asking for this to be the site for early voting is encouraging the students to vote more than benefiting the city as a whole," Teske wrote privately to a state ethics commission official in an email obtained through an open-records request.
In the end, the city's only early voting site is a 15-minute drive from campus and is only open during work hours.
Under the law, Ohio voters can have their ballots thrown out if they make a single clerical error on their ballot forms, even if election officials can accurately identify the voter despite the error.
Tuesday's petition to the Supreme Court included other examples. Ronald Gilbert, who is 86 and legally blind, had his ballot discarded because he mistakenly wrote that day's date in the birthdate field. Kadar Hiir, an immigrant from Somalia, lost his vote after accidentally flipping the date and month in the birthdate field.
CLARIFICATION: This story was updated to make clear that Guilford County will be opening additional polling places later in the early-vote period.
Popular in the Community