This election year was unusually terrible, a new survey confirms. The Democratic Party still gets better ratings than the Republican Party, though. And Donald Trump's top advisers are unknown to many voters. This is HuffPollster for Monday, November 21, 2016.
VOTERS GIVE LOW MARKS TO 2016 - Pew Research: "For most voters, the 2016 presidential campaign was one to forget. Post-election evaluations of the way that the winning candidate, the parties, the press and the pollsters conducted themselves during the campaign are all far more negative than after any election dating back to 1988…. Just 30% of voters give Trump an A or B, 19% grade him at C, 15% D, while about a third (35%) give Trump a failing grade. Four years ago, most voters (57%) gave Obama an A or B, and after his 2008 election, 75% gave him an A or B. For the first time in Pew Research Center post-election surveys, voters give the losing candidate higher grades than the winner….Donald Trump receives low grades for how he conducted himself over the course of the campaign, but voters grade other campaign actors just as harshly and in some cases even more harshly. Only about a quarter give an A or B to the Republican Party (22%) and the Democratic Party (26%). About three-in-ten give the parties an F (30% for Republican Party, 28% Democratic Party), by far the highest share giving the parties failing grades since this series of surveys began in 1988." [Pew] 
Press and polls aren't highly-rated either - More from Pew: "Voters also give abysmal grades to the press and pollsters, whose pre-election surveys were widely criticized. Just 22% give the press a grade of an A or B, while 38% give it a failing grade. Similarly, fewer voters award pollsters grades of A or B (21%) than a grade of F (30%). And voters do not spare themselves from criticism. Just 40% give 'the voters' a grade of A or B – the lowest percentage after any election since 1996…. As our surveys found throughout the campaign, voters view the 2016 contest as extraordinarily negative. Fully 92% say there was more 'mudslinging' or negative campaigning than in past elections – which is 20 percentage points higher than the previous high (72% after the 2004 election). And while a large majority of voters (81%) feel they learned enough about the candidates to make an informed choice, a record 73% say that there was less discussion of issues compared with past presidential campaigns." [Pew]
DEMOCRATS ARE VIEWED MORE POSITIVELY THAN THE GOP  -  Michael Smith: "Americans continue to view the Democratic Party more favorably than the Republican Party, with little evident change after the election that saw the GOP win the White House and keep control of both houses of Congress. In a Gallup survey conducted Nov. 9-13, 45% of Americans view the Democratic Party favorably, compared with 40% for the Republican Party. Americans have viewed the Democratic Party more favorably than the Republican Party for most of the past four years of the Barack Obama administration, except at one point immediately after the 2014 midterm elections….Republicans have never had a more positive image than Democrats for any consistent period over the past quarter century." [Gallup]
MANY VOTERS DON'T KNOW SESSIONS, BANNON OR PRIEBUS - Jon Reid: "Most voters said they have not heard of or have no opinion of Jeff Sessions, the Alabama senator who President-elect Donald Trump selected Friday to serve as his attorney general. Sessions is unknown to 39 percent of registered voters, and another 23 percent said they know of him but have no opinion. Only 18 percent of respondents said they view Sessions favorably, while 20 percent said they have an unfavorable opinion of him. The poll also shows that most voters (52 percent) have not heard of Trump's choice for chief of staff, Reince Priebus, or his pick for chief strategist, Steve Bannon. Voters were less favorable of Bannon's appointment. Nineteen percent of voters said the selection of Bannon, the chairman of the website Breitbart, is a strong choice, while 34 percent said it is a weak pick. Bannon's selection has been highly controversial, with Democrats and some Republicans raising concerns about his nationalist views. Thirty percent of respondents said Priebus, the Republican National Committee chairman, is a strong choice for chief of staff, while 27 percent said he is a weak choice." [Morning Consult]
DID LATINO VOTERS SUPPORT TRUMP MORE THAN ROMNEY? - Harry Enten: "No one doubts that Clinton won handily among Latinos. But the scale of that victory matters. Latino leaders — most of whom supported Clinton — want to argue that their constituents punished Trump for his policies on immigration and other issues, more so than they did Mitt Romney in 2012…. The main basis for Latino Decisions' argument that exit polls are wrong is that their own pre-election polling… had Clinton winning Latinos by a margin of 61 percentage points (79 percent to 18 percent), whereas exit polls conducted by Edison Research showed Clinton winning by just 36 points (65 to 29 percent).... Other polls that surveyed only Latino voters... generally reported a Clinton margin that was larger than that reported by exit polls, but smaller than the one in the Latino Decisions survey…. An average of the seven live-interview national surveys conducted in the final weeks of the campaign indicates that Clinton led Trump by 33 percentage points among Latinos. And a post-election online poll of the entire electorate from SurveyMonkey had Clinton ahead among Latinos by 39 percentage points…. There are 24 U.S. counties in which Latinos made up at least three-quarters of the voting-age population in 2015; Clinton's margin of victory was smaller than Obama's in 18 of them, by an average of nearly 10 percentage points. Clinton also underperformed Obama in five of the six counties where Latinos make up at least 90 percent of the voting-age population." [538]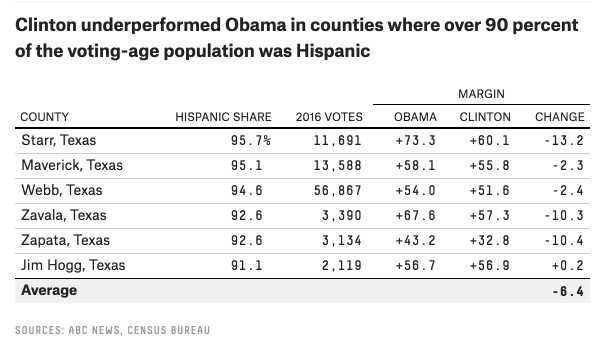 HUFFPOLLSTER VIA EMAIL! - You can receive this daily update every weekday morning via email! Just click here, enter your email address, and click "sign up." That's all there is to it (and you can unsubscribe anytime).
MONDAY'S 'OUTLIERS' - Links to the best of news at the intersection of polling, politics and political data:
-Emily Badger looks at the disproportionate power of rural voters. [NYT]
-Robert P. Jones examines the transformation of white, evangelical voters in the Trump era. [PRRI]
-Donald Trump's victory may have hurt Mexican president Enrique Pena Nieto's standing in the polls. [Newsweek]
-Benjamin Toff argues that polling is worsening voters' ability to predict elections. [WashPost]
-Historian Allan Lichtman discusses his "13 keys" prediction model. [Engadget]
Calling all HuffPost superfans!
Sign up for membership to become a founding member and help shape HuffPost's next chapter