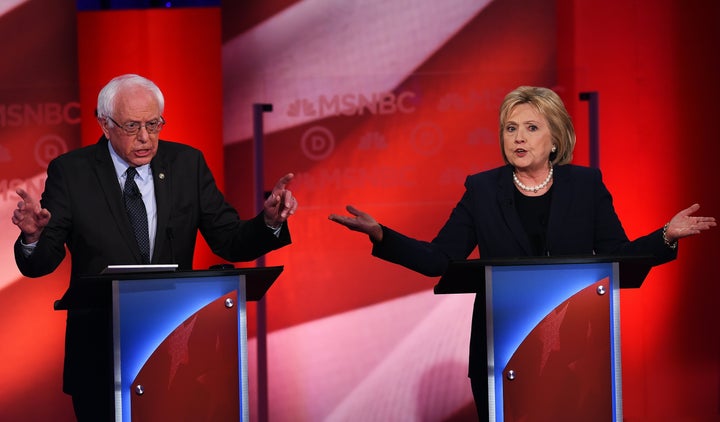 The hashtag, created by NARAL Pro-Choice, is being used to push Democrats to finally talk about women's reproductive rights during tonight's sixth Democratic Debate. 
NARAL created a petition for voters and activists to sign, imploring PBS to ask these hard questions. "In the first few weeks of 2016 alone, state legislatures have introduced 147 anti-choice bills. That's an average of five per day," the NARAL petition reads. "...Reproductive freedom is at serious risk in this country. But still, not a single question about abortion rights has been asked at ANY of the five Democratic debates. Not one."
Twitter users have been using the #AskAboutAbortion hashtag to draw attention to recent anti-choice legislation, the number of women's health clinics that have shut down in the past few years, and the questions they hope candidates are asked on Feb. 11. 
In an essay on Medium, NARAL wrote about why it's so important to ask about abortion during the Democratic Debate:
So far, the Democratic presidential debates have ignored the crisis in reproductive freedom altogether. But they can't continue to be held in a vacuum, in some alternate reality where abortion isn't being held hostage every single day by radical, anti-choice extremists who would see abortion outlawed. 
One in three American women will have an abortion in her lifetime -- a right that is being actively threatened by legislators around the country.  It's about time for the Deomcratic Presidential candidates to talk about that reality together on a national stage. 
H/T The Daily Dot
Also on HuffPost: 
PHOTO GALLERY
Democratic Debate 2016
Calling all HuffPost superfans!
Sign up for membership to become a founding member and help shape HuffPost's next chapter