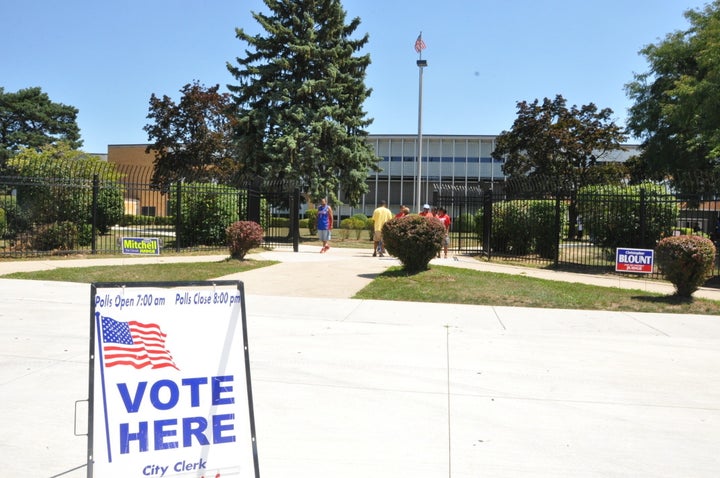 Some Detroiters waited hours this morning to vote -- or left before being able to cast a ballot -- when a polling location failed to open at 7 a.m.
Voting began as much as 90 minutes past the statewide start time for polling locations on Tuesday morning at Henry Ford High School in Northwest Detroit, when the person in charge of opening the school building for election workers didn't show up to unlock the doors. The worker reportedly overslept, according to WWJ.
Detroit NAACP Executive Director Darnell Wright went to Henry Ford High School himself later in the morning to investigate an alleged case of voter intimidation, which has been cited as an issue of contention by minority groups.
He told the Detroit News that a individual dressed in an Army uniform and combat boots checked the bags of voters who tried to access the high school.
"That kind of presence very well could lead to voters being intimidated and not wanting to approach the school building," said Wright, adding he didn't believe the intimidation was intentional.
Michigan elections expert Mary Ellen Gurewitz, an election law specialist with the Detroit firm of Sachs Waldman and a legal representative of the Michigan Democratic Party, told The Huffington Post that Democrats have visited locations throughout Detroit on Tuesday.
"We have a crew of people who are just going from the poll to poll to see how things are operating," she said. "We don't usually do this on primaries, but we thought we would do it today to get a preview before the fall."
Only 25 percent of registered voters are expected to cast a ballot in Tuesday's primary elections, according to experts. But those numbers could be higher in Detroit, as redistricting has led to six Democratic incumbents vying for three nominations within the city. The city's population is about 80% African American.
Due to new districts being drawn by Republicans across the state of Michigan, Metro Detroit could lose minority representation in Congress for the first time in 50 years. If Rep. Gary Peters defeats his fellow incumbent Rep. Hansen Clarke in tomorrow's primary, and if longtime Rep. John Conyers is defeated by challenger Glenn Anderson of Westland, Detroit could be left without any black representation in the U.S. House. Those contests take place in the 14th and 13th Congressional Districts, respectively; they are two majority-minority voting districts out of 33 nationwide that are sanctioned by the 1965 Voting Rights Act to provide for minority representation in Congress.
PHOTO GALLERY
7 Ways You Could Be Disenfranchised
Calling all HuffPost superfans!
Sign up for membership to become a founding member and help shape HuffPost's next chapter
BEFORE YOU GO