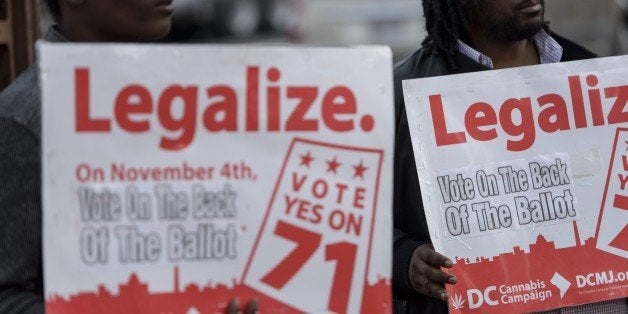 Eleven months ago District residents gained new rights to possess, cultivate, and use marijuana when Ballot Initiative 71 took effect. Voters overwhelmingly approved the measure in 2014 in a bid to end the criminalization of marijuana in the District and reduce racial disparities in the local criminal justice system. More than a year later, District residents are still fighting to have their voices heard and rights respected by local and federal elected officials.
Many viewed the District's new marijuana policy under Initiative 71 as incomplete without additional laws establishing legal marijuana sales, taxation and regulation. However, District lawmakers were quickly blocked by Congress from moving such legislation. In late 2014, Congress inserted a rider in a spending bill that prohibits DC from spending any appropriated funds to " enact any law, rule, or regulation to legalize or otherwise reduce penalties" associated with marijuana.
Unfortunately, interference with the District's marijuana laws did not stop with Congress. Since Initiative 71's enactment, Mayor Bowser's Administration has oft repeated the line that Initiative 71 means, "Home Grow, Home Use". This is simply not true. Initiative 71 as passed by voters in 2014 placed no restrictions on adult use of marijuana and does not state that use should be limited to residences. Rather, District lawmakers acted to deny citizens their full rights under Initiative 71 by choosing to restrict marijuana use to the home as they transmitted the act to Congress and prepared for its implementation.
As implemented by the Bowser administration, Initiative 71 serves affluent home-owners far better than District residents with lesser means. Mayor Bowser and Council officials have discouraged social consumption and urged residents to confine marijuana use to the home, but many in the District do not own a home. Renters, in fact, make up 36 percent of the District population. These residents are often subject to varying rules that prohibit marijuana use indoors. Last year only 19 percent of low-income residents owned their home. A practical solution to this imbalance would be establishing alternative venues for residents to use responsibly.
Shortly after Initiative 71 took effect last year, however, Mayor Bowser's administration sounded alarms about unregulated marijuana sales and consumption which were completely false. The Mayor then compelled the DC Council to rush through poorly drafted emergency legislation banning all marijuana consumption outside a residence (even in private membership clubs). The Mayor's legislation went so far as to shut down any business where a single patron is caught consuming marijuana on its premises. The Council has since passed two extensions of this emergency measure and is moving forward with a permanent version of the ban.
The Mayor and Council are moving full steam ahead with a permanent ban despite the fact that no emergency ever existed, and not a single business has been penalized under the emergency measures currently in effect. The continuation of the ban has come amid controversy and dissent from Councilmembers and the public. The most recent extension of the ban was initially voted down by six Councilmembers, but passed after the Mayor made personal phone calls to Councilmembers. The permanent version of the ban has been rushed through the legislative process by Council Chairman Phil Mendelson and Councilmember Kenyan McDuffie without regard to public objections or dissent within the Council. Chairman Mendelson recently went so far as to insert himself in a Council panel vote on the ban, a questionable move some described as unprecedented.
Should D.C. lawmakers proceed with passing a permanent ban, they would be voluntarily limiting the District's sovereignty and its ability to legislate, since the congressional rider prohibits future legislation to modify the ban down the road. Councilmembers should oppose this legislation, and instead heed their constituents' wishes to regulate places where adults can legally consume marijuana. Recent polling shows widespread support among District voters for this approach.
District lawmakers should also go a step further and use reserve funds to tax and regulate marijuana sales, as 66 percent of residents want the Mayor to do. This would not violate congressional prohibitions, as they only apply to appropriated funds. In light of congressional interference in local marijuana policy, a strong majority of D.C. voters view the taxation and regulation of marijuana as a statehood issue for the District. 79 percent of voters likewise believe that when Congress blocks a voter-approved measure officials should use all legal means to implement the measure anyway.
Our elected officials have shown willingness to stand up for District residents' rights, as they did when Initiative 71 first took effect, and should do so again. D.C. lawmakers have a unique opportunity to forge the District's path forward, both on marijuana reform and home rule, but it remains to be seen whether they will seize the moment.
Kaitlyn Boecker is a policy associate with the Drug Policy Alliance (www.drugpolicy.org) and a resident of DC.
Calling all HuffPost superfans!
Sign up for membership to become a founding member and help shape HuffPost's next chapter