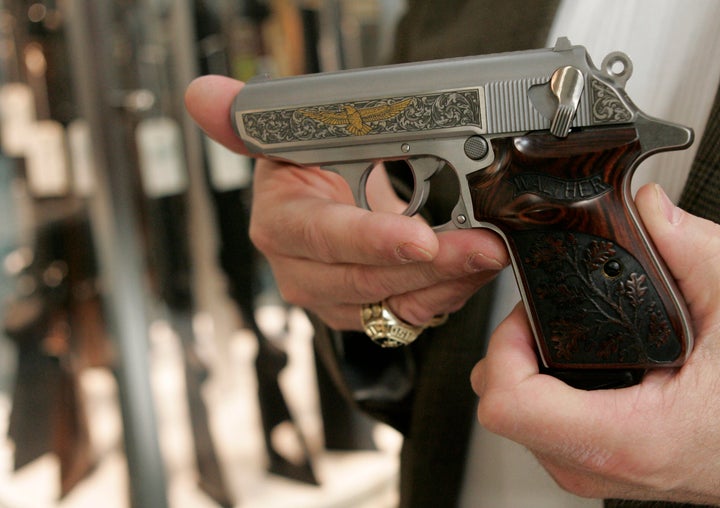 These days, with Congress receiving record low approval ratings, and with the Federal Government receiving lower ratings than the oil and gas industries, Americans don't want Washington in charge of much. My firm's recent poll for Mayors Against Illegal Guns convincingly shows Americans don't want Washington usurping state power to decide who can legally carry concealed guns.
Mayors Against Illegal Guns, a bipartisan coalition of over 600 Mayors around the country, sponsored the poll of 1,000 likely 2012 voters, conducted by my firm, Momentum Analysis, along with Republican polling firm American Viewpoint. The poll was conducted July 26-30, with 100 of the 1,000 interviews conducted among cell-only respondents. The margin of error is +/- 3.1 percentage points. Here is the poll analysis and here is the press release.
First, some background on the issue. Currently states can decide for themselves who can carry concealed guns within their borders. While some states require permit owners to take gun safety classes, or have a clean arrest record, other states have few or no minimum requirements. Tomorrow, the House Judiciary Committee is holding a hearing on mandatory concealed carry reciprocity. This would require a state to honor concealed gun permits from all other states, even those with less strict permit requirements.
Initially, voters are divided about whether Congress should pass concealed carry reciprocity legislation. Nearly as many (35%) favor reciprocity as oppose it (38%), with over a quarter (27%) undecided. It's far from a mandate for Congress to take action. And when asked about the details of reciprocity, voters quickly reveal pervasive opposition, along two basic themes.
First, states' rights is a clear driver. Nearly two-thirds (64%) prioritize "allowing states to decide for themselves who should be allowed to carry a concealed gun within their borders" over "allowing people with concealed weapon permits in one state to legally bring their weapon to states across the country" (22%). Similarly large numbers support letting "each state decide for itself" (74%) rather than letting "elected officials in Washington decide"(15%) who can carry a concealed gun.
Voters in gun-owning households are not much different on these questions than voters overall. About six in ten voters in gun households prioritize states' rights over reciprocity (59%). And these voters are even more likely than voters overall to support letting states decide (82%) instead of Washington.
Second, voters consistently want to see permit-holders meet their state's requirements, and want those requirements strong. Two-thirds (66%) of voters don't want to see a person carry a concealed gun in the voter's state if that person fails to meet the state's requirements. And when we examined a dozen permit requirements currently in place in only some states, voters--including those in gun households--overwhelmingly support every one of these requirements for their own state. (Recall reciprocity would in effect override these requirements.)
The most popular requirements include "completing gun safety training," "having to renew the permit at least every five years" and "completing practice shooting of one's own gun at a training facility." In fact, majorities strongly support eight of the 12 requirements, and over a third (37% overall, 36% in gun HH) strongly support at least 10 of the dozen requirements tested. The chart below shows the sizeable strong support, as well as total strong/somewhat support.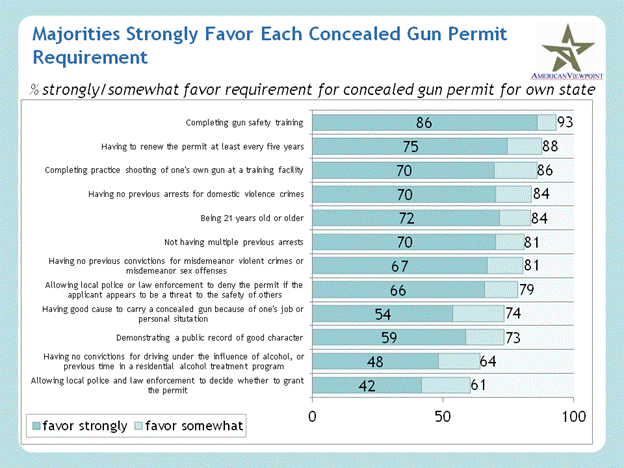 Voters don't want to see Washington lose focus of the nation's economy in order to take away state control of concealed gun permits. In fact, if anything, voters want to see their own state tighten permit requirements. There are far more similarities than differences between voters overall and those in gun households. As we frequently see--the political division is in Washington, not among Americans.
Popular in the Community