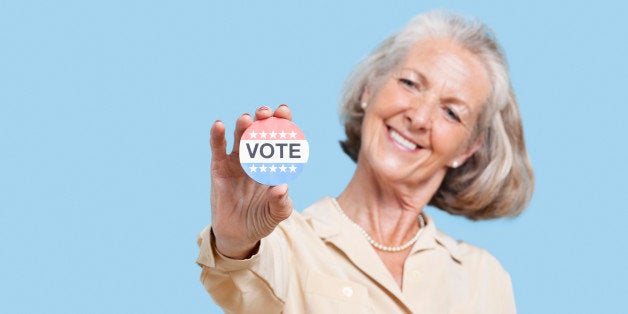 Question: Should voters with a disability (and their families) take part in the presidential elections?
Answer: Only if we want to choose the winner.
We have gigantic numbers on our side and could absolutely make a difference.
How many? According to the United States Census, "nearly one in five people have a disability... 56.7 million people -- 19 percent of the population."
That is one of the biggest constituencies on the planet -- and then we have the families! My son Roman Reed drives a wheelchair. He will absolutely vote, as will his adult son, his mom, myself, and Roman's sister -- every eligible member of his family. How could we not?
As Roman puts it: "Of course we are going to register and vote. That is our right and our duty. But it is not enough just to vote. We must also reach out to our friends in the community to add to our strength, helping each other."
Enable the disabled! Wheelchair warriors, spread the word. Ask your friends if they are registered to vote. Do you have your ride to the voting booth figured out? Plan it now. Don't lose your vote because suddenly no one is available. If you have room for somebody else, offer a ride.
Voters with a disability may have trouble getting to the polls. If you are blind or paralyzed, for example, driving may not be an option.
Do not let any obstacle stop you. In every state, there are ways you can vote, and people who will help you. Here are some straightforward ways to find out what you want.
(Note: these are non-partisan numbers. You can also call your local political party affiliate, who will be delighted to hear from you, and will almost certainly help you find a way to get to the polls.)
Here is a great phone number for general voting information: 1-866-OUR-VOTE. I called them yesterday, and they were very helpful. When you call them, they will ask you what state you want information about, and then transfer you to someone who can help. Or, look them up on the web.
Want a handy print guide about voting with a disability? There are ways to make it easier. You might want to use an absentee ballot. In some states, workers at the polling booths will bring voting machines out to the curb for voters with disabilities. Just click here, choose your state, and it will take you to the right page.
Worried about long lines? Want to save your party money, so they won't have to keep phoning and mailing you every day until elections? Vote early.
How does your state handle early voting? (Dates vary, state by state.) Check out a great resource from the non-partisan League of Women Voters.
Concerned about voter intimidation? I am, especially in Pennsylvania, after Donald Trump repeatedly asked his supporters to bring their friends and show up at the polls and "watch." This reminds me of the "Jim Crow" days in the South when the former slave owners used trickery and bullying to deny African-Americans their right to vote.
If somebody starts asking you unfair questions, and you feel in any way they are trying to pressure you not to vote, record them on your phone. Afterwards, call your local Democratic headquarters. No one has the right to interfere with your voting.
Or, again, consider using an absentee ballot, and not go to the polls at all. Call 1-866-OUR-VOTE, tell them your state, and find out if there is still time to register for absentee balloting.
Above all, if you are not sure about anything, just ask. Let nothing stop you.
November 8 may be the most important election in this country's history.
Judge for yourself which candidate is more caring about our issues.
Remember, also, one of them will decide whether the United States Supreme Court becomes ultra-conservative or moderate.
Do you want to be part of that decision
Honor the memory of Ed Roberts, who attended college at UC Berkeley -- while in a portable iron lung. One of the great organizers of voters with a disability, he did not want charity or pity. He wanted to be at the table when decisions are made. Because of Ed Roberts' efforts, we now have curb cuts for wheel chairs and centers for independent living.
And Ed Roberts always said, "Nothing about us, without us!"
So let your voice be heard and your vote be counted...
Don C. Reed is the author of "STEM CELL BATTLES: Proposition 71 and Beyond: How Ordinary People Can Fight Back Against the Crushing Burden of Chronic Disease", available now from Amazon.com.
Calling all HuffPost superfans!
Sign up for membership to become a founding member and help shape HuffPost's next chapter