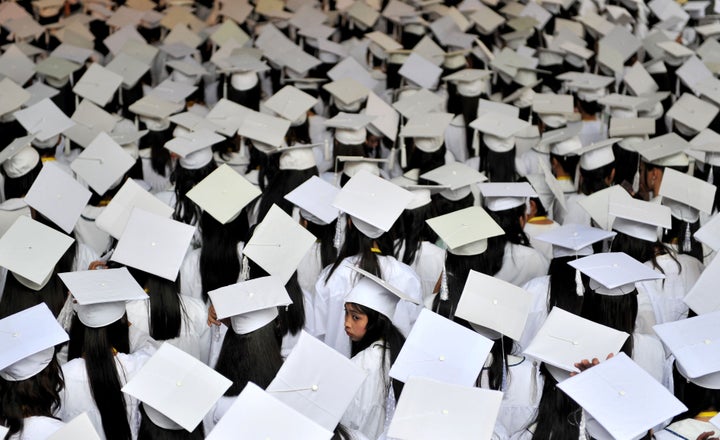 Two weeks ago on the season finale of HBO's new series The Newsroom, the leading character and news anchor, Will McAvoy, preached about how the U.S. was founded by a group of 'greater fools' that believed America was a country that constantly strived to do better.
At the end of the episode, McAvoy also confronts the college student who caused him to go into a professional and emotional tailspin after publicly asking him at the beginning of the season why America is the greatest country in the world. He makes her ask the question again and this time answers, "You are."
While The Newsroom has its fair share of flaws, this moment in the show really struck me. McAvoy implied that young, inquiring college students are what gives the United States potential to be the greatest country in the world -- the next generation of 'greater fools' -- and he's right.
In the past four years we've seen what happens when America's youth comes out to vote and what happens when they don't. The outcome of 2008 was unprecedented -- 51 percent of voters were under the age of 30, according to the Center for Information and Research on Civic Engagement -- and 2010 nearly reversed all the good that had been done and progress that had been made in 24 months.
Youth voters controlled the 2008 election by an overwhelming majority and it's imperative for students to mirror this again come November 6. I invite my peers to join me in being a collective of greater fools because the alternative is too scary. Here are some basic tips about how to get started.
Register to vote. If you're not already registered in your home state, there are a number of Websites that have made it simple to do so. USA.gov and RockTheVote.org are two helpful places to register and find out more information about voting details.
Something to also strongly consider when registering is the importance of geographic location. College students have the benefit of claiming residency either at your school address or home address, and if one of those places falls into the category of a swing state (like Ohio, Pennsylvania, and Florida) then your vote will be much more valuable.
Request an absentee ballot on time. There are certain deadlines for different states, and you can easily request one online. Again, it might be worth considering voting by absentee if you can officially register in a swing state.
Make an informed decision. The results of the 2012 election are vital to the future trajectory of college students. There are a series of specific issues that are important for students to be aware of, and voting for the candidate who actively supports these issues isn't just crucial -- it's necessary. Project Vote Smart's Website provides information about politicians' voting records, bios, campaign finance information, and their general biographies.
Don't just do research on the presidential candidates -- make sure you're informed about your state's delegates because they're just as important, if not more so, because they are the ones who vote in the future president in the electoral college vote. To learn more about how that works, watch this oversimplified but still informative Disney video on YouTube.
Check your state's voter ID laws. It's not a coincidence that Republicans proposed and passed stricter voter identification laws to make it more difficult for groups of people who tend to vote Democratic. Instead of faltering under these new restrictions, learn how to best navigate the specific regulations set by the state you're registered in. The National Conference of State Legislatures, or NCSL, Website has a plethora of information to check out.
Encourage other students to vote. Show your friends how easy it is to register online and to find your polling place, and strike up conversations about political issues directly affecting students on campus. If all else fails, peer pressure can be valuable in the case of social change.
Calling all HuffPost superfans!
Sign up for membership to become a founding member and help shape HuffPost's next chapter