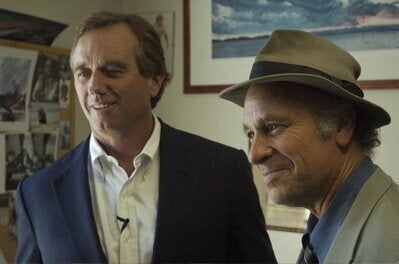 The perennial issues of vote fraud and voter suppression are becoming front-page news as several states conduct early voting and as Election Day itself nears. The candidates themselves will continue to stump, trying to win votes in contested states, but after tonight's final debate, the parties will focus less on persuading undecided voters and instead put more and more energy into "get out the vote" or "GOTV" efforts or, more ominously, into "voter suppression" efforts, which discourage or bar the other side's likely voters from casting ballots.
GOTV includes simple acts like helping homebound voters obtain and cast absentee ballots or driving voters who don't have cars to the polls on Election Day. More broadly, the concept also can include all kinds of efforts to increase voter turnout: voter registration drives, websites that help voters confirm that they're still registered in time to fix any problems (one good, nonpartisan example is the National Association of Secretaries of State's CanIVote.org), and public service announcements reminding voters that Election Day is approaching.
Voter suppression practices are the flip side of such efforts. Suppression efforts can appear innocuous, such as requiring voters to show photo I.D.s - a requirement that excludes a surprising number of poor, minority, very young and very old voters and kept several elderly nuns from voting in Indiana's Democratic primary this year. Suppression can pose as false righteousness, such as Fox News's 342 negative mentions of a single voter-registration group in just four days (casting the group's efforts to register underrepresented demographics as a threat to democracy, and frightening voters registered by that group into thinking that their registrations might be unlawful), or the past Republican practice of stationing armed, uniformed "Ballot Integrity" personnel in minority polling places (again, tamping down turnout). And there is no lack of flatly illegal suppression schemes, such as vote "caging" (in which voter resident status is challenged merely because their house is in foreclosure or because a piece of direct mail was returned by the post office), robo-calls falsely telling voters their polling places have changed, and deceptive flyers (like the ones posted in Pennsylvania's inner-city and college neighborhoods, warning of police plans to arrest voters for unpaid child support or parking tickets).
The parties argue every year over whether vote suppression or vote fraud is the greater threat to democracy, but the numbers suggest that it's no contest: about six people are convicted each year of actually casting ballots fraudulently, while hundreds of thousands of people who are entitled to vote fail to do so because of misinformation, intimidation, deception, or bureaucratic hurdles.
Illustrating the point, the Republican National Committee has issued more than 50 press releases and convened at least 12 press conference calls in the past month to air complaints about the Association of Community Organizations for Reform Now ("ACORN"), which turned in more than 1.3 million new voter registrations nationwide this year. The RNC has even unveiled silly anti-ACORN mascots in time for Wednesday night's final presidential debate. In a call just this morning, however, when I and other reporters pressed RNC communications director Danny Diaz and RNC chief counsel Sean Cairncross to name specific instances of ACORN-registered voters who had actually cast fraudulent ballots, they could name just one: a single Ohio man who was caught yesterday trying, unsuccessfully, to cast a fraudulent ballot. Even Florida's Republican governor says that his fellow Republicans may be exaggerating the problem.
Two of the most knowledgeable and outspoken advocates of voting rights are Robert F. Kennedy, Jr., a law professor at Pace University and cohost of Air America Radio's "Ring of Fire," and Greg Palast, an investigative journalist with the BBC. Following the Florida debacle in 2000, it was Palast who dug deep and revealed the widespread suppression efforts that, in conjunction with the Supreme Court's order to stop counting votes, led to George W. Bush's 537-vote margin of victory. And Kennedy, in a Rolling Stone article last June, carefully explained how voter suppression and election fraud cost John Kerry enough key-state votes in 2004 to hand the election, again, to George W. Bush.
This year, Kennedy and Palast have teamed up to educate citizens about how their Constitutional voting rights could be taken away and how to protect themselves -- how to, in their words, "Steal Back Your Vote!" In a new Rolling Stone article, a movie, and even a comic book, Kennedy and Palast have outlined six ways votes could be stolen and seven ways voters can "steal them back." In an exclusive interview with OffTheBus, Kennedy and Palast explained, at breakneck pace, what they're afraid of this year -- and what they hope voters will do to make sure the 2008 election is fair, open, and small-d democratic.
In the first part of the interview, both Kennedy and Palast riff on an encyclopedia's worth of voter suppression information: the nonexistence of "voter fraud"; the history of Republican (and, in some cases, Democratic) efforts to suppress the votes of African American, Latino, American Indian, young, and senior citizen voters; the ways that seemingly sensible vote "protection" measures like photo I.D. and database cross-matching requirements are designed to reduce the Democratic vote; why "provisional ballots" are really just "placebo ballots"; why absentee ballots are a bad idea; how "fraud prevention" measures cost a group of elderly nuns their right to vote in the Indiana primaries; how Colorado's Republican former secretary of state wiped 1/5 of the names off the state's voter rolls without the Democratic governor even knowing; and the new methods being unveiled this year to disenfranchise voters.
Want to hear everything you need to know about vote fraud, vote suppression, and how to protect yourself, all in 15 minutes? Buckle your seat belt, download the mp3 podcast or click the player below, and hang on:
After the first part of our interview, Palast answered more questions about what concerned voters should expect in coming weeks. Want to know why Palast believes Colorado and Nevada may be this year's Florida and Ohio? How black students and black airmen were "caged" while they were away from their college addresses for the summer or deployed overseas? Instances of Democratic officials interfering with voting rights, either out of self-interest (e.g., to force through a uranium mine on sacred native lands) or because they incorrectly believe federal law requires it? What the relationship is between the US Attorney firings scandal and this year's Republican efforts to disenfranchise voters? Why Republicans are gunning for ACORN, and what other tricks might be in store between now and the election? And, most importantly, whether Mary Poppins will actually show up to vote on Nov. 4? You can listen to the audio player below, or you can download an mp3 of part 2 of our interview here. (18 min.; edited for length and clarity.)
More resources:Much more information is available from Kennedy and Palast's StealBackYourVote.org, including:
"Steal Back Your Vote!" comic book (available for download for a donation of any amount, or for purchase in hard copy; they're also making plates available so the comic can be reproduced by college newspapers, newsweeklies, and other periodicals)
Related
Popular in the Community