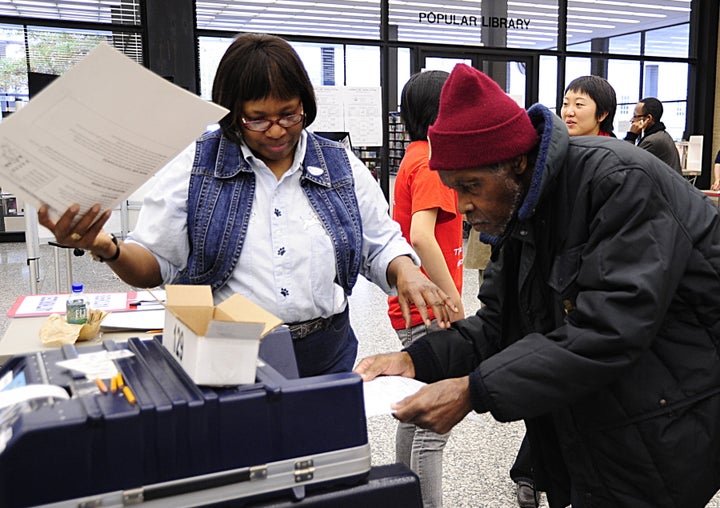 Prospective Michigan voters might have trouble getting their ballots after the state Senate votes on two bills that would change the procedures for voter registration, absentee ballots and required identification.
One of the changes proposed by S.B. 754 is a requirement that anyone holding a voter registration drive would have to register with the Michigan Secretary of State and complete a training. It would also require that registration forms be turned in further in advance.
Several groups, including the League of Women Voters, have spoken out in opposition to the bills and what they say are the exclusionary restrictions they would put on voting and registration.
"Requiring state certification and training of third party agencies will make it more difficult for League members to register people to vote," the League of Women Voters of Michigan wrote, according to the Kalamazoo Gazette. "The requirements placed on groups that register people to vote are excessive and will reduce registration opportunities for citizens, as some groups will not be able to meet the requirements."
S.B. 751 would require photo identification for in-person and absentee voting.
Municipal clerks would also need to verify that voters on absentee voter lists are legal, registered voters and that voters who previously claimed disabilities still have them. The annual verification would put additional stress on elderly and disabled voters, potentially impacting their turnout, the Macomb Daily reports.
Project Vote and other groups involved with voting rights brought testimony to the Senate last week, claiming the bills don't solve current voting problems but rather address "phantom problems" and cause confusion.
A well-timed report from the NAACP indirectly condemns the spirit of the bills, among other state voting reforms nationawide, as "a coordinated and comprehensive assault" on voters' rights.
The report criticized two "block the vote" measures that have passed in other states that are similar to the Michigan proposals for restrictions on voter registration drives and requiring photo ID. It called them detrimental to African-American and Latino voting rights, stating that new voting restrictions have been implemented in areas where there was an increase in voter turnout among minorities in the 2008 election.
The Michigan Association of County Clerks says the new laws are necessary to make the voter registration process run smoothly.
"It's not exactly what we wanted," Kalamazoo County Clerk Tim Snow told the Kalamazoo Gazette, speaking for the association. "But it's a lot better than what we have."
The bills are up for a vote in the state Senate this week.
WATCH: HuffPost Black Voices senior reporter Trymaine Lee discusses voter ID laws on MSNBC
Related
Popular in the Community