In a smoke-filled bowling alley in Wyoming, Michigan, Laura Burns unofficially acts as the Wednesday women's league spokesperson: "I'm leaning toward McCain," she says. "But I'm leaning toward the old McCain."
In the wake of news that General Motors will shutdown its metal stamping plant here and leave close to 1,500 workers unemployed, Burns' comment is especially revealing: voters in traditionally Republican Wyoming continue to favor McCain, if not enthusiastically.
The plant closing dropped like a bomb last week, and as Karen Pennock of Wyoming says, there's still plenty of time for the dire economy to influence the polls. "I think it's gonna affect a lot," she said. Pennock, a Democrat, had previously supported McCain, especially after the Palin pick.
"I was all for Sarah Palin because she's got everything I think that people can relate to," Pennock said, "but John McCain hasn't really put anything forward." Meanwhile, she says, "We're losing the middle class."
Although the majority the women I spoke with are supporting McCain, their reluctance and -- above all -- dissatisfaction is unmistakable.
"People are angry and they want a change," said Burns. "Overall, I just think people are angry."
The anger in the room was palpable, and directed at both parties.
"Not one person can get you in this much trouble," said one woman, who asked not to be named. "This took a whole mess of people."
I asked her bowling team what they thought of Sarah Palin. The response was mostly enthusiastic, but one of the woman's face had ballooned, her lips tightly pursed, eyes wide, as if holding an explosive secret.
"No comment," she said, exhaling sharply. She shook her head and laughed, but it was obvious she had more to say.
"Really, no comment?" I asked. "Really?"
She threw a hand down on the table. "I think she'd make a good friend," she said, nodding sarcastically. The table erupted in laughter. "She could come bowling with us."
"Throw one back," exclaimed another.
Not everyone was laughing, though.
"I don't think you want to hear what I have to say," another woman told me. She didn't respond well to a second try.
"No," she said forcefully, "I mean it."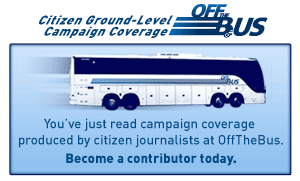 Related
Popular in the Community