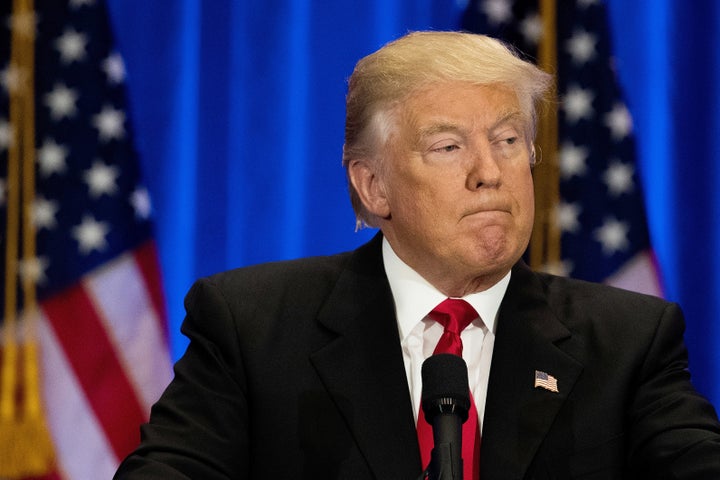 Despite speculation that Donald Trump's candidacy could shake up how people vote, polls look pretty similar to 2012 voting patterns. Political polarization has reduced the number of competitive counties in the presidential race. And Donald Trump is adding three more pollsters to his team.This is HuffPollster for Friday, July 1, 2016.
HuffPollster is going on a brief hiatus July 4-8 to "recharge and refuel." We will return on July 11th. Happy 4th of July!
TRUMP'S CANDIDACY MAY NOT CHANGE VOTING PATTERNS - Alan Abramowitz: "Overall, 40 out of 50 states voted for the same party in all four elections between 2000 and 2012. But none of these elections involved a major party nominee like Donald Trump….[T]here has been considerable speculation about whether his candidacy could result in major shifts in the voting patterns that have characterized recent elections. The ultimate answer to this question will have to await the November election….However, an examination of data from the 2016 ANES Pilot Study... show that the American electorate remains deeply divided along party lines….Based on these findings, voting patterns in the 2016 general election should closely resemble those seen in recent presidential elections…. As a preliminary test of this claim, we can examine the relationship between group voting preferences in a recent national poll with those from the 2012 national exit poll…. The data for 2016 come from a CNN/ORC national poll from June 16-19. The results displayed in Figure 2 show an extremely high degree of consistency in group voting patterns between these two elections….These findings strongly support the belief that group voting patterns in 2016 are likely to closely resemble group voting patterns in 2012." [UVA Center for Politics]
THERE AREN'T THAT MANY COMPETITIVE COUNTIES IN PRESIDENTIAL ELECTIONS - Drew DeSilver: "When it comes to presidential elections, there are fewer competitive counties, and more counties in which Democrats or Republicans hold overwhelming vote advantages, than at any time in the past three decades or so – on-the-ground evidence of the heightened partisan polarization that characterizes U.S. politics today….Closely contested counties aren't, as you might expect, predominantly in the 'swing states' that get the lion's share of attention from presidential campaigns and the media covering them. While there were notable concentrations in 2012 in the upper Midwest and along the Pacific coast, closely contested counties were scattered across the country….Except for a small bump up in 2008, the number of closely contested counties has been declining since 1992. At the same time, the number of counties where one party or the other holds an overwhelming partisan advantage has risen dramatically." [Pew]
THE LIBERTARIAN PARTY MIGHT BE A FACTOR IN SOME STATES - Stan Greenberg and Nancy Zdunkewicz of Democracy Corps (D) and Page Gardner of the Women's Voices Women Vote Action Fund, on a survey of battleground states:  "Clinton is beating Trump by 8 points in the more demographically diverse battleground states, outperforming Obama in Florida by 10 points, North Carolina by 13 points, and Arizona by 4 points. …..The Libertarian Party will likely be a long-term factor in the race. Not surprisingly, Johnson is getting 24 percent of independents. But on the right, he is also winning 11 percent of Romney voters, 26 percent of Kasich supporters (and 21 percent of all non-Trump GOP primary supporters), and 23 percent of GOP-moderates. On the left, he is winning 17 percent of Sanders primary voters, 25 percent of white millennials, and 10 percent of unmarried women." [Democracy Corps]
TRUMP CAMPAIGN REPORTEDLY HIRING MORE POLLSTERS - Maggie Haberman: "Donald J. Trump will expand his roster of pollsters, with plans to add three new ones as his team shifts gears toward a general election with new urgency, according to a person briefed on the matter. Mr. Trump, who once decried the use of pollsters on a campaign, will now have five polling firms working for him, according to the person briefed on the hires, who was not authorized to speak publicly. Kellyanne Conway, a veteran pollster who has had a long working relationship with Mr. Trump, is among those joining the effort....Mr. Trump's team is also expected to bring on Adam Geller, who works with Gov. Chris Christie of New Jersey, and Michael Baselice, who was the pollster for former Gov. Rick Perry of Texas and for the state's governor now, Greg Abbott. Mr. Trump already has hired Tony Fabrizio, another veteran pollster, and John McLaughlin, who was brought on specifically to help Mr. Trump in New York." [NYT]
A MAJORITY OF AMERICANS SUPPORT ABORTION RIGHTS, AND HAVE FOR 20 YEARS - Margie Omero (D): "We may think of abortion as one of our perennial 'controversial' issues, but perhaps it's not so controversial at all. This week the Supreme Court's Texas decision showed us even a divided bench, short a person, can still reaffirm that a woman's basic right to choose an abortion should be protected. The polling shows America has come to the same conclusion as well. Pew's tracking shows a majority of Americans believe abortion should be legal in all or most cases — a trend that's been fairly stable over the last twenty years. (Some pollsters, along with the pro-abortion rights group NARAL, have argued that a three-point question might better capture public opinion, by giving respondents an option to say they find abortion morally unacceptable, but still think it should remain legal. In this formulation, over two-thirds say abortion should be legal. But even without this methodological shift, the results are clear and consistent.)" [HuffPost]
WE DON'T KNOW WHAT THE 2016 ELECTORATE WILL LOOK LIKE - Nate Cohn: "When people complain to me about a poll, it's usually because they think the demographics are wrong. The pollsters polled too many white people, commenters might say, or too many old people. Or perhaps the sample of Hispanic voters doesn't seem quite Democratic enough. Most of the time, these comments are wrong….There's always uncertainty about the composition of the electorate in a poll, so don't judge too harshly. And the sources we can use to compare — like the exit polls taken right after an election and the census — aren't perfect, either. There's genuine uncertainty about the composition of the electorate in many battleground states, and nationally. The good news is that there's no need to sweat small differences. It just doesn't matter as much as you might guess. A pretty significant three-percentage-point difference on the number of white people nationally, for instance, might mean only the difference between a tie and a two-point lead for Mrs. Clinton….Most of the polls done right now question registered voters, and most high-quality polls are accurately representing the demographic makeup of the electorate." [NYT]
HUFFPOLLSTER VIA EMAIL! - You can receive this daily update every weekday morning via email! Just click here, enter your email address, and click "sign up." That's all there is to it (and you can unsubscribe anytime).
FRIDAY'S 'OUTLIERS' - Links to the best of news at the intersection of polling, politics and political data:
-Sam Wang's 2016 forecast gives Hillary Clinton an 85 percent chance of winning in November. [Princeton]
-Nate Silver explains that his forecast isn't predicting that Clinton will definitely win. [538]
-Most Americans know basic American history, but struggle with trickier questions. [USA Today]
-The Guardian's Australia poll average indicates a Coalition government is the most likely outcome of Saturday's elections. [The Guardian]
Almost 6 in 10 Brits are opposed to holding a second referendum on membership in the E.U. [YouGov]  
Calling all HuffPost superfans!
Sign up for membership to become a founding member and help shape HuffPost's next chapter