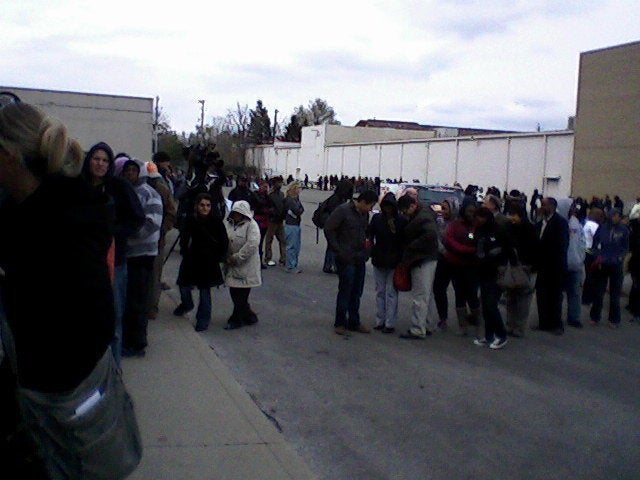 The Election Protection Coalition serves as a nonpartisan voter protection organization, with trained volunteers answering questions and recording reports of election abnormalities across all precincts. By 5:30 p.m. on Tuesday, the organization said it had received 74,679 calls.
Ellis Jacobs, an attorney and volunteer with Election Protection in Montgomery County, Ohio, told The Huffington Post this afternoon that turnout is high in his part of the state, and that, by and large, voters seemed happy with their experience at the polls. Jacobs noted that as part of a cost-saving measure, Montgomery County is operating half as many polling places this year as it did in 2008, a cutback that he said "forced a lot of people into some locations that were not necessarily suited to have a lot of people," and created some "claustrophobic" situations early in the day.
Jacobs also said that he'd been told a woman claiming to be from ORCA -- a Republican poll monitoring program staffed by volunteers -- came to a Dayton polling location and spent time "looking over the shoulders of the poll workers" and "telling the poll workers what they should and should not be doing." Jacobs said that the woman was reportedly removed from the polling station after staffers asked if she was there in an official capacity and she said that she was not.
Finally, Jacobs said that he's heard many students at Central State University, a historically black university in Wilberforce, Ohio, were distressed today to learn that they weren't registered to vote, even though they'd sent in voter registration applications. Jacobs said it wasn't clear whether some of the students had made mistakes on their applications or whether the Greene County Board of Elections had mishandled the students' materials.
Frederick Barrow, a volunteer with Election Protection in Dallas, Texas, told HuffPost that he'd heard several reports of "chaos, long lines and confusion" at local polling places. He said he'd also learned of multiple instances of broken voting machines, the majority of which involved paper ballots rather than electronic devices.
Barrow also said he'd heard a "highly unusual" account of a person at a Dallas polling station who was approaching elderly voters and "darkening ovals in [their] ballots without being asked to do so." This person was reportedly heard telling some voters, "You need to vote straight ticket." Barrow said that Dallas County authorities are looking into the matter, and that Election Protection is "taking this extremely seriously."
Do you have stories to share about voting today? Emails us at openreporting@huffingtonpost.com.
REAL LIFE. REAL NEWS. REAL VOICES.
Help us tell more of the stories that matter from voices that too often remain unheard.
BEFORE YOU GO
PHOTO GALLERY
100 Years Of Election Night Losers