TALLAHASSEE, Fla. ― Around 2 a.m. on a Thursday in June, Faith Kiss Cannarile got in her car and began a nearly five-hour drive across the state with her 18-year-old daughter, Sophia, to appear before Florida Gov. Rick Scott and beg for mercy.
She was making the trip to get back her right to vote.
Over two decades ago, Cannarile, now 45, lost that right, as well as the rights to sit on a jury and purchase a firearm. In 1993, she was charged with a felony when she pushed a police officer trying to arrest her during a fight. Then age 20, she was placed on probation without a formal conviction being imposed. The following year, however, she violated her probation by smoking marijuana and was sentenced to 18 more months of probation and officially judged guilty of the original felony.
Because she was convicted of a felony in Florida, Cannarile lost a range of civil rights ― for life. Years later, she set out on the very long path to getting them restored. She had to apply to a panel, made up of the state governor and other top state officials, to ask for those rights back, and then she had to wait.
That June morning, Cannarile was finally set to stand before the Executive Clemency Board ― consisting of Scott, Attorney General Pam Bondi, Chief Financial Officer Jimmy Patronis and Agriculture and Consumer Services Commissioner Adam Putnam ― and ask them to pass judgment. Together, the panel members act as the moral conscience of the community. They have the power to decide who can be fully accepted back into society and who can't.
There are more than 1.5 million people like Cannarile who have been removed from voting rolls in Florida because of felony convictions, according to the Brennan Center for Justice at the New York University School of Law. The state has the largest population of disenfranchised felons in the country. The public policy center estimates those voters make up around 10 percent of Florida's voting population.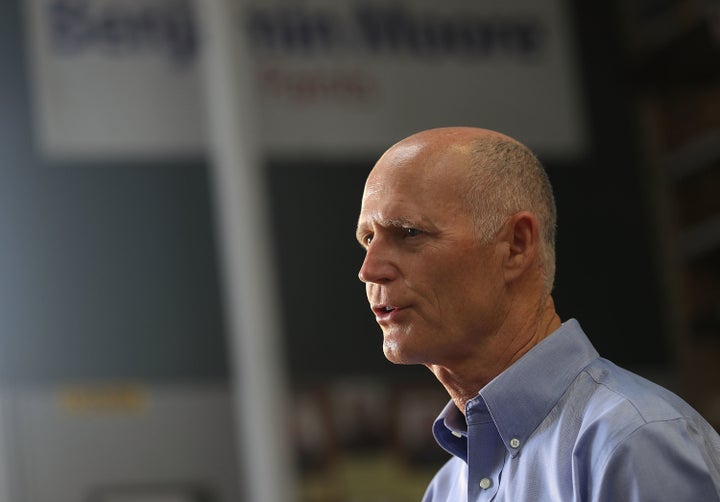 Cannarile appeared before the clemency board in Tallahassee at a time when Florida's system for restoring voting rights had come under scrutiny. In April, U.S. District Judge Mark Walker ordered the state to come up with a new way of determining who gets their voting rights back, saying the current process gave board members "unfettered discretion" and created unnecessary hurdles to restoring voting rights, violating the U.S. Constitution. The U.S. Court of Appeals for the 11th Circuit has blocked that order while it considers the state's appeal.
The meeting of the clemency board began shortly after 8 a.m., and Cannarile was the 49th person in a line of 101 disenfranchised Florida residents scheduled to appear. The journey to get to that spot started long before she left her home near Sarasota in the middle of the night.
Eleven years ago Cannarile filled out an application asking that her voting rights be restored. Since then, she has mainly been waiting to get a hearing before the clemency board. Last year, she got the news that her turn had come. She didn't have to appear in person, but Cannarile chose to because she wanted to see the process through.
There are more than 10,000 people waiting to have their voting rights restored in Florida, but the clemency board meets only four times a year to restore voting rights (some cases are resolved without a hearing). Scott's immediate predecessors, Govs. Jeb Bush and Charlie Crist, took steps to speed up the process. Scott, who has been governor since 2011, changed the rules to require people to wait five to seven years after they completed their sentences before they could apply. Individuals convicted of less serious felonies have to wait just five years before applying and can have their civil rights restored without a hearing. Those convicted of more serious crimes can have their rights restored only after the panel hears their case.
Obtaining an appearance before the clemency board can take another decade because of the backlog. Reginald Garcia, a Tallahassee lawyer who has represented applicants before the board for decades, said the Florida Commission on Offender Review begins its formal investigation into an applicant about six months to a year before that person's scheduled hearing. But the yearslong waiting period, he said, is still a crucial time to provide investigators with unsolicited information about how the applicant has turned their life around.
Beyond the court system, civil rights activists are working to change Florida's process. There's a proposed constitutional amendment on the ballot this fall to automatically restore voting rights to many felons who have completed their sentences, including probation and parole. Those convicted of the most serious crimes, like murder and sexual assault, would be exempt from automatic restoration.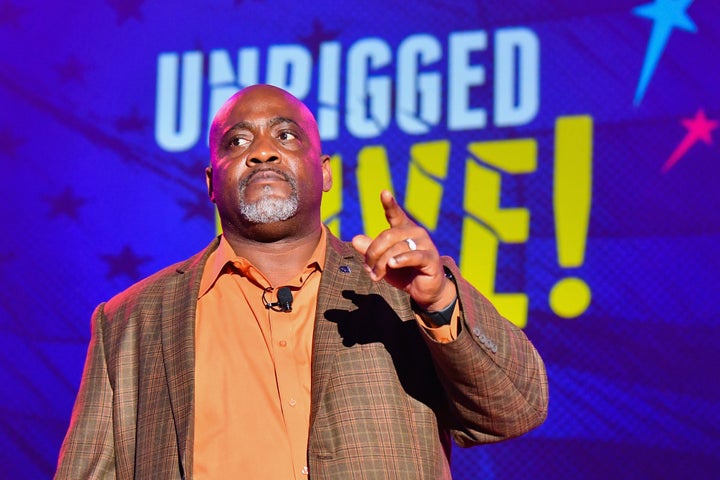 When it came time for Cannarile to step up to the lectern in front of the clemency board, who sit elevated against a wood-paneled wall, she was nervous. Her daughter gave her a pat on the back.
Scott and the other members of the panel focused on an incident from 2014 when Cannarile was pulled over and a police officer found marijuana in her car. Scott suggested he'd caught her in a lie because Cannarile had earlier said that she stopped using drugs in her early 20s. How could the panel believe anything Cannarile said about changing her life, the governor wondered, if she wasn't forthcoming about that incident? Cannarile stuttered and explained she meant to say that she'd stopped using drugs regularly in her 20s and that she'd slipped up and smoked that one time four years ago.
Then Sophia spoke on behalf of her mother. She talked about how Cannarile had used her own past to teach her children to learn from the mistakes of others. Scott asked Sophia if her mom had stopped using drugs. Patronis asked if she and her siblings were in school or employed. It was only after hearing that Cannarile had become an upright citizen that Scott moved to restore her civil rights.
Afterward, Cannarile and her daughter came out of the hearing room, hands raised in the air. Cannarile told HuffPost that in the past, she had sometimes felt sad on Election Day seeing other people wearing their "I voted" stickers. She would usually tell people that she wasn't political, but Sophia convinced her of the importance of voting.
"She is so political and has been an inspiration to me. Because I could never vote, it wasn't something that I was ever interested in or anything that I had ever really paid attention to," Cannarile said.
The clemency board meetings are held in a Cabinet meeting room in the lower level of the Florida Capitol. Some people show up unaccompanied to plead their case, while others come with children, parents, cousins and employers to attest to their moral character, just like Sophia did for her mother.
"Because I could never vote, it wasn't something that I was ever interested in or anything that I had ever really paid attention to."
When the members of the clemency board make their decision, they are informed by the investigation and a nonbinding recommendation from the Commission on Offender Review. The panel considers at least six factors when deciding to restore civil rights: the applicant's original offense, whole criminal record, employment history, mental health and drug and alcohol use, and allegations of domestic violence, plus letters submitted in support of or against restoring rights for that person. Because the details of each case are confidential and the board doesn't have to explain its reasoning, it's impossible to know specifically why someone's rights were or weren't restored.
On the day of the board hearing in June, people sat watching as their fellow applicants asked for their rights back. Young children played in a vestibule at the back of the room.
Ladetra Denise Johnson, a 45-year-old beauty salon owner, had traveled eight hours from Stuart, Florida, the night before to appear before the panel. She brought her aunt and her 5-year-old daughter with her so she wouldn't have to pay for a babysitter while she was gone. The panel restored her voting rights.
Johnson, who lost her right to vote because of a drug conviction 20 years ago, said she wanted to vote again so she could feel "normal."
"I'm an American and I feel I should be allowed to vote. I made a mistake when I was younger, but I don't think it should hinder me from being a regular citizen," she told HuffPost, her daughter hanging onto her arm.
Some citizens gave speeches about how they had changed their character, while some just answered the panel's questions, if any. Sometimes, Scott said nothing and simply moved to restore rights. But more often, the panel probed into the details of the long-ago felony while also inquiring about any recent charges.
Patronis often asked if people smoked, drank alcohol or used drugs. Also, he wanted to know if they went to church. The state's chief financial officer asked one man if he often took his parents out to dinner before Scott moved to restore that man's voting rights.
Not everyone who appeared before the board got their rights back. One 80-year old man was denied after Bondi told him he was lucky today's human trafficking laws weren't in effect when he was charged. One woman had her case taken "under advisement" after the attorney general pressed her on allegations of child abuse. Another man was directed to return in 90 days after he revealed he might have illegally contacted his former wife.
Brenda Clark Griggs, a 43-year-old studying to earn her doctorate in nursing who began the rights restoration process about eight years ago, expressed frustration that the panel could take whatever it wanted into account to make a decision.
"It's like being judge and jury all over again," she told HuffPost "[My felony] was almost 25 years ago. They're more worried about something that was dropped, versus the case itself."
Speaking to reporters after the meeting, Bondi conceded that people have to wait a long time to appear before the clemency board, but stressed the importance of officials assessing each individual case because a person's history on paper may not fully reflect who they are.
"Some of the most violent ones that would have never had their rights automatically restored, we've given them their rights back. We pardoned people today for very violent offenses because they've turned their lives around," Bondi said. "If these people go out and we give them a gun and they kill somebody, who does that come back on? All of us."
For Ricardo Mcleroy, getting his right to vote back was about more than being able to go to the ballot box. It was a recognition that he had grown and matured since he was convicted of a felony in 2001.
Mcleroy and several other people were visibly stunned when Scott told them he was granting their applications. Before leaving the lectern, some in tears, many asked the governor to clarify that it meant all of their civil rights were restored.
Cannarile came out of the room celebrating with Sophia, but speaking to HuffPost, she appeared uncertain that her rights really had been restored.
"They gave me my rights, I got my rights back, right?" she said.
Popular in the Community