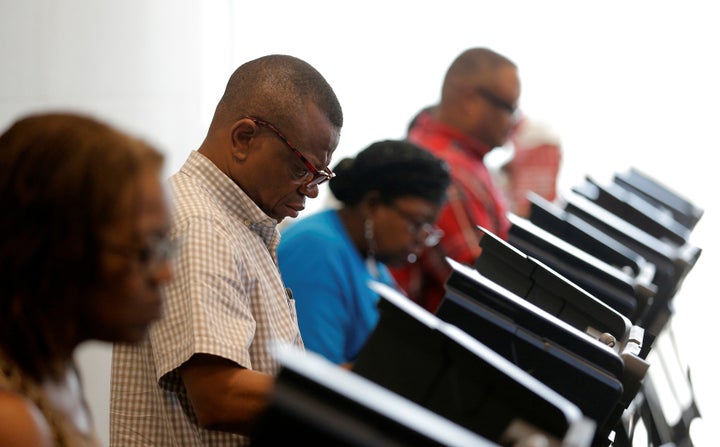 LEXINGTON, N.C. ― In the pulpit of Ezekiel AME Zion Church, Rev. Allen Stimpson kneels.
"We thank you for giving us a wonderful president," the reverend says during prayer on Sunday morning, adding that as "we face a new era," he prays everyone will "make the right choice."
Election Day is approaching, and Stimpson, like many other black pastors, is making sure members of his congregation have the tools they need to get out and cast a ballot.
Many Americans find political as well as spiritual guidance in their places of worship, with faith often determining how people view issues like abortion and same-sex marriage. In the black church, though, the connection between faith and politics is especially intimate, particularly when it comes time to vote. It isn't just about the issues ― it's about black folks getting out and voting for whomever we believe is going to recognize our humanity.
"We paid a dear price for the freedom to vote and, had it not been for [that] freedom, we'd still be in shackles," Stimpson, 64, told The Huffington Post.
"The role of the church is to inform the people about who the candidates are and making sure they're able to get to the polls," he continued. "We do not tell them how to vote, but we just make sure all the issues are on the table ― the issues that affect the church [and] affect the community."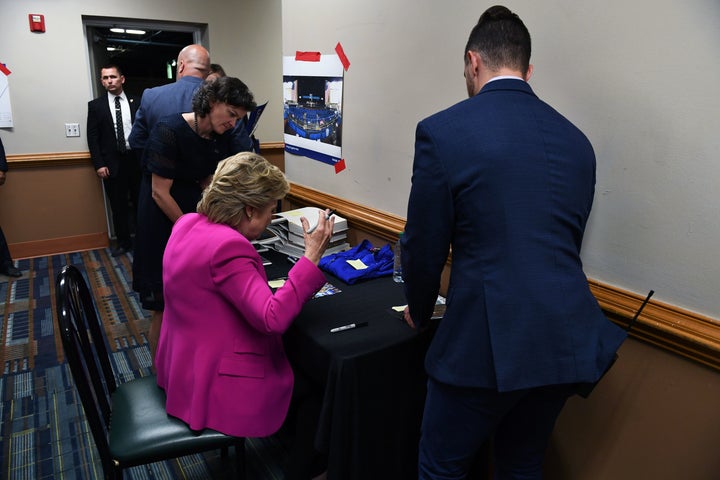 Uplifting civil rights is in the blood of the African Methodist Episcopal Zion Church. Often called "The Freedom Church," the denomination was born when black Christians fled mixed congregations to form their own sanctuaries. Harriet Tubman, Sojourner Truth and Frederick Douglass are well-known freedom fighters who called the church home.
That connection between faith and freedom is what brought me home to Ezekiel, my family's church. Today, in this swing state with historically low black voter turnout, black churches like Ezekiel see voting as one way to continue the fight for civil rights. In that spirit, Ezekiel has held voter registration drives and hosted canvassers who inform the congregation about their voting rights. The church will also provide transportation to the polls.
"We paid a dear price for the freedom to vote and, had it not been for [that] freedom, we'd still be in shackles."
My grandmother, Virginia Evans, is a 69-year-old registered Democrat who has been voting since she was in her twenties ― right after the Voting Rights Act was signed to prohibit racial discrimination at the polls. This history is what makes voting such an obvious choice for her.

"Our forefathers have fought for us to have the right to vote," she said. "Also, we have a voice in our country ― for what it's going to be and what it's not going to be."
Mother Amanda Little, a 69-year-old registered Democrat in Ezekiel's congregation, cast her first ballot in the 1970s. She feels the same way.
"To vote is a privilege for everybody, because, a while back, our black generation couldn't vote," she said. "So it's a privilege that we are able to vote and give our voices to whatever that is needed in the Democratic Party or the Republican Party."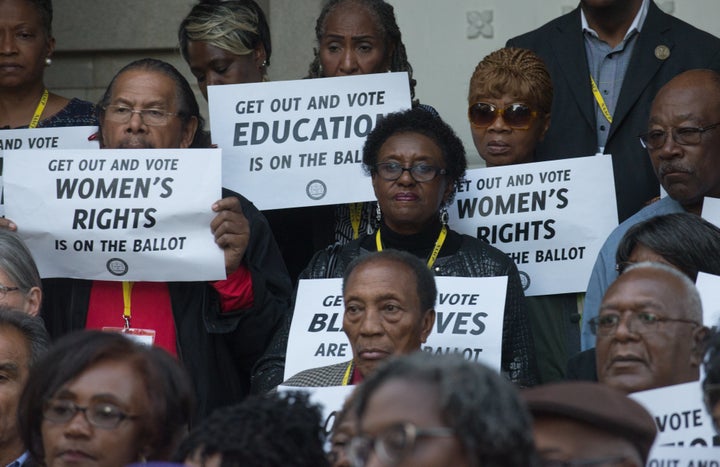 Black voters, especially women, can turn the tide of an election. That's likely why both Democratic presidential nominee Hillary Clinton and Republican nominee Donald Trump have made most of their pitches to black voters in church.
It's also why some members of the Republican Party in North Carolina don't seem to want citizens like my grandmother and Mother Little to cast ballots.
Last week, the North Carolina NAACP sued the state after election officials in Beaufort, Moore and Cumberland counties allegedly removed voters from the rolls because campaign mailers sent to their addresses were returned as undeliverable.
"We've not seen this kind of intentional suppression since the days of Jim Crow."
At least 3,500 voters have been removed from the rolls in the past 90 days, according to Penda Hair, an attorney for the NAACP. And black voters have been disproportionately affected by the cancellations: In Beaufort County, black voters account for over 65 percent of the cancelled registrations, even though black people make up only 25.9 percent of that county's population.
The NAACP argued that the cancellations represented an attempt by the Republican Party to suppress the black vote, leading to early voting turnout that is lower this year than it was in 2012.
"We've not seen this kind of intentional suppression since the days of Jim Crow," said Rev. William Barber, the president of the NAACP, on Friday.
After a memo from the North Carolina GOP urged "party line changes to early voting," 23 county election boards in the state voted to reduce early voting hours. Nine boards dropped Sunday voting altogether. These changes hurt black voters the most, since they tend to vote on Sundays and make use of early voting.
"I haven't faced nothing, because it's so easy to voice here," said Mother Lucy Knotts, an 83-year-old registered Democrat. "We don't have no problems here in Lexington. We just go and vote."
"I just enjoy going voting," she added with a laugh. "It's one of the things we can do."
Stimpson, however, had a different experience in East Bend, North Carolina.
This year, his early voting site had been changed, and the 64-year-old had to walk upstairs to cast his ballot ― something he's never had to do before. Walking up steps is one way elderly and disabled voters can be discouraged from casting ballots.
"They're trying to stop the Democrats from getting into office because, if they do, we may have a better government," my grandmother said of the alleged suppression efforts. "And everybody will have their equal rights and their equal opinion as to what is happening to our government."
HUFFPOST READERS: What's happening in your state or district? The Huffington Post wants to know about all the campaign ads, mailers, robocalls, candidate appearances and other interesting campaign news happening by you. Email any tips, videos, audio files or photos to scoops@huffingtonpost.com.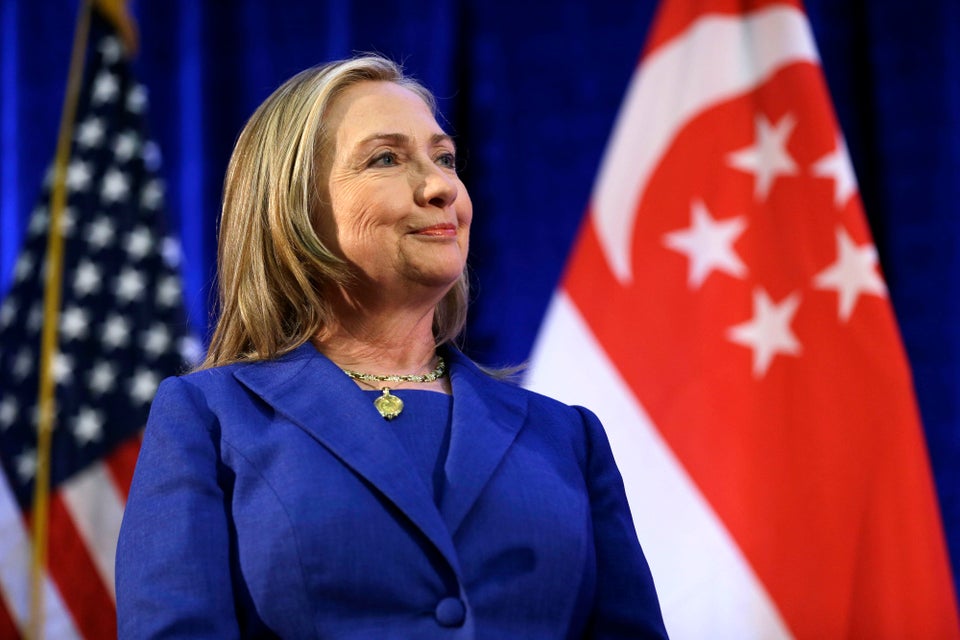 Hillary Clinton
Popular in the Community