Waller County is where Sandra Bland died after a violent arrest at a traffic stop last July. It has one precinct with an African-American majority -- Prairie View, home of the historically black Prairie View A&M University. Students successfully advocated for an on-campus early voting site in 2014. The town of Prairie View had its own site, as well. But the county's plan for its primary in 2016 did not include early voting sites in either location.
Chad Dunn, an attorney and voting rights expert in Texas, was alerted to this significant reduction in early voting sites by a Democratic candidate in the area. He in turn notified attorneys at the Campaign Legal Center, a nonprofit in Washington, D.C., focused on election reform. Three days before Christmas, CLC attorneys wrote a letter to the county's election administrators arguing that its early voting plan would "have an adverse impact on black voters," "burden their right to vote" and "hamper minority turnout," since one of the two planned early voting locations was 25 miles away from Prairie View, and the other, closer location was inaccessible by public transit.
The attorneys who wrote the letter -- Gerald Hebert, CLC's executive director, and Danielle Lang, a legal fellow -- urged Waller County commissioners to reconsider their decision not to place an early voting site in Prairie View. They cited Section 2 of the Voting Rights Act, which prohibits election practices that result "in a denial or abridgment of the right of any citizen... to vote on account of race or color." They also pointed out that Waller County has resisted making it easy for A&M students to vote, and that the Department of Justice has intervened multiple times to prevent the county from disenfranchising students.
Waller County ultimately reconsidered its primary plan and decided to give Prairie A&M an early voting site ahead of the March 1 primary. But the case nonetheless illustrates an urgent problem for voting rights activists and attorneys as the November election approaches.
The right to vote has been under a sustained assault since Republicans captured a slew of state legislative chambers across the country in 2010. GOP lawmakers almost immediately moved to pass strict new voting requirements involving government-issued photo IDs. They also eliminated same-day registration and cut early voting days, among other measures. But the Supreme Court's decision to dilute the power of the Voting Rights Act in 2013 made it significantly more difficult for the federal government to fight discrimination in voting procedures.
The DOJ used to be able to block election practices or procedures that would leave minority voters worse off, like Waller County's reduction in early voting sites in Prairie View. But in 2013's Shelby County v. Holder, the Supreme Court struck down the provision that allowed the DOJ to halt such changes. Section 5 of the Voting Rights Act, which the court gutted in a controversial 5-4 decision, required jurisdictions with a history of racial discrimination -- like Texas -- to get the approval of a federal court or the DOJ before making any changes to their election laws and procedures. While the federal government approved the vast majority of changes -- which exceeded 20,000 annually -- jurisdictions were still required to justify why they wanted to change their election procedures. With this process, civil rights groups gained valuable information about voter suppression measures, as the DOJ would publish the local election changes on its website.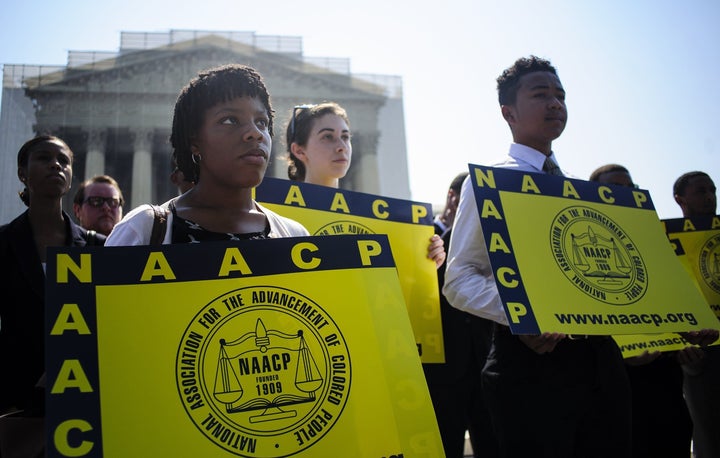 "What was lost when Section 5 was no longer operational was not just the ability to block changes, but also just the knowledge of what was coming up across the country," said Caroline Fredrickson, president of the American Constitution Society.
While high-profile challenges to these new voting restrictions, like Texas' voter ID law, have garnered the most attention, voting rights activists say that more needs to be done to combat local election changes that wouldn't have made it through the pre-2013 screening process.
"We caught that one in Waller County, but how many more are happening every single day?" Lang asked. "These small changes make the biggest difference in individual voters' ability to access the polls. When they're that local, it's hard for national lawyers to attack it, so it's like a death by a thousand cuts."
To combat this problem, civil rights groups are mobilizing to replace the power of Section 5. And they're doing so with a novel new partnership. The American Constitution Society joined with the CLC in 2014 and with Georgetown Law last fall to found the Voting Rights Institute, a resource that's the first of its kind in the nation.
The institute has three prongs. The ACS coordinates trainings for attorneys across the country to teach them how to litigate voting rights cases. The CLC does voting rights litigation and has populated the institute's website with a brief bank of legal documents from past voting rights cases, to help attorneys doing the work. (Voters can also report complaints about their communities' elections through the website.) And Georgetown Law students and professors are conducting research and filing briefs of their own.
"There was a recognition, even before the Shelby County decision was issued, that there weren't enough lawyers who had been trained in voting rights litigation," Fredrickson said. "It wasn't as dire a problem before Shelby County, but it was already clearly evident that there was a narrowing of the voting rights bar."
"We started before Shelby thinking about how we could expand the pool, get more lawyers involved either directly or pro bono, and really raise the awareness of the importance of vigorously protecting the right to vote," she went on.
In September, The Huffington Post attended one of the institute's training sessions at Georgetown Law. Five top voting rights lawyers gave detailed presentations about past and future Supreme Court voting rights cases and others making their way there. The dozens of attorneys in the audience were not voting rights experts; they'd come to learn and get involved in a field where there's an ever-increasing amount of work to be done.
"We've got a ten-alarm fire and half a fire truck to fight it with, so we need as many people grabbing hoses as possible," Dunn told HuffPost. "There's no question that we need more lawyers, but we need more lawyers who know what they're doing, because going in there without training or experience is disastrous and creates bad law. Where I think the Voting Rights Institute comes in is that, hopefully, folks will get training, mentors, direction and have a central repository of information."
The VRI was founded with the understanding that the nation's major civil rights groups, like the NAACP Legal Defense Fund and the American Civil Liberties Union, don't have the bandwidth or financial resources to handle the slew of recent election changes invited by the Shelby County decision on their own.
"The Voting Rights Institute can play this role where no case is too large or too small. We want to make sure that we're responding to every violation," Lang said. "All voting is local, and we want to be able to be an organization that can be responsive to local problems with national expertise."
The institute is already engaged in these sorts of smaller cases. Georgetown Law students and professors, for instance, are representing an attorney who lost a redistricting case in Mississippi last year. The attorney argued that Quitman County was packing black voters into a small number of precincts. Now, Quitman is trying to force the attorney to pay the county's legal fees. An increasing number of jurisdictions are attempting to recover their fees by arguing that voting rights cases are frivolous; Hebert called this "a dangerous trend, because it will have a huge chilling effect" on individual lawyers who may fear bringing a voting rights case knowing they could be forced to pay hundreds of thousands of dollars if they lose.
"We're working on all of the issues you can imagine that are facing us right now, from redistricting [to] photo ID, early voting and moving polling places," Fredrickson said. "There are so many creative ways that people can try to obstruct people's fundamental right to vote. And we're going to be there trying to stop them from doing it."
UPDATE: 3/23 -- The MacArthur Foundation, the philanthropic organization that awards the prestigious "genius grants" every year among other endowments, announced Wednesday that it will give a $1 million grant to Georgetown Law to support the establishment of the Voting Rights Institute.
Before You Go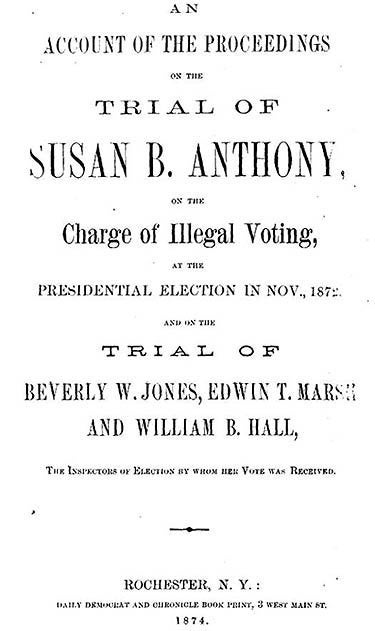 Historic Images Of Women Voting
Popular in the Community