 By LARRY MARGASAK, The ASSOCIATED PRESS
WASHINGTON -- Senate Democrats and Republicans sparred Wednesday over whether voter ID laws, attempts to purge voter rolls and restricted early voting were legitimate efforts to stop fraud or mainly Republican strategies to hold down Democratic votes.
Sen. Bill Nelson, D-Fla., and former Florida Gov. Charlie Crist, a onetime Republican who recently turned Democrat, said the state GOP aimed its efforts at Hispanics and African-Americans. They cited as one example the elimination of early voting on the Sunday before the election, when members of those groups historically vote after church.
At a Senate Judiciary Committee hearing, Sen. Chuck Grassley of Iowa, the senior Republican on the panel, defended Republican efforts to clear the rolls of ineligible voters and was backed by two Republican secretaries of state -- Matt Schultz of Iowa and Ken Bennett of Arizona.
"I believe voter ID laws are commonsense measures to prevent voter fraud," Grassley said.
Sen. Dick Durbin, D-Ill., had sharp exchanges with the Republican secretaries of state over their attempts to find ineligible voters.
"Do you have evidence of non-citizens voting in Iowa?" Durbin asked Schultz.
"Since August 2012 six people have been arrested," Schultz said.
Responding to another question from Durbin, Schultz said 1.6 million Iowans voted in the last election.
"There are six cases," Durbin repeated.
Schultz said: "That is what we have so far. We just started the investigation in August."
Under prompting from Grassley, Schultz said he has been trying to get access to a Homeland Security Department database that tracks who is a legal resident eligible to receive government benefits. He said he has been stonewalled by the federal agency.
Bennett said Arizona prosecuted about 15 cases in the past 18 months of people who voted in Arizona and another state in the same election. But he added that counties have removed hundreds of people from voting rolls each month when jury forms found they were not citizens.
Bennett said 2.3 million people cast ballots in Arizona during the last election.
Nina Perales, vice president of litigation for the Mexican American Legal Defense and Educational Fund, complained that across the country "thousands of letters have been sent to persons who have been erroneously identified as non-citizens because of the use of flawed driver's license databases."
Gilda Cobb-Hunter, a Democrat in the South Carolina legislature, said the state's attempt to impose a voter ID law would have suppressed the African-American vote, because "a voter residing in the easternmost part of my district would have to incur the costs of traveling approximately 70 miles roundtrip to the county seat to obtain a photo ID. Some of my constituents live even further away from the county seat."
Only intervention by the Justice Department under the Voting Rights Act and a federal court panel prevented the voter ID requirement from being implemented in November, she said.
The hearing was the first postelection look at voting problems last November by a polarized and gridlocked Congress.
The problems went well beyond lengthy waits. A rise in the number of provisional ballots delayed the results for days in some cases. The growing photo ID requirements placed on voters by Republican-controlled state legislatures sparked intense partisan fights. And the time allowed for early voting was too short for many, too long for others.
But with Congress expected to adjourn within days, any focus on possible fixes won't occur until next year -- if at all. The 1965 law that influenced the voter ID law in South Carolina is the federal government's most potent weapon against racial discrimination in elections, requiring all or parts of 16 states with a history of discrimination in voting to get U.S. approval before making election changes.
There were voting issues in November in numerous states.
Some Miami-Dade County, Fla., voters, in line at the 7 p.m. poll closing time, didn't cast their ballots until after 1 a.m. Democratic operatives brought pizza to keep them from leaving.
There were long lines in several urban Tennessee counties and in South Carolina. In some places in Virginia, final votes were not cast until after 11 p.m. Long lines also were reported in Rhode Island, Montana and other states.
Some California polls did not open on time because election workers overslept. At least 19 polling places in Hawaii ran out of paper ballots. Some Pennsylvania voters were given incorrect information about whether they needed photo identification; most didn't.
Edward Foley, a law professor at Ohio State University and director of the law school's election program, said there's a potential disaster lurking in the increase in provisional ballots provided to voters whose eligibility is questioned.
"One should have faith in the system," Foley said. "Rules should not be set for one party for its own advantage. What surfaced between 2010 and 2012 was use of the legislative process for what appears to be partisan advantage that we hadn't seen previously."
Richard Hasen, a professor of law and political science at the University of California-Irvine, said the number of provisional ballots can be reduced by improving the voter registration system. He said the system is poorly managed by many states.
"The federal government can provide carrots" in the form of federal grants, Hasen said. "It's a small price to pay to avoid election meltdowns."
Ohio State University election project: www.electionlaw.osu.edu
Senate Judiciary Committee: http://www.judiciary.senate.gov
Before You Go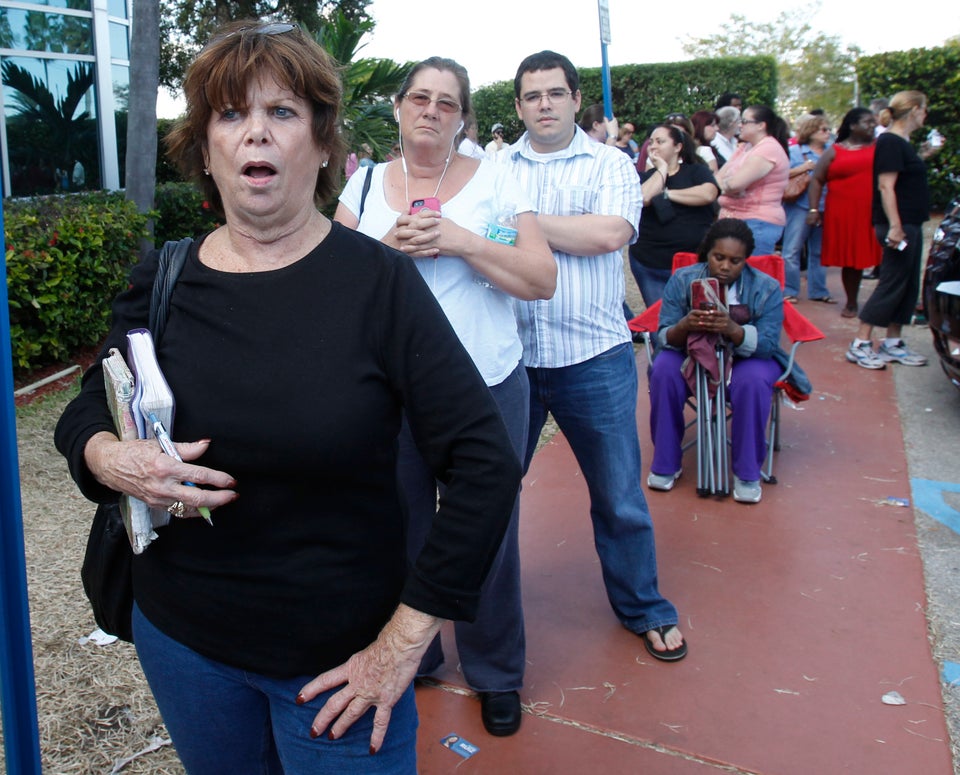 Long Voting Lines
Popular in the Community