Voting rights are at the center of a new and nasty attack from the GOP gubernatorial candidate in Virginia.
Ed Gillespie is accusing Democrats in the state of jeopardizing public safety by restoring voting rights to former felons who have completed their sentences, a claim the state's governor says is outrageous.
Virginia strips felons of their voting rights, but they can be restored by the governor. Virginia Gov. Terry McAuliffe (D) has restored the voting rights of more than 168,000 former felons, a number he says is a record high. He's restored all of them individually after the state's Supreme Court ruled in 2016 he could not do so with a blanket order.
A new ad from Gillespie accuses McAuliffe and Lt. Gov. Ralph Northam, the Democratic nominee for governor, of putting public safety at risk by enfranchising Virginians.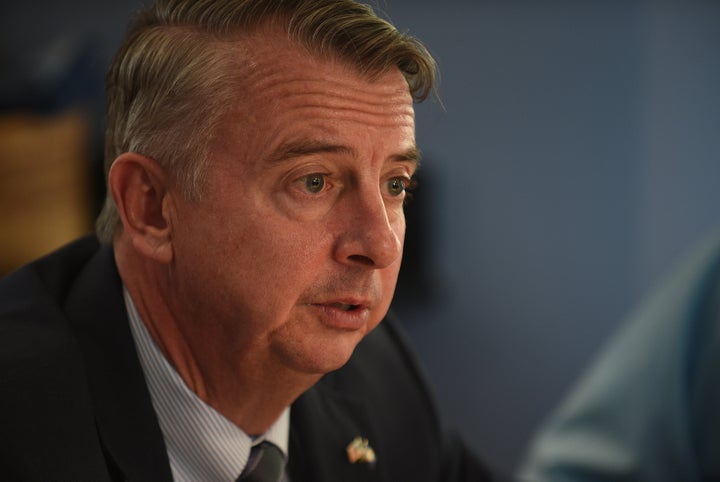 "Last year, Terry McAuliffe and Ralph Northam instituted the automatic restoration of rights for violent felons and sex offenders, making it easier for them to obtain firearms and allowing them to serve on juries," the ad says. It also singles out the case of a man who it says had his rights restored after being found with one of the largest child pornography collections in Virginia's history. (The man actually lost his voting rights again after pleading guilty to possession of child pornography and is serving 15 years in prison, according to The Washington Post.)
Former felons in Virginia have to apply to McAuliffe to have their rights restored and are only considered eligible if they have completed all of their sentencing, including parole. McAuliffe's new process for restoring voting rights does eliminate a step for former felons to regain their gun rights.
The ad marks an attack on an issue some Virginia Republicans have supported in the past, though Gillespie appears to be steadfast in his view. In 2013, then-Gov. Bob McDonnell (R) took executive action to automatically restore the rights of nonviolent felons. That same year, then-Virginia Attorney General Ken Cuccinelli (R), McAuliffe's opponent in the governor's race, was open to the idea after long opposing it.
McAuliffe called Gillespie's ad the "lowest point yet" in his campaign.
"When our administration began the process of restoring the rights of thousands of former felons who had served their time and returned to their communities, we recognized that we were confronting an historic injustice intended to suppress African American voices," McAuliffe wrote in a HuffPost opinion piece. "We also knew that many forces, such as those that led Ed Gillespie to run his latest ad, would oppose our actions vigorously."
David Turner, a Northam spokesman, accused Gillespie of lying in the ad and said he should be "ashamed."
Tammie Hagen, a community organizer with New Virginia Majority, a group that works to restore felons' rights, said allowing people to vote does not pose a safety threat. Hagen had her voting rights restored last year.
"I'm appalled by the antiquated mentality that seeks to permanently demonize people and withhold the ballot from us. I am a mother, a daughter, a friend, a taxpayer and a neighbor," she said in a statement. "To claim that I shouldn't be able to have a say in who I want on my grandchildren's school board or who I want in office making decisions on my health care is ludicrous and has no bearing on the safety of my community."
The ad also highlights the high stakes for voting advocates in the governor's race, which is being watched nationally. While McAuliffe has restored more voting rights than any other governor, he has done it through executive orders, meaning the progress could be quickly undone by an administration hostile to voting rights. Nationally, 6.1 million Americans are disenfranchised because of a felony conviction, according to The Sentencing Project, including 1 in 5 African Americans in Virginia.
"Right now, the state of felony re-enfranchisement lies in the hands of the governor," Tram Nguyen, co-executive director of New Virginia Majority, told ThinkProgress. "The entire rights restoration process is on the line with this November election."
Judith Browne Dianis, the executive director of the national office of Advancement Project, said the effort to restrict the vote in Virginia grew out of racism.
"The right to vote is sacred, and pitting people's fears against access to democracy is reprehensible," she said in a statement. "In Virginia, the zeal to restrict the vote is linked inextricably to the state's Jim Crow heritage, and attempts to demonize the right to vote must be condemned in the strongest of terms."
REAL LIFE. REAL NEWS. REAL VOICES.
Help us tell more of the stories that matter from voices that too often remain unheard.
BEFORE YOU GO
PHOTO GALLERY
U.S. State Capitol Buildings