Tuesday is Election Day in the U.S., and voters across the country are waking up early or staying out late just to make sure they're able to cast ballots without any complications at work.
Although this particular Tuesday may have massive political implications, it's just another day at most workplaces. Federal law doesn't require employers to give their employees time off to vote, but most states do provide certain Election Day accommodations for workers ― usually a few hours of unpaid time off, with some states offering paid leave.
Policies vary when it comes to how much notice workers must give their bosses about plans to vote, and are typically contingent upon an employee not otherwise having sufficient time to cast a ballot before or after scheduled work hours. But even in these more generous states, employees may be reluctant to press their employers on exercising the leave requirements. And many employers may not even be aware of them.
In a number of states, including Connecticut, Louisiana, Michigan, New Jersey and Pennsylvania, employers are under no obligation to give their employees any time to get to the polls, according to the AFL-CIO. 
The lack of protections for workers has led many voters to come up with their own Election Day routines. Earlier this week, we asked HuffPost readers to share theirs with us. We got a variety of responses, including from lots of people who said they'd voted early or cast absentee ballots. A number of voters in Oregon and Washington, two states that rely heavily on mail-in balloting, said those systems offered a level of convenience they hadn't experienced elsewhere.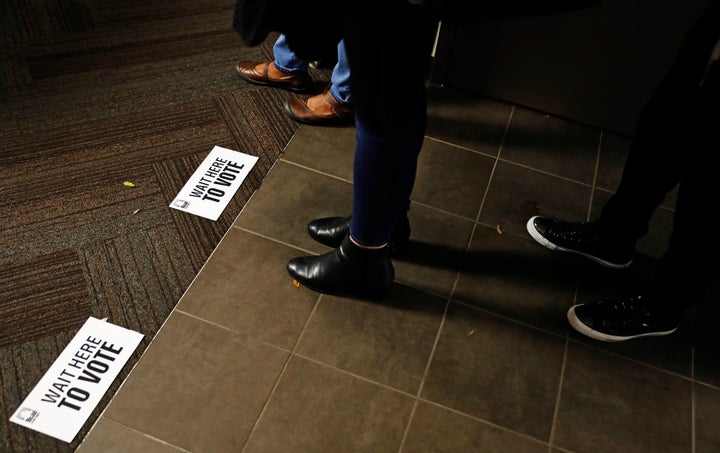 Jo Falkner, a 30-year-old marketing specialist who works at a brokerage firm in Sarasota, Florida, said she didn't even bother asking her employer about getting time off to vote on Tuesday. She recently started a new job, and said she felt like asking for leave might rub her boss the wrong way.
"I guess I'm just used to employers thinking my generation is lazy and looking for any way to get a day off, and I'm trying my damnedest to break that stereotype," Falkner told HuffPost.
To make things easy, Falkner decided to mail in her ballot in advance. But she said she didn't think the voting process needed to be such a headache. Falkner noted that other nations make voting mandatory or give people the day off to get to the polls, and suggested the U.S. could do something similar.
Megan Williams of Troy, New York, wasn't sure if she'd be able to find time to vote between shifts at her two part-time jobs. Williams, 38, said she didn't have access to a car, and felt it would be a struggle to make it to her polling place without missing work. Then she spoke with her brother, who was happy to help.
"I do plan on voting tomorrow thanks to my brother picking me up early before I have to head into Job #1," said Williams.
Employees at the Bradshaw & Bryant law firm in St. Cloud, Minnesota, get as much time as they need to get to the polls, said partner Michael Bryant. "Voting is one of our important rights," he said.
I make sure I'm the first one at the polls to ensure I get it done.

Shamerea Richards, 25
Shamerea Richards, 25, of Cook County, Illinois, said she'd be getting an early start on the day to make sure she had time to vote before clocking in at her job as a day care worker.
"I make sure I'm the first one at the polls to ensure I get it done," said Richards.
Ann Winter, 25, works in higher education in Pennsylvania. Because her employer doesn't provide time off to vote, she was determined to fit it in after her 90-minute commute home from work.
"I plan to leave work tomorrow and drive straight to the polls though, even if I'm the last person in the door," said Winter.
The lack of employer accommodations wasn't such a big deal for Ann Laabs, 50, of Wisconsin. Her shift at an office job ends at 5 p.m., and with polls in Wisconsin open until 8 p.m., Laabs said she should have enough time.
"I'm confident about my plans because of how elections have gone since we moved to our current home in 2012," said Laabs. "Well-run and efficient."
Rachel Engel, 31, had a brief moment of panic recently when her and her husband's absentee ballot requests were returned as undeliverable. She wasn't sure what had happened, but Engel said they were so eager to vote that they drove five hours on Monday with their two children, ages seven and four, to cast ballots at their old precinct in Wichita Falls, Texas, where her husband had previously been stationed in the military. They stayed at a hotel on Monday night, voted first thing on Tuesday, and then drove back for a half-day of work and school.
Both Engel and her husband's employers were willing to work with them to facilitate the emergency "civics road trip," said Engel.
"We're very grateful they are helping us prioritize voting," she said. "This election is too important."
Readers, how did you juggle voting with work? Did your employer give you time to get to the polls? Did you take time off? Or were you not able to vote because of a conflict with your job? Send an email to nickw@huffpost.com.
REAL LIFE. REAL NEWS. REAL VOICES.
Help us tell more of the stories that matter from voices that too often remain unheard.
BEFORE YOU GO