The digital news organization Vocativ released its new Tinder-like web-based app, called Votr, on Monday. The app, first shared with The Huffington Post, aims to stimulate interest in this year's midterm elections by matching users with U.S. Senate candidates.
"Looking for your ideological soulmate?" reads the app's homepage. "Votr plays Cupid to match you with November's most eligible politicians."
Votr assesses a user's ideological orientation by asking questions about the primary color of the user's state, the user's educational background, past military service, worship habits and bank account, as well as issue-oriented questions about abortion, same-sex marriage, global warming, gun control and marijuana decriminalization. Other questions ask about the user's preference for sports or the arts, dogs or cats and Beyonce or Rihanna. Each question is accompanied by an emoji symbol.
"What we wanted to do was take a lighthearted tone -- this is not the HuffPost elections dashboard. It's not to help you make a decision so much as reset your hardened point of view, your cynicism about the political process," Vocativ Vice President of Product Elena Haliczer told HuffPost Friday. "We're targeting people in their 20s and 30s and that's the tenor of a lot of people's reactions to the elections."
After answering the obligatory questions, users get to swipe right if they like the candidate, or left if they're not interested. The app provides links to the candidate's campaign websites and social media accounts.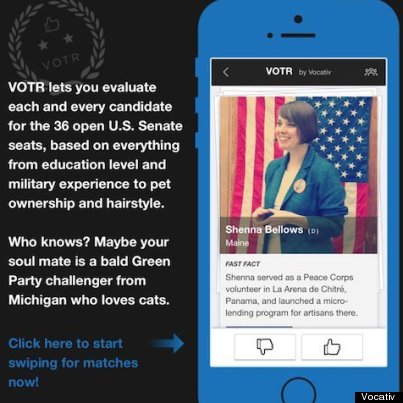 Every candidate profile comes with a fun fact. Sen. Mary Landrieu (D-La.), for example, "has a dog named Sugar Belle" and is pro-choice, supports marriage equality, thinks global warming is a threat, supports stricter gun laws and supports marijuana law reform, according to Votr. We also learn that Kentucky's Democratic Secretary of State Alison Lundergan Grimes, who is challenging Senate Minority Leader Mitch McConnell (R-Ky.), "grew up wanting to be a doctor, but changed majors in college after passing out while watching carpal tunnel surgery."
Each candidate's story is more complicated, of course: Votr fails to mention, for instance, that Landrieu opposes the Environmental Protection Agency's new limits on carbon emissions.
And Votr doesn't just include high-profile candidates like Landrieu. Even North Carolina independent candidate Sean Haugh gets a profile, though his mentions that he "enjoys cooking, baking and fantasy football" rather than his work as a pizza deliveryman.
"What I love about the experience is that even for people I'm not aligned with politically, I found something out about them that I wouldn't have known otherwise," Haliczer said.
This is certainly true -- this reporter, for instance, did not know that retired Col. Rob Maness (R), who is running for the Senate in Louisiana, "served in the midst of the Iranian hostage crisis." We're also reminded that Scott Brown, the Republican candidate for Senate in New Hampshire, won Cosmopolitan magazine's "America's Sexiest Man" contest when he was in law school.
REAL LIFE. REAL NEWS. REAL VOICES.
Help us tell more of the stories that matter from voices that too often remain unheard.
BEFORE YOU GO
PHOTO GALLERY
Senate Seats Up For Grabs In 2014