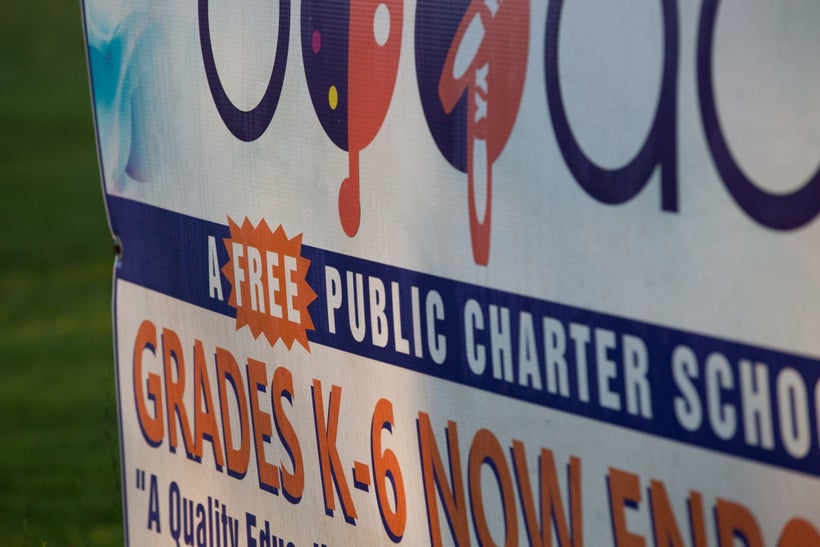 There are some very effective charter schools and also many total disasters. As a noted in my previous Huffington Post, most charter schools operate non-union and rightwing and corporate "reformers" are using the charter school movement as a wedge to undermine teacher unionism. I visited the Renaissance Charter School in Queens, New York on multiple occasions and I was impressed with its teachers, who are members of the New York local of the American Federation of Teachers, and their students. What I do not understand is why it has not been integrated into the New York City school system as a regular public school. If you think the Trump/DeVos charter school and voucher plans are a good idea, read this cautionary tale.
According to a report in ProPublica, Orange Park Performing Arts Academy, a K-5 charter school with 168 students in a Jacksonville, Florida suburb, was the worst "public school" in Clay County, maybe the worst in the state of Florida. Two-thirds of Orange Park's students failed state exams. Principals and teachers kept leaving. The "school" failed state review two years in a row and the local school district terminated its contract.
This charter was a disaster for children waiting to happen. The Clay County district school board voted twice to reject Orange Park's application to open the charter school. But in April 2013, Florida's pro-charter "appeal commission" overruled the local school board and recommended that the state grant the charter. Orange Park opened in August 2014.
Under Florida state law, charter schools that receive two consecutive "F" school grades from the Department of Education are shut down. Its first year of operation, 2014-2015, Orange Park received a "D" grade. In 2015-2016 and 2016-2017 it was graded "F." Orange Park petitioned for a waiver of the closing rule, but it was denied. Parents were sent a letter from the Clay County School District instructing them to enroll their children in district public schools.
That should have been it for Orange Park – then it was reborn as a private school funded by public voucher dollars. Orange Park Performing Arts Academy charter school was officially closed in July. Orange Park Performing Arts Academy private school opened in August.
The ProPublica report uncovered at least 16 failing or struggling charter schools in five states — Florida, Wisconsin, Indiana, Ohio and Georgia — that were reborn as private schools accepting voucher money. Failing private schools are even less accountable to public review than failing charter schools. There are now over fifty school voucher programs in the United States, so expect many more charter school resurrections.
Secretary of Education Betsy DeVos praised Florida's approach to charters and vouchers as a model for the entire country. But according to Diane Ravitch of the Network for Public Education, "The fundamental voucher idea is that parents are choosing the schools and they know better than the state. If they want to send their kids to a snake-charming school, then that's their choice." Last school year more than 100,000 Florida children from poorer families received voucher scholarships to attend over 1,700 unregulated private schools. The participating private schools received an average of $300,000. We don't know what the children received.
In conjunction with their 4th annual conference in Oakland, California on October 14-15, the Network for Public Education is releasing a series of eight video "voices" defending public education in the United States. The first video, "Why are Betsy DeVos and Bill Gates so Afraid of this Grandmother?" features Diane Ravitch, author, historian, teacher, and co-founder of NPE. Ravitch warns that Betsy DeVos' agenda is a thinly veiled attempt to privatize schools and redefine citizens into consumers. Ravitch is especially concerned that charters, vouchers and so-called educational choice proposals will undermine American democracy. Future videos in the series feature Johanna Garcia, an educational advocate from New York City; Jeanette Deutermann, a founding member of Long Island Opt Out and New York State Allies for Public Education; John Kuhn, Superintendent of the Perrin-Whitt School District in Texas; Jesse Hagopian, a Seattle-based high school teacher and editor of Rethinking Schools; Jitu Brown, National director of Journey for Justice (J4J) Alliance; Kymberley Walcott, an undergraduate student at Hunter College-CUNY; and Linda Lyon, a retired Air Force colonel, is president-elect of the Arizona School Boards Association.
Calling all HuffPost superfans!
Sign up for membership to become a founding member and help shape HuffPost's next chapter
This post was published on the now-closed HuffPost Contributor platform. Contributors control their own work and posted freely to our site. If you need to flag this entry as abusive,
send us an email
.