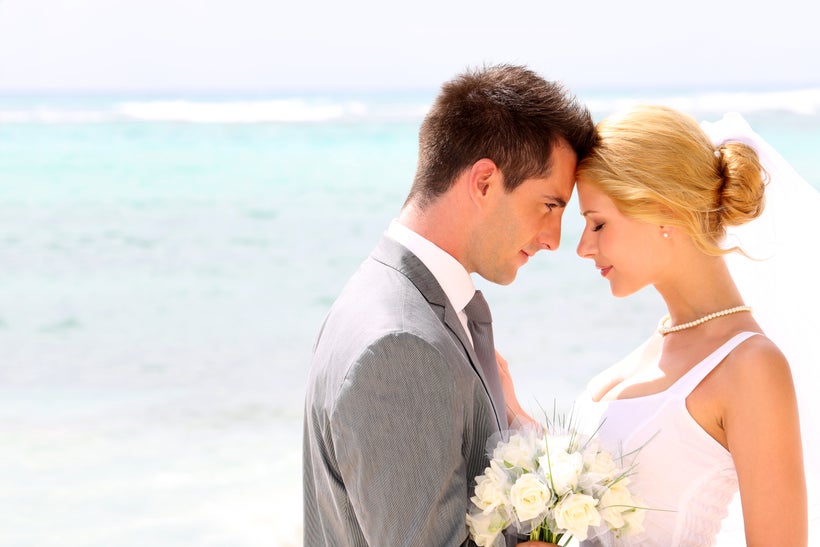 Vows are a very personal experience for a couple, even though they often are spoken before a crowd of people.
I have seen A LOT of different kinds of vows, from short and sweet to long and winding testaments of love. I have also seen couples struggle to pen right words, or to find the courage to speak them.
Often, they are concerned about tears and 'losing it' in front of loved ones. But those kind of vows can be the most heartfelt and charming. There's really nothing to be embarrassed about.
One solution to getting through your vows is do them in a repeat-after-the-officiant style. But if you have your heart set on creating and reading unique vows to read, my advice is always to write your vows down.
Personal vows are a wonderful way to express your love on your wedding day. Contained within those vows are the seeds of dreams to come true, and intentions for your married life. For many people, vows are the hallmark of the wedding ceremony. Imprinted in many of a mind is the romantic image of a loving couple looking deeply into one another's eyes and calmly vowing their love and devotion on their wedding day.
Why then do many brides and grooms find themselves in the not-so-romantic mode of tearing their hair out at the 11th hour trying to transport feelings from their hearts and minds onto a blank piece of paper? Because even though love may come naturally, vow writing or public speaking may not. Writer's block and performance anxiety about wedding vows are not uncommon. It can be little scary when you think of pouring your heart out on paper, and then speaking it to you beloved in front of everyone you know.
It's important to realize that personalized vows are meant to provide a sacred moment in which you can express your truest feeling for each other. When you are speaking to one another at the altar, you really do go into an "altered state" and the rest of the world fades away. The vows you speak don't have to be personally written – rather, you can "borrow" them from other sources. They are not meant to be a theater piece to impress or entertain others. And they should not stress you out! However, if the thought petrifies you, give some thought to how much you each want to speak during the wedding, or if you feel you will be too nervous to utter more than "I do!."
If you are up for exchanging vows, would you prefer traditional, classic vows, or more modern and personal vows? If you will be married in a traditional religious ceremony, you may be asked to speak classic traditional religious vows. In a non-denominational or interfaith ceremony, you can be more creative. Whenever possible, select an officiant who will support you in expressing vows the way you feel most comfortable and speak with your officiant in advance about where vows fit into your ceremony.
Ways to say I love you. There are many ways to weave vows into your ceremony. For example, your vows can be repeat-after-the-officiant style or they can be read to one another. You can utter them as part of your I dos, or speak them when you exchange rings. You can each decide on different vow, or share the same vows. You can even speak the same vow to one another simultaneously; or you can read from one long vow or statement, with bride and groom alternating lines. If you don't want to say much, you can include the promises you would like to make in a longer question of intent, to which you only have to answer "I do." Never try to memorize your vows (unless you are an actor, public speaker, or memory genius). On your wedding day, the mind goes into Wedding La-La Land and short term memory can be short-circuited by nerves. It's too much to ask of yourself.
Creative and sacred ways to express your commitment. You can find your vows in poetry, popular songs or even greeting cards. You can also source ideas from the faiths or cultures you were born into. For example, from the Jewish tradition you might want to use the soulful line from Song of Solomon, "I am my beloveds, and my beloved it mine" or talk about the concept of soul mates from the Zohar or the Bible. Some couples adapt vows from the 7 Steps (known as Saptapadi) in the Hindu faith, such as "We will share each other's joys and sorrows with courage and strength." You can find lovely material from any spiritual tradition and adapt it into your vows.
Write your own vows. If you do want to write your own vows, take a moment to reconnect to the energy and magic that made you want to marry this person, and let the feelings flow. Jot down some notes:
What do you love about this man/woman?
What feeling pour over you when you think of his/her love for you?
What are your hopes and dreams for your married life?
What promises would you like to make?
Next, write a first draft. Begin by sharing why you love him/her (including cute and funny reasons) and letting him/her know how he/she makes you feel. Next, share things you look forward to experiencing together. Sprinkle in promises you would like to make. Summarize by sharing how grateful you are for his/her love and the opportunity to share your lives. Then go through the first draft; edit or add in new thoughts. Don't be afraid to use humor – if that's your style. ("I promise never to change the channel when the Yankee's are on," for example).
Speak from the heart: No matter what kind of vows you choose let your sentiments come from the heart. They do not have to be long. Approach them with a K.I.S.S. (Keep It Simple, Sweetheart) and make them real. Those are the best wedding vows.
Calling all HuffPost superfans!
Sign up for membership to become a founding member and help shape HuffPost's next chapter
This post was published on the now-closed HuffPost Contributor platform. Contributors control their own work and posted freely to our site. If you need to flag this entry as abusive,
send us an email
.