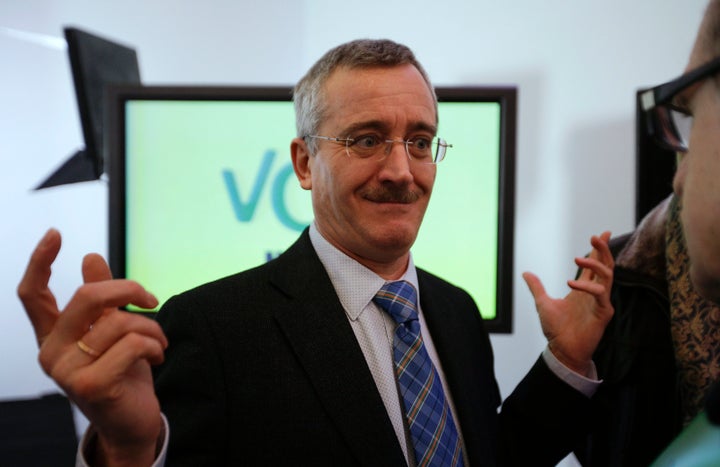 Spain's nationalist Vox Party unveiled a new slogan this week that may sound familiar to Republican candidate Donald Trump's supporters. The conservative party has chosen "Hacer Espana Grande Otra Vez," as their new motto -- which in English translates to "Make Spain Great Again." 
Vox has plastered its new slogan all over its party website, social media platforms and featured it in campaign ads ahead of Spain's parliamentary elections later this month. Not readily apparent as part of the media push, however, is any reference to the origins of the slogan or mention of Trump.
Vox is a fringe party that was founded just two years ago and is an offshoot of the centre-right Popular Party, or PP. The party platform is farther to the right than the PP, taking a hard line against the Basque and Catalonian independence movements that in recent years have been gaining ground in Spain. One of Vox's founders, former prison officer Jose Antonio Ortega Lara, was held captive by the Basque militant group ETA for over 500 days.
Much like Trump, Vox opposes abortion rights and deals heavily in nationalist sentiment. However, the two differ on a number of other issues. While Trump has been a proponent of building a border wall with Mexico to curb immigration, Party leader Alejo Vidal-Quadras told the Financial Times in 2014 that Vox is "supportive of immigration."
Far-right populism hasn't become a significant political force in Spain in recent years, unlike in many other European countries.
While the new campaign slogan may be an attempt to gin up some media attention for the fledgling party, its extremely unlikely that Vox will be able to replicate the same sort of surprising rise as Trump's candidacy. During the 2014 European Parliament elections, Vox secured only 1.57 percent of the vote and failed to win any seats. The party is running in Spain's general election on June 26, but recent polls show a race dominated by the PP, anti-austerity Podemos and the Socialist party.
Vox did not immediately respond to a request for comment on how the party chose its new slogan.
Calling all HuffPost superfans!
Sign up for membership to become a founding member and help shape HuffPost's next chapter
BEFORE YOU GO
PHOTO GALLERY
Trump Masks At A Chinese Factory