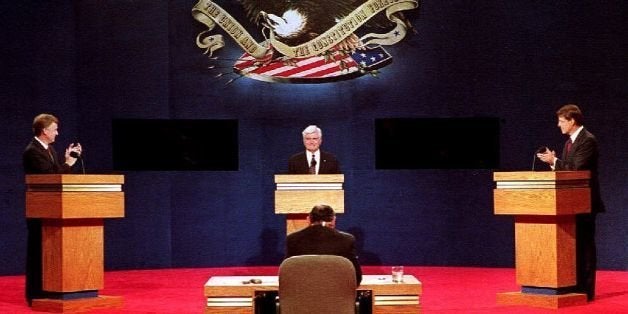 Tonight at Longwood University, Governor Mike Pence of Indiana and Senator Tim Kaine of Virginia will square off against each other in the only national debate between the two vice presidential candidates. While the entire country is still reacting to last week's debate between Donald Trump and Hillary Clinton, the Longwood University community awaits an event unique in our own history. For our university, the town of Farmville, and the half dozen surrounding counties, there has never been anything like what we have been experiencing in terms of national attention. The presence of so many media personnel with their equipment trucks, the many arriving debate attendees, and all the federal, state, and local law-enforcement personnel have created an environment that most of us have never seen up close before.
Vice Presidential Debates are usually overshadowed by the Presidential Debates. After all, most of the news is usually about the candidates at the top of the ticket. This is even more true this year with all the media attention given to Donald Trump, the controversies surrounding each campaign, and all of the attention given to the record of Hillary Clinton who has been in the public eye for decades.
While Mike Pence and Tim Kaine are well known in their home states, this will be their best chance to show the country who they really are as they meet face to face. They will, at least for a while, be somewhat out from under the overwhelming shadow cast by the person who chose them. Tonight the vice presidential candidates will have five very important challenges as they try to make the best possible case for their ticket and for themselves.
First challenge: While most people vote for who they want to be the next president or against who they most dislike, the fact is that presidents are mortal and nine vice presidents have become president because of the death or resignation of a president. This is especially important this year as either Donald Trump or Hillary Clinton, if elected, would become one of the oldest individuals in our history to begin a first term in office. Imagining a President Pence or President Kaine is not a matter of engaging in fantasy. They will have to make a convincing argument tonight that they have the qualities we would expect in such a situation. Who would best lead a smooth transition? Who could best reassure the country at large? After such a transition, what direction would his leadership take? Would he simply follow the path being articulated by the person who chose him as a running mate? Or is there something about this person that might in a significant way be different? Which person has the experiences, skills, and character to be a good president if tragedy should strike?
Second challenge: Vice presidents in recent decades occupy a much more important place in White House leadership and policy development than they did in the nineteenth century, and a good part of the twentieth century. The upgrading of the office for Walter Mondale under Jimmy Carter gave the vice president not only an office in the White House, but also gave the Vice President a larger staff, generous private access to the president and national security briefings, and an open invitation to attend any meeting in which the president was a participant. The increased significance of the office can also be seen in the role played by Al Gore, Dick Cheney, and Joe Biden in more recent administrations. Tonight our candidates should try to give us a picture of what they would contribute to the next administration. How would they enhance that administration? What do they bring to the table? How would they help make their running mate a better president?
Third challenge: Given the historic unfavorable ratings for the candidates at the top of their ticket in public-opinion polls, our candidates tonight face what for millions watching may be a task of Herculean proportions. Never in a Vice Presidential Debate have two candidates had to defend their running mates from so much distrust, fear, and in some cases outright hatred. They will have to defend their candidate from months of criticism from the opposition, and make up for negative feedback from last week's presidential debate. Given the fallout from that debate, Mike Pence may be under more pressure to make up for some lost ground.
Fourth challenge: Tonight's debaters certainly want to avoid saying anything that would hurt the ticket. Do no harm! They don't want to appear lost on stage like Admiral Stockdale in 1992, when he wondered why he was even there on stage, or fall into a trap and get zinged as happened to Dan Quayle in 1988 when, in trying to defend his level of experience as being equal to that of John Kennedy, he got pummeled by Lloyd Bentsen as not being in the same league as the late president. Given their own long experience as elected officials and decades of addressing national issues, one would not expect them to appear unready for the office or say something that casts doubt on the judgment of the person who chose them as a running mate, as was the problem that Sarah Palin created for John McCain in 2008. While there is no strong evidence to support the idea that a poor performance in a Vice Presidential debate has ever cost a party the election, these debates provide opportunities to reinforce the ticket's campaign themes, rally the party base, and become part of the talking points for the campaigns and legion of commentators in the national media. While most voters have made up their minds, our candidates need to focus on developing a persuasive case attractive to the small slice of the electorate that remains undecided.
Fifth challenge: Moving beyond their own qualifications for the Vice Presidency and their own efforts to defend the top of their ticket, could the candidates tonight do anything to rescue the country from such a long and ugly presidential election? They have at least a chance. Both of tonight's candidates are well regarded in their home states and by members of both parties in the nation. Perhaps they could raise the level of public discourse. In a country that has experienced such an increase in ideological and partisan polarization, could they tonight engage in an intellectually honest and substantive discussion of public policies? Could they go beyond one-liners and with some detail provide a clearer picture of where their ticket might take the country? Will they engage in the kind of informative and civil discourse our democracy desperately needs?
Longwood University welcomes our country to tonight's debate to find out how the candidates respond to these challenges.
Calling all HuffPost superfans!
Sign up for membership to become a founding member and help shape HuffPost's next chapter