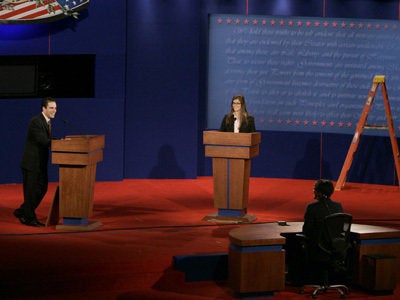 More Nots Than Notable Mentions
With the first Republican woman running for the nation's No. 2 office, Thursday night's vice presidential debate made history for women.
But you would hardly know that from the candidates' talking points during the 90-minute debate in St. Louis, Mo. Neither Sen. Joe Biden, a Democrat from Delaware, or Gov. Sarah Palin, a Republican from Alaska, spent much time addressing issues of particular concern to women, issues like the wage gap, the high cost of child care, the lack of paid sick and maternity leave, efforts to restrict access to birth control, contraceptive equity in health insurance, and the list goes on.
In fact, only one issue of particular concern to women came up during the debate, and it was not raised by the woman on the stage. Twice, Biden made a point to discuss domestic violence. At the beginning of the debate and at its conclusion, he called attention to the 1994 Violence Against Women Act, the landmark law he authored that provided federal funds to combat domestic violence.
At one point, Palin noted that one of the reasons some foreign leaders dislike the United States is because of its "respect for women's rights." But the first woman to run on a GOP vice presidential ticket went no further to speak specifically to women in her debut debate.
Calling all HuffPost superfans!
Sign up for membership to become a founding member and help shape HuffPost's next chapter