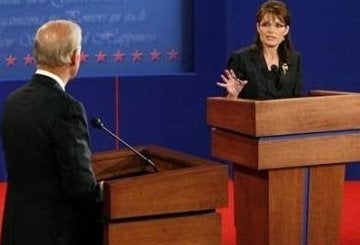 I watched the vice presidential debate in a ballroom at the Four Seasons hotel in Aviara, just north of San Diego, along with a couple of hundred women attending Fortune's Most Powerful Women Summit -- a receptive audience, you would think, for a debate featuring a woman who might become the most powerful in the land. It was an ideologically mixed crowd, including representatives of ExxonMobil, a major sponsor of the conference.
If the reaction of the Republican women in the room is any indication, it was not a very good night for Sarah Palin. The only noises heard during the debate were groans when Palin turned her folksiness meter up to 11 (which was often), and applause when Joe Biden delivered his best moments of the night: making personal his understanding of the plight of single parents sitting around their kitchen tables, looking for help; and his impassioned pushback on Palin's endless description of John McCain as "a maverick."
The loudest ovation of the night -- at least in that ballroom (granted, not the most representative-of-America crowd) -- came when Biden said that Dick Cheney was the most dangerous VP in history.
After watching this debate, I am convinced that if the country somehow has a collective mental meltdown and elects Sarah Palin, she will be even more dangerous than Cheney. Not only does she want more power for herself than the Constitution grants -- or than Cheney took for himself -- but she is so obviously not equipped to be a heartbeat away from the presidency, it takes your breath away that McCain picked her. He claims to be putting his country first, but the debate proved beyond any doubt that he has actually chosen to put his country on the betting line and roll the dice. And they've come up snake eyes.
Friday morning, Meg Whitman, the co-chair of McCain's campaign, will be on a panel with Penny Pritzker, Obama's national finance chair, discussing the campaign. After the debate, I asked Whitman what she thought of Palin's performance. "Good enough," she said.
But good enough for what, exactly? After Thursday night, the only thing Palin proved herself good enough for is starring in her own reality show.
Watching Biden and Palin on the same stage was like watching a tennis champion walk onto Centre Court at Wimbledon only to find himself facing an over-eager amateur from the local high school. Or as Pat Mitchell told me, "Biden was taking part in a vice presidential debate; Palin was taking part in a junior high debate."
Here's how Esther Dyson put it: "It's pretty clear that Biden spent decades getting ready for this debate, learning from experience; Palin spent a couple of weeks, learning from handlers and speech coaches."
The only subject on which Palin displayed superior knowledge was when she corrected Biden on the proper delivery of "Drill, baby, drill!" Christie Hefner thought Palin's sex-tinged twist on the chant should be appropriated for a commercial. Perhaps for Viagra.
Other than that, Palin's grasp fluctuated between wafer thin and skin deep. The moment that most drove me to want to send her a book on Greek gods and heroes was her head-scratching response to the question about her Achilles heel. She apparently didn't know what that meant since she spent her allotted time listing all of her attributes as opposed to her most glaring weakness.
Ann Wojcicki, co-founder of 23andme, told me: "I was dying to hear something -- anything! -- from Palin that wasn't pre-rehearsed."
Throughout the entire 90-minute debate, Palin came across as an over-wound windup doll, sporting a pasted-on-smile expression that never varied, except when she winked. Which she did repeatedly -- and pathetically. It was the folksiest appearance since Hee-Haw went off the air.
"The home-spun homilies have to go," Martha Stewart told me. "And, oh my god, words do have ending consonants."
In the greatest disconnect of the evening, Palin repeatedly went to the Reagan well, offering up such Gipper classics as "there you go again" and that "shining city on the hill." But, really, during a week in which John McCain hopped on board Bush's $700 billion bailout, did Palin not see how incongruous it was to insist that government isn't the solution, it's the problem? And declare that all we need to get this country back on track is for the government to get out of our way? Isn't that what got us where we are today? Or had she been so busy cramming for the debate she didn't have time to read one of the so-many-she-can't-name-one newspapers she reads?
Joe Biden's only insincere moment was when he told her: "Governor, it was a pleasure to meet you."
A better exit line would have been: "Governor, it's a pleasure to think that, God willing, in 33 days, you'll be back where you belong -- shootin' moose and takin' on those big oil companies in Alaska."
My patience with Palin is waving the white flag of surrender.
For those of you in the Pennsylvania area, on Monday I'll be debating Mike Huckabee in Hershey, Pennsylvania. For more information, click here.
Popular in the Community