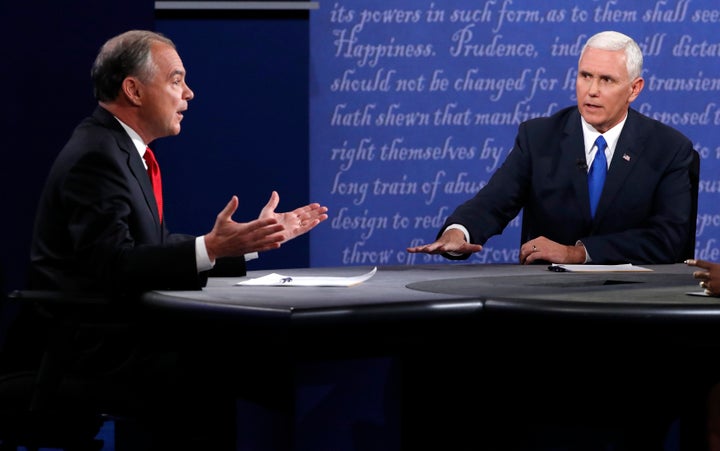 1) Shut up, Elaine, the men are talking.
2) Pence: There is no such thing as racial bias because that last cop who shot a black guy was also black. Kaine: Um... that's not how it works.
3) Kaine: It's all the zingers you can deliver in 60 seconds, right? That's the game? I'm gonna kill it!
4) Kaine: How can you defend all of the awful things your candidate has said? Here, let me list them for you... Pence: How dare you say those horrible things!? You're the worst!
5) Kaine: No, but really, that time when he said- Pence: Never happened. Can we talk about email now?
6) Seriously, Elaine. The MEN are TALKING.
7) "What would make Putin respect your running mate?" Pence: Strength (that's what he calls his penis) Kaine: [facepalm]
8) Pence: My running mate is honest and trustworthy, while yours is a mean liar who used her family foundation to give 90 percent of the money to herself and trade favors. Willy Wonka: Scratch that; reverse it.
9) Kaine: I personally value the sanctity of life, but do not think it is a government's place to tell women what to do; we need to trust the women of America to make their own moral and health choices. Pence: My favorite book is The Handmaid's Tale.
Calling all HuffPost superfans!
Sign up for membership to become a founding member and help shape HuffPost's next chapter
BEFORE YOU GO
PHOTO GALLERY
#VPDebateActionMovie Thankfully Made The VP Debate More Exciting