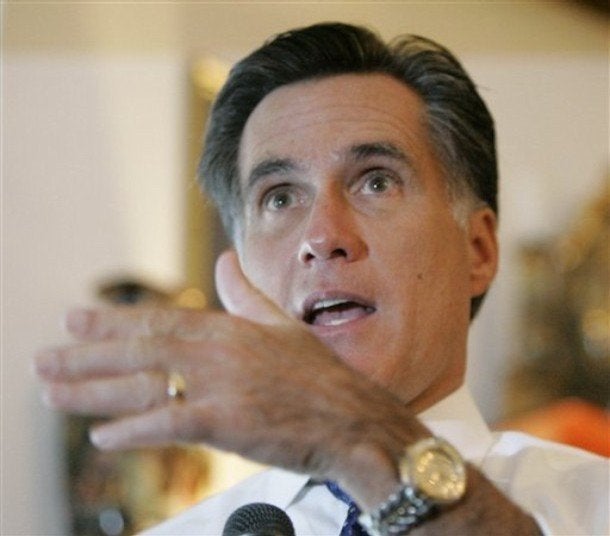 The rumor mill is abuzz that John McCain will (in fact, has already) chosen Mitt Romney as his vice presidential running mate and that the choice will be revealed just days after the Democratic convention. If that is the case, it could only compound the recent line of attack being used against the Arizona Republican.
Romney, like McCain, owns an abundance of houses. According to news reports, the former governor of Massachusetts has at least four properties in his portfolio. There is his primary residence in Massachusetts, a ski lodge in Utah, a lake front house in New Hampshire (described by USA Today as "an 11-acre estate valued at more than $10 million on the shores of Lake Winnipesaukee") and a La Jolla beachfront home in California. The latter, according to Politico, is worth $12 million, has five bathrooms, and contains "direct access to sand beach, a quiet cul-de-sac location, spacious oceanfront deck, numerous patio areas with manicured lawns and mature landscaping, lap pool and spa."
Should McCain tap Romney to be his number two, the combined number of houses on the GOP ticket would be an estimated dozen, with a value ranging into the $40 millions.
Making political hay out of a candidate's wealth is, of course, about as superficial a card as a candidate or party can play. Democrats, after all, bemoaned the attacks made by conservatives on the houses and lifestyles of John Kerry and John Edwards during the 2004 campaign. But for a Republican Party desperate to paint Barack Obama as an out-of-touch elitist, having two of the richest politicians on the ticket makes the charge... well, rich.
REAL LIFE. REAL NEWS. REAL VOICES.
Help us tell more of the stories that matter from voices that too often remain unheard.