This post was originally featured on Forbes.com on October 25, 2017
Skip Rizzo, associate director for medical virtual reality at the USC Institute for Creative Technologies, has been working with the U.S. Army on ways to use Virtual Reality (VR) to treat soldiers' Post-Traumatic Stress Disorder for over a decade. His system, "Bravemind," initially funded by the Department of Defense in 2005, can accurately recreate an inciting incident in a war zone, like Iraq, to activate "extinction learning" which can deactivate a deep-seated "flight or fight response," relieving fear and anxiety. "This is a hard treatment for a hard problem in a safe setting," Rizzo told me. Together with talk therapy, the treatment can measurably relieve the PTSD symptoms. The Army has found "Bravemind" can also help treat other traumas like sexual assault.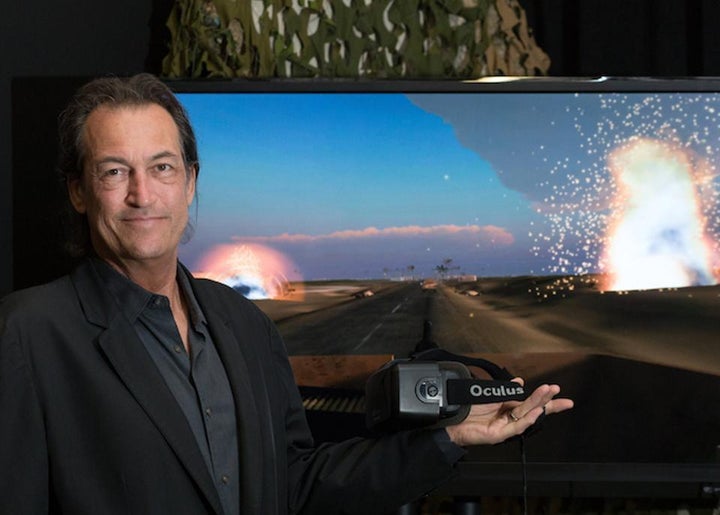 Rizzo has long believed in the potential of VR to treat phobias and other mental illnesses, but when he started his work in the mid-1990s a head-mounted display rig cost over $50,000. So, for the first ten years of his research, Rizzo relied on the PC to create the simulations he needed to treat patients. Oculus founder Palmer Lucky was Rizzo's intern when he hacked an old Sony Personal Viewer (made for watching DVDs) as a head-mounted (HMD) display for VR. "We were using Emagin HMDs and wanted something more comfortable and immersive. Palmer was working in Mark Bolas's lab. We asked him to crank out a better prototype for possible use for 'Bravemind'. Was sort of a primordial Oculus, but needed a lot more time and money to really make it usable. The last time we spoke, he was setting up a Kickstarter campaign."
Today, Bravemind is sophisticated enough to insert minute details of a PSTD patient's inciting incident. How many people are in the vehicle? Where are they sitting? What kind of road are they on? What time of day is it? Or are they on foot in a bazaar? Is it crowded with civilians? Are there vehicles present? Civilians? Helicopters overhead? All these details can be added to the simulation. The operator can play the scene forward and back, slow it down, or freeze the frame, all reflecting the patient's narration. The Army is currently spending two million dollars on a 70-site clinical research trial of Bravemind.
"The VR helped me," said Steve Healy, who served in Iraq, "I remember the simulation better than the original incident at this point. It's taken some of the edge off. I feel like I have fewer, shorter, less intense episodes." The remarkable results were recently published by the "The Journal of Anxiety Disorders." Rizzo received the American Psychological Association's 2010 Award for Outstanding Contributions to the Treatment of Trauma.

Rizzo is also working with a team that is creating artificially intelligent virtual patients that clinicians can use to practice skills required for challenging clinical interviews and diagnostic assessments. Rizzo and his team discovered the incredible effectiveness of VR to elicit a response from patients who would never describe an ailment to a real person, because of social norms. Inside VR, in private, patients revealed more information to the avatar than the real therapist. The lack of social risk supersedes the awkwardness of interacting with an avatar. Additionally, VR has been an extraordinarily powerful training tool for people with high functioning autism, because it allows them to practice the type of interpersonal skills they need to ace a job interview. They can even change settings between "soft touch," "hostile" and "SOB".
Once a lone, visionary figure in the world of psychology, Rizzo has fathered an industry. His foresight in understanding how new VR technology might be used to treat mental illnesses through simulation is now being emulated by dozens of companies trying to operationalize the use of VR therapy and training.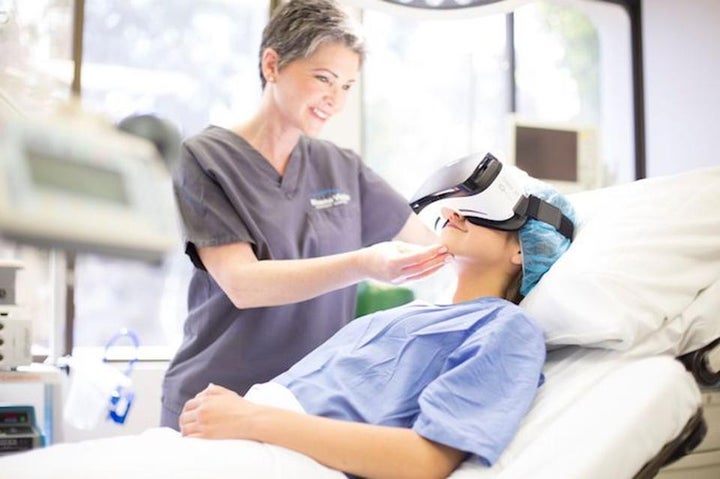 Josh Sackman, President of Applied VR, says he was inspired by Rizzo's poineering work. Applied VR uses the mobile Samsung GearVR to treat hospital patients suffering from anxiety, phantom, acute and chronic pain, memory loss, as well as the tedium of a long hospital stay. The content of the VR elements can range from games and guided relaxation to nature experiences and education. Sackman says games are most popular with kids. "Bear Blast" reduces pain in young patients by 24% a recent trial revealed. "Pain distraction is often hard to achieve in a hospital," said Sackman, who says VR can fill an important unmet need in the treatment of patients. "VR is completely immersive and transportive, an extraordinary experience for patients with little or no mobility."
Applied VR just raised a three million dollar seed round, which will enable them to train more hospitals in the use of its system. The company also develops custom content like "Bear Blast" and curates content from partners, but Sackman says third-party content providers will always be the most important part of their offering. "This is like Netflix," said Sackman, "a little of ours, a lot of everyone else's. It really takes a village to do something like this."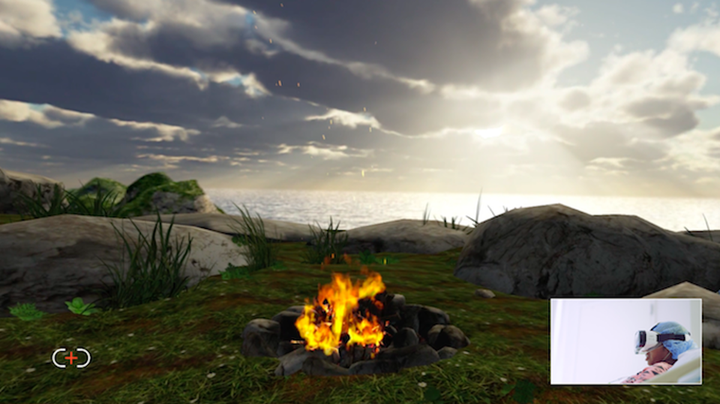 Applied VR has had to overcome a number of obstacles to be accepted in hospital setting. "It has to work out of the box," said Sackman. "It can't be more complex than launching an app preloaded onto a phone." In addition, the headsets must be sterile. As part of the "kit" provided to the hospital, Applied VR includes a healthy supply of disposable foam face pads, which can easily be replaced to ensure the GearVR is as close to sterile as possible outside an OR.
An immersive virtual-reality experience can commandeer a patient's brain so it no longer focuses on pain, says Dr. Brennan Spiegel, a Cedars-Sinai researcher, gastroenterologist, and professor of medicine. "It doesn't work on everybody, but when it works, it really, really works," he said.
Fangwei Lee, founder, and CEO of Realiteer, started his company two years ago, backed by angel investors 500 Startups and, more recently, VIVE X. He studied psychology in Taiwan, before coming to the U.S. to study computer science at Carnegie Mellon University. After spending nine years at Dreamworks as a visual effects artist, Lee realized he could combine everything in his life — computing, filmmaking, and psychology — to create something of lasting value.
Realiteer has published seven mental-health-related apps across multiple platforms with 600,000 downloads and 4.2/5 rating. It recently launched WiseMind — a platform for immersive therapy, which uses virtual reality as digital medicine to deliver efficient, effective, and engaging treatments for the $200-billion-per-year mental illness and rehabilitation market.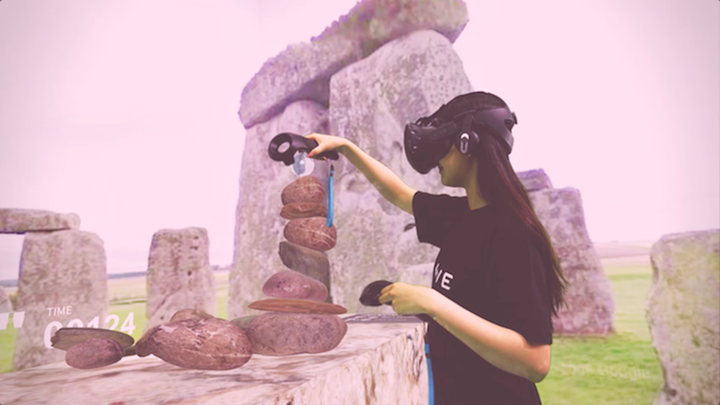 "Our treatments are based on the Embodiment Therapy," Lee told me in an email. "The idea is: just like the mind controls the body, our cognition to the body can affect our mind as well. (e.g. perhaps you heard of the rubber hand illusion). With virtual reality, we have the ability to replace body perception entirely with virtual avatars. So based on this theory, we put the patients through therapeutic tasks or scenarios designed by doctors to promote the optimal behaviors which patients are unable to do before. Because the connection between body and the avatar is so strong, this experience can retrain their brain and form new neural pathways for the optimal behavior to reduce their symptoms." WiseMind is currently in private beta, being tested by Stanford and Columbia Universities. Lee says the company has successfully helped hundreds of patients with chronic pain and is developing more treatments for autism, ADHD, Alzheimer's, eating disorders, general anxiety, and depression.
Psious, is a Spanish and American behavioral health technology company whose main product is the PsiousToolsuite, a virtual reality platform aimed at bringing value to mental health treatment using 360°videos for exposure therapy. As with Bravemind, therapists using Psious can guide patients through exposure therapy with a wide variety of anxiety disorders, fears, and phobias.
The platform provides mental health professionals with animated and live environments they can use in their clinical practice. The various scenarios provided within the platform comprise dozens of experiences that can be used in the treatment of anxiety disorders, fears and phobias. There's also a module to teach the practice of mindfulness and other relaxation techniques.
Earl Leach, an entrepreneur in North Carolina, is using VR in nursing homes to help residents experience places new and old, aiding recall, and providing much-needed relief from the monotony of assisted living. "Our focus is providing VR experiences to the Aged Adult community. We bring the necessary equipment to the facility. We work closely with the facility staff and families to identify the appropriate experiences. Research has shown it to be a positive experience which adds to the quality of their lives."
Dr. Sonya Kim, CEO of One Caring Team, a startup that uses VR Technology to improve quality of life for aging adults. "There are over 100 clinical research papers that are already published that show proven positive clinical outcomes using VR in managing chronic pain, anxiety, and depression," she says. "And in dementia patients, all those three elements are very common."
Of all advances happening in mental health care, clinicians put VR in the top three anticipated new treatments. Exposure Therapy, walking a patient through a war-zone, an assault, the fear of crowds or heights, was impossible, until now. VR has the extraordinary ability to stimulate the brain in ways we are only starting to understand. Its potential in pain management, cognitive and physical therapy, and the treatment of phobias is being proven in repeated studies and trials, indications it will soon be adopted by many more clinicians.
Related
Popular in the Community