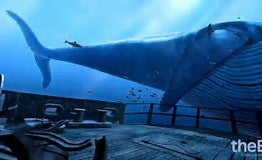 While natural history museums may have been known in the past as repositories of dusty dinosaur bones and unremarkable rock specimens, the Natural History Museum in Los Angeles is taking a leap into the future with its underwater virtual reality experience called "theBlu." As Dr. Lori Bettison-Vargas, Director and President of the museum put it, "We wanted to combine the curiosity and wonder of virtual reality with the authenticity of the museum environment."
The result is a fascinating deep dive into the wonders of the ocean. With a museum staff member at hand, visitors don VR googles and embark on a six-minute plunge into three different ocean environments. The first is near a sunken ship, and includes an encounter with an 80-foot blue whale. This is followed by a journey to the edge of a coral reef, full of turtles, jellyfish and anemones. Finally, the deepest dive takes the visitor to the dark depths, where illuminated angler fish and giant squid appear.
This is an immersive, interactive experience, in which visitors can reach out and touch many of the living things. The anemones, for example, recoil when probed by the virtual pointer operated by the visitor. One can go right up to the passing blue whale and gaze into the huge eye, or brush up against a passing fish or jellyfish. For those who have never had the opportunity to scuba dive, it is probably as close as one might come to a real dive.
The museum partnered with Wevr, a Venice, California based developer of VR experiences, whose work has been featured at the Sundance and Tribeca film festivals. So far, Bettison-Vargas is delighted with the project, which she describes as a pilot program. "Our hope was to expand the visitor experience and get their input – and in the future to inspire the next generation."
the Blu exhibit will run through April 28th at the Natural History Museum of Los Angeles County, 900 Exposition Boulevard, Los Angeles, CA 90007 Advanced timed-tickets required. Members $8, Nonmembers $10 with General Admission. For ages 10 and up.
Related
Popular in the Community