As the person responsible for corporate responsibility at AMD, my day job is often focused on the environmental or social impacts of our company. When it comes to AMD's products, we typically look at the amount of energy they consume and provide analyses to support our 25x20 energy efficiency initiative.
But recently, our team had a bit of an epiphany. We realized that the use of our products can contribute to significant social and environmental benefits. And, the hot new field of virtual reality (VR) is no exception.
The answer was compelling. We found several examples of VR and Augmented Reality (AR) applications that can help with medical therapies, education, and scientific research. These and other case studies are highlighted in AMD's latest Corporate Responsibility summary.
We believe that these examples are the tip of the iceberg of the potential for VR to contribute to social and environmental wellbeing. To inspire others about the power of VR to do good, we took some gear on the road to the VERGE conference in Silicon Valley. This conference is billed as the 'convergence of technology and sustainability' so it seemed like the ideal place to highlight how VR technology can contribute to the world around us.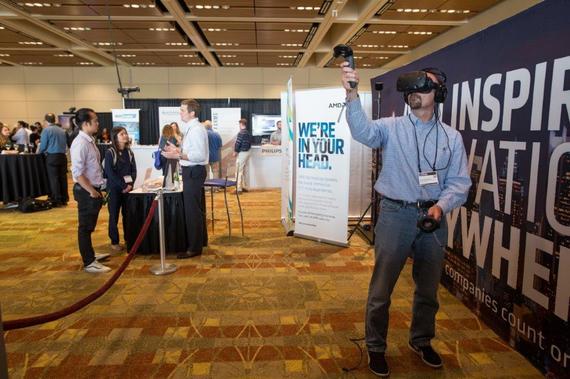 The conference led off with a keynote from AMD Vice President Roy Taylor and VR pioneer Nonny de la Peña.
Roy talked about how quickly VR technology has advanced, citing applications like "Bravemind." This is a virtual reality exposure therapy (VRET) simulation developed by Dr. Skip Rizzo at USC's Institute for Creative Technologies that is used to help those suffering from post-traumatic stress disorder (PTSD). It uses an immersive and realistic virtual environment, enabled by AMD graphics technologies, to recreate unique interactive scenarios to help soldiers normalize the experiences they went through during combat. For Marine Corps veteran Chris Merkle, Bravemind has helped him cope with the stress from his deployment.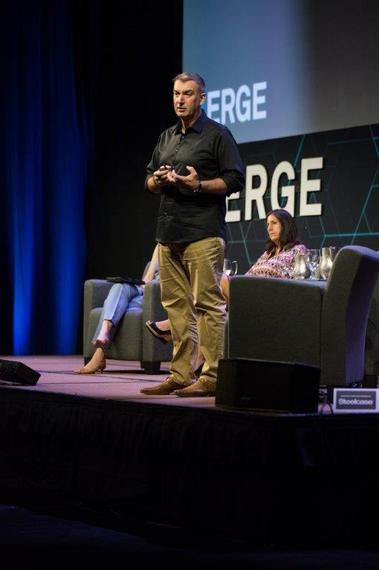 Journalist and documentary filmmaker Nonny de la Peña, founder of Los Angeles-based Emblematic Group, is on a mission to use VR to show stories that promote deep empathy for viewers. For the past eight years, she has been building VR that uses a fully-embodied walk-around technology to offer a virtual but "first hand" sensation of being an actual witness as a story unfolds.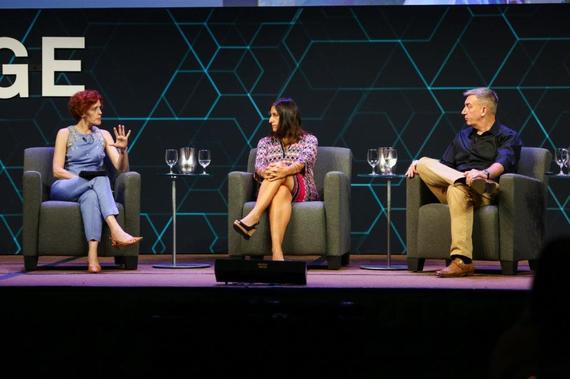 In the keynote, de la Peña explained that there is a tangible impact of being able to feel a story through the whole body and not just through the mind. She showed a video of a VR simulations of standing on a street in Syria when a bomb goes off - designed to help users more fully understand the plight of Syrian refugees; being in the room with two sisters as they try, unsuccessfully, to protect a third sibling from an ex-boyfriend's fatal attack, revealing the true horror of domestic violence and guns; or being "virtually" present at the brutal beating of a handcuffed immigrant that may allow people to question U.S. Border patrol 'Use of Force' protocols.
After hearing previous speakers talk about more mainstream sustainability concepts, the audience seemed stunned. In other words, the keynote had the desired effect - with just a small exposure to the power of VR to convey experiences in ways that were not possible before, the ~1500 people in attendance were inspired by the potential for this technology.
To make this message even more real, AMD sponsored a booth where the conference participants could experience VR first hand. In partnership with HTC, our booth featured VR experiences such as undersea exploration, 3D painting and working in an office. Some people even tried out a hyper-realistic VR game.
Mission accomplished: Hundreds of people visited the booth and many shared ideas for using VR technology to promote environmental and social causes. Not only did the AMD booth get the top score in the conference evaluations, I believe that many people left inspired by the power of this new technology to move people's hearts, and bring about profound and lasting change for humanity.
__________________________________
Photo Credit: Taken at VERGE 2016, Santa Clara © Kathryn Cooper Photography
Tim Mohin is Senior Director of Corporate Responsibility for Advanced Micro Devices (AMD) and the author of the book, Changing Business from the Inside Out: A Treehugger's Guide to Working in Corporations (Greenleaf and Berrett-Kohler).His postings (and comments made in his book) are his own opinions and may not represent AMD's positions, strategies or opinions. Links to third party sites, and references to third party trademarks, are provided for convenience and illustrative purposes only. Unless explicitly stated, AMD is not responsible for the contents of such links, and no third party endorsement of AMD or any of its products is implied. Follow Tim @TimJMohin and check out AMD's latest Corporate Responsibility Report.
Popular in the Community