Virtual reality (VR) is dominating the tech industry press of late and has been the buzz of recent trade shows E3, Mobile World Congress and South by Southwest and has also taken center stage at porn industry conventions like XBIZ. The porn industry prides itself on being a significant driver of innovation as each technological advancement adopted by the industry - from VHS to DVDs to HD and 3D - has been for one sole reason. To make the fantasy even more lifelike by breaking down the wall between the performer and the fan.
It's simple, users put on a VR headset and are immediately in a virtual sexual fantasy. They have the control over how they want to watch porn. No longer are they 'passive' members in the experience, it is now a first-person perspective (POV in porn terms) that is immersive and intimate...To get a step-by-step guide of how to get started, check out GameLink's VR Porn 101 guide.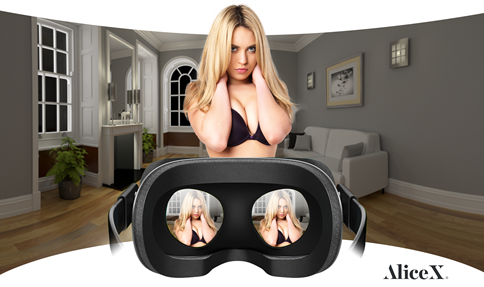 This segment of the porn industry has been growing so quickly both on the production and the consumption side – note there has been a growth of 9,900-percent in 17 months for searches for "VR porn" according to Google Trends data and Adult VR Fest, the first VR porn festival in Japan, had to be closed down early due to drawing such a large opening crowd – that GameLink.com is launching a VR porn aggregation site that allows users access via video on demand or streaming on its site. In addition to the VR porn aggregate site, GameLink is serving as host and sponsor of Traffic Jam 2016, the fourth annual virtual reality technology event held on July 28. The conference will discuss the fast-growing virtual reality segment as well as content production, improving online traffic and how VR porn is the new evolution of adult entertainment that is here to stay.
So how do porn stars feel about this growing segment in the industry?
Even though major adult stars have been "quick to embrace VR because they realize it is going to have a profound impact on adult entertainment," according to Alec Helmy, publisher of XBIZ. Vicky Vette, adult entertainment star and renowned busty blonde bombshell of VNA network, thinks that the industry is quite a "ways from working into regular video production as the cameras are all still in development and consumers are still confused over what to buy and how to set it up."
VR porn may not be ready to be in primetime just yet, but major stars such as: Ela Darling, Joanna Angel, Mick Blue, Anikka Albrite, Sarah Jessie, Romi Rain and Ryan Driller have embraced VR and are excited for its future.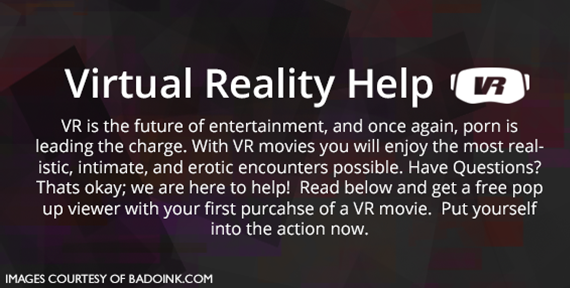 Ela Darling, Co-Founder of VRTube.xxx and VR Content Manager at Cam4VR, was one of the first true porn stars who adopted VR porn. She has always been interested in the intersection of technology and sex and saw this as an opportunity for growth. When she started in VR porn, she comments that there was only one company producing VR material and she tried a few experiences before acting in a scene.
Although she still enjoys traditional porn, for Darling, "VR is incredibly exciting, it makes me feel more intimately engaged in my performance while my presence dominates the viewers experience." Darling sees the barriers to entry for VR porn higher than traditional porn as the equipment and post production is more "complex, time consuming and expensive" and mentions that there must be considerable investment in equipment and research to enter this field.
As for Joanna Angel, Adult Film Starlet and CEO/Founder of BurningAngel Productions, she just recently shot her first VR scene for HoloFilm Productions - a leading edge, virtual reality entertainment production and post-production company specializing in creating the perfect VR experience - and mentioned that as a performer shooting these scenes are a bit different. "It feels like you're confined to f***ing in a small box" as you don't have much room to move and have to be cautious of where the camera is. Wearing her producer hat, this new avenue is truly exciting for her as it is a new medium to explore and create in. She also hopes that this, "kind of content will be harder to pirate - and set some kind of much needed reset button on the porn industry."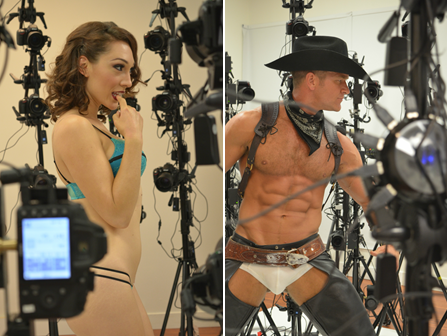 Mick Blue, two time AVN male performer of the year and one of CNBC 2016 Dirty Dozen's top 12 porn stars in the world, loves VR porn and thinks it is the future. He didn't watch VR porn before acting in it but since acting in scenes, he has watched VR scenes and thinks they are "very impressive" and sees the scenes as being "real and organic." He is also excited for the technological advancement of VR porn as it may even lead the viewer to "able to go through rooms or even houses watching people having sex as you please."
And then there is Anikka Albrite, one of CNBC 2016 Dirty Dozen's top 12 porn stars in the world and the very first HoloFilm Virtual Reality Girl for HoloFilm Productions, who is truly "excited being a part of virtual reality porn!" She thinks VR porn will bring new life into the industry as the product is very realistic and with more updated technology going to continue to get even more realistic.
Other stars like Sarah Jessie and Romi Rain echo the statements of their fellow porn stars and believe that VR is the future of porn and are excited for how this new technology will broaden and expand both the production and viewership of pornography in the near future. Jessie thinks that it is "really fun to watch it feels like your actually in it" while Rain adds that VR porn truly is, "bringing new meaning to the term 'reach out and touch someone'!"
And Although Ryan Driller hasn't tried it yet, he also thinks it's a "cool concept" and that he is "curious to see the growth potential." While there certainly is that growth potential, Vette is not yet fully convinced that it is ready for prime time. She remarks that stars will absolutely still do it, but she is "not convinced that it is a revolution (just yet) in porn." She advised to check back in January as that is when some of the cameras that were promised at CES last January finally arrive.
When it comes down to it, the adult entertainment industry is in the business of fulfilling fantasies, and that is exactly what VR porn does. It allows viewers to live out all of their fantasies with a unique and POV lens. VR puts the performer right in the room with you for the ultimate and intimate POV experience. And in the case of AliceX.com, an exclusive virtual reality live cam service, that puts the user in the same room as the model talking to him in real time "it's the most realistic sexual experience you can have, while still remaining a form of entertainment," concludes Fabian Grey, CEO of AliceX.com."
If you have tried VR porn, are interested in the concept or want to comment on the social dynamics/pressure this now places on relationships and sex, please relay your experiences in the comments section.
Related
Popular in the Community