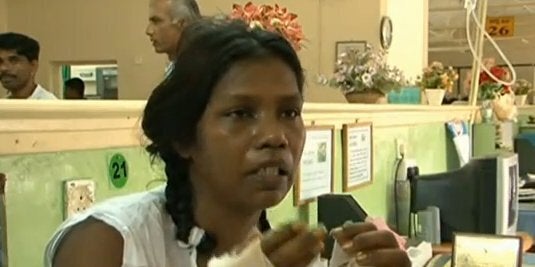 Yet another Sri Lankan maid has come forward with claims her Kuwaiti employers abused her.
As she lay in recovery at a Sri Lanka hospital, V.R. Lechchmi, told Al-Jazeera her employers had driven 14 nails into her body when she asked for her salary after six months of work. "The master of the house held me down, while the mistress gave him the metal pins to put into my hands and legs," said 38-year-old Lechchmi, who had obtained her job abroad through an employment agency. "I endured the pain in silence because I thought I may be killed if I struggled."
Lechchmi's allegations come on the heels of another Sri Lankan case in August, when another maid gained international attention after she claimed her Saudi employer had driven 24 nails into her arms, legs and forehead as punishment, the AFP is reporting. A third possible victim has also come forward, claiming her employers in Jordan forced her to swallow six nails when she demanded her salary.
Watch Al-Jazeera's full report here:
Calling all HuffPost superfans!
Sign up for membership to become a founding member and help shape HuffPost's next chapter