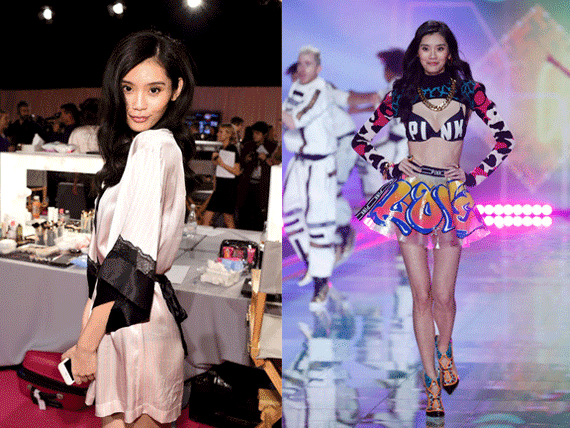 The high point of the Victoria's Secret Fashion Show is surely the moment the Angels strut out in the brand's wildest wings, but for those of us with press credentials, it's worth noting the excitement that goes on behind the pink curtain. Models are strolling around in silky pink bathrobes, posing on top of tables for a sea of photographers, perfecting their glossy pouts in the mirror, and if you're lucky, sharing their best-kept tips on all things fashion and beauty! This year, we were lucky enough to catch up with Chinese supermodel Ming Xi to quiz her about her latest skincare obsessions and tips to creating the perfect street style look. Find out what Ming has to say on all of that and more in our exclusive interview below!
What are some of your favorite ways to dress up your winter basics?
I'd much rather wear tights than pants, but in the winter tights usually aren't warm enough, so I like to play around with different ways to style them. One of my favorite ways to wear them is to layer them under thick thigh-high socks in a similar color, or with thigh-high boots.
How do you deal with dry winter skin?
If I have time, I try to do a hydrating face mask every day, or just use a really good moisturizer. For my body, there's this really great sea salt scrub from Sabon that I love to use in the shower. It makes your skin feel healthy and smooth. It also has oils in it that help hydrate the skin. I also like to put a thick moisturizing cream on after.
What's the best beauty product you've discovered while traveling the world?
I always say that sunscreen is very important because it helps prevent wrinkles, dark spots and freckles. Back home in China, it's very important for women to avoid those things, but it's very hard to find a sunscreen that is gentle enough to use everyday. There is a Japanese brand though called Aupres that has an amazing sunscreen that is very light, but also hydrating and is made without alcohol, which can be very bad for the skin.
Any tips on packing for the busy holiday travel season?
You don't want to pack too much, but in the winter it can be hard because it's cold and you have to bring jackets and sweaters, which can take up a lot of room. This year, I bought a big wool shawl that I'll be able to layer under my jackets, rather than packing extra sweaters. You can also wear that as a scarf and easily take it off whenever you want, which makes it versatile.
Any favorite new apps on your phone?
I'm obsessed with this new app I have called VSCO Cam that lets you edit and put cool filters on your photos for Instagram.
Speaking of which, who are some of your favorite people to follow on Instagram?
Victoria's Secret!
What songs do you like to listen to when you work out?
I usually just put on the Billboard Top 100 songs, because there are usually a lot of fast-paced beats that make you want to work out a little harder.
In that case, which Justin do you prefer: Timberlake or Bieber?
I definitely prefer Justin Timberlake!
How will you be spending the holidays this year?
I'm going to go home to Shanghai to spend time with my friends and family. I live in New York throughout the year, so I don't get to see them very often.
What sort of holiday traditions do you have back home in China?
For us, Christmas isn't so much of a family holiday as it is in the US. Back home we celebrate Christmas by going out with friends and going to parties, or we go shopping. For New Year's though, we'll celebrate at home with family and make a big dinner.
Popular in the Community