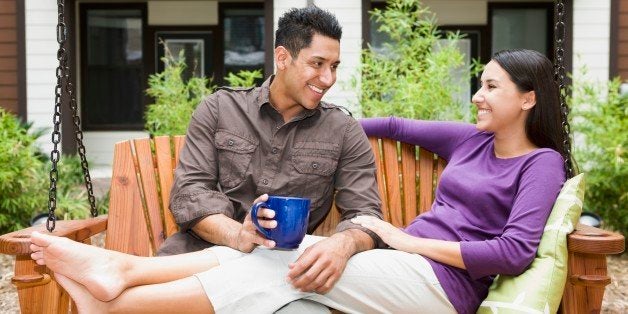 I like to think of myself as a strong, independent and resilient woman. I served in the Marine Corps five years, went to Iraq and busted my butt through undergrad and grad school using my G.I. Bill while working full time.
I've also had my fair share of traumatizing life experiences, too. For example, I've been through divorce at a ridiculously young age, and I also experienced the suicide of my first (adolescent) love and dear friend. I know these aren't the only qualities that make a strong woman -- I'm just stating why I believe I am one through personal experience.
With all this, I'm still human inside, feminine inside and out, and have shortcomings I seek self-improvement on daily. Yet, in the past, I felt like I should be on guard with love and not expose those characteristics because I thought that's how one remains strong and in control in regards to love.
Through trial and error with love, I learned being on guard with your heart is limiting and very often has major implications, because ultimately you are not being authentic -- to me it's a form of stubbornness that often leads to controlling and manipulative behavior, too.
Nevertheless, it's a humbling task to let your guard down and be vulnerable, because very often that means losing a sense of control in a relationship. Therefore, being vulnerable potentially opens you up to being hurt or rejected -- this requires bravery and bravery takes strength.
Regardless of the risks, I made the decision to try being more vulnerable. I started communicating my feelings and flaws clearly, and was upfront from the beginning about what I was looking for and then some. Yes, I was that girl on the first date that would be looking at the menu and state she was looking for a serious relationship. I also made it very clear I wanted children. I didn't play cat and mouse games. If I received a text. I answered right away. Basically, I broke every millennial dating rule and boy did I get "ghosted" several times.
Did some men think I was crazy? I'm sure! Yet, for the first time in my life I felt like I was being genuine in love -- and showing the most authentic version of you (weaknesses, desires, flaws and all) requires bravery and bravery takes strength.
Now there definitely were some bumps in the road because my role reversed, and I was the one who got hurt instead -- but I could walk away knowing that person knew me, I gave 100 percent, and the relationship just wasn't a match. Furthermore, I did meet my husband and he was just as vulnerable as me from the beginning; so eventually I did meet someone I was compatible with.
Throughout our marriage, I've stayed vulnerable and have leaned on my husband for so much support, all the while exposing parts of me that really put my heart in his hands, which I now think is okay because this is reciprocated. I can't convey how safe and secure I feel too; my marriage very often feels like a sanctuary from the chaos of life. Being open to remaining safely vulnerable, meaning without somebody taking advantage of it, still requires bravery and bravery takes strength.
For me, being on guard from the beginning and putting your partner through a rite of passage before they can know the real you (in order to protect yourself) didn't work; it very often lead to unjust treatment and dysfunction. However and most importantly, being vulnerable from the beginning , and knowing when to walk away after someone has taken advantage of you (if necessary) was the best route for me, because it did work, it's continuing to work, and I hope it remains to work.